Medical Electronics Market (Therapeutic Instruments) in Japan: Key Research Findings 2020
While Increase in the Number of Operating Rooms at Hospitals Remain Marginal, Replacement Demand for Therapeutic Instruments Makes Gradual Upturn
Yano Research Institute (the President, Takashi Mizukoshi) has conducted a survey on the domestic market of Medical Electronics (therapeutic instruments), and found out the market trends, the trends at market players, and the future perspective.
Transition of Indices Assuming the Volume of Shipments for FY2014 as 100 (High-end Products of General Anesthesia Systems, Ventilators, Electrosurgical Knives and Surgical Microscopes Used in Operating Rooms)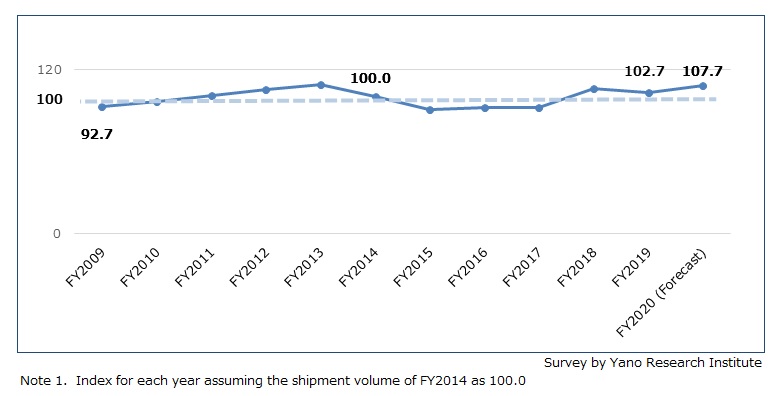 Summary of Research Findings
In this research, the therapeutic instruments refer to 32 items (out of 57 categories) of medical engineering instruments used at medical facilities like hospitals and clinics.
Out of all therapeutic devices used at hospitals and clinics, transition of shipment volume for high-end products of general anesthesia systems, ventilators, electrosurgical knives and surgical microscopes is estimated. Since FY2014, the time when facility reconstruction at large-scale hospitals were mostly completed, the number of operating rooms has not increased much, and hospital budget has been reduced in response to the tax hike and/or due to financial difficulties. Owing to these reasons, shipment volume of the high-end products has been sluggish for years.
For FY2019, at the start there wasn't any sign of market expansion. However, inquiries started to increase from July 2019, ten months before the consumption tax hike; as a result, the last minute demand for replacements enhanced the market. Because the replacement demand is ongoing in FY2020, the market is projected to make an upturn.
Nevertheless, the outbreak of COVID-19 infections in 2020 affected the market, including sharp decline in the number of surgeries, drop in the number of patients, and delays in purchases of medical engineering instruments. It is assumed that the impact of pandemic restrains positive growth of the overall medical electronics market (therapeutic instruments).

Noteworthy Topics
Signs of Recovery in the Sales of High-end Instruments Compared to FY2014
Comparing indices of high-end products assuming the shipment volume of FY2014 as 100, while the market demonstrated an increasing trend from FY2009 to FY2013 (FY2009: 92.7, FY2010: 96.4, FY2011: 100.5, FY2012: 105.2, and FY2013: 108.8), it stagnated between FY2015 and FY2017 (FY2015: 90.2, FY2016: 92.2, and FY2017: 92.3), and then began to show signs of recovery again from FY2018 (FY2018: 106.2, FY2019: 102.7, FY2020 Forecast: 107.7). While the number of operating rooms is increasing marginally, the recovery can be attributed to gradual rise in the demand for replacements.

Research Outline
1.Research Period: April to October 2020
2.Research Object: Domestic manufacturers or distributors of imported medical electronics
3.Research Methogology: Face-to-face interviews by our expert researchers (including online), survey via telephone, and questionnaire
What is the Medical Electronics Market (Therapeutic Instruments)?
Medical Electronics (therapeutic instruments) in this research refer to 32 items (out of 57 categories) of therapeutic instruments used at hospitals, clinics, medical centers, etc., which include general anesthesia systems, electrosurgical knives, lasers/generators, other specific treatment devices dedicated at each clinical departments, endoscope surgery instruments (laparoscopic/thoracoscopic surgeries), ventilators used in ICU/hospital wards, radiotherapy treatment devices purchased at radiologist department/each clinical departments, small treatment devices equipped at treatment room and clinics, and other dedicated treatment devices at each clinical departments.


<Products and Services in the Market>
Endoscope surgery instruments (laparoscopic/thoracoscopic surgeries, minimally invasive surgeries), ventilators, general anesthesia systems, defibrillators, electrosurgical knives, ultrasonic surgical devices (ultrasonic scalpels, ultrasonic aspirators), Nd: YAG, Ho:YAG, KTP/YAG, KTP/Tm:YAG, CO2 lasers, high outputs semiconductor laser surgical devices, PDT (Photo Dynamic Therapy), myocardial laser revascularization (TMR, PTMR), pain relief semiconductor laser, near-infrared light He-Ne laser, cosmetic laser surgery for birthmark removal and facial peeling, aesthetic plastic surgery, Trans Urethral Lithotripsy (TUL), BPH (Benign Prostate Hypertrophy) treatment device, ESWL, hyperthermia, Intra-aortic Balloon Pump (IABP), intra-operative and post-operative blood salvage device/ auto-transfusion machine, Continuous Passive Motion (CPM), tourniquet system, electrical stimulation of bone/ ultrasonic bone treatment, low frequency treatment devices, power instrument systems, gamma knives, stereotactic brain surgery, stereotactic radiosurgery systems, surgical microscopes/navigation systems, nebulizers, sterile container systems, surgical steel instruments and devices
Published Report
Contact Us
©2019 Yano Research Institute Ltd. All Rights Reserved.
The copyright and all other rights pertaining to this report belong to Yano Research Institute.
Please contact our PR team when quoting the report contents for the purpose other than media coverage.
Depending on the purpose of using our report, we may ask you to present your sentences for confirmation beforehand.