Beverage Container Market in Japan: Key Research Findings 2020
2020 Domestic Shipment Volume of Beverage Containers Declines to 69,693 Million Units, 94.9% YOY
Yano Research Institute (the President, Takashi Mizukoshi) has conducted a survey on the domestic market trends of beverage and food containers, and has found out the trends by product segment and the trends at market players. This press release makes clear of the analyzed results of the domestic shipment volume of beverage containers.
Transition of Major Beverage Container Market Size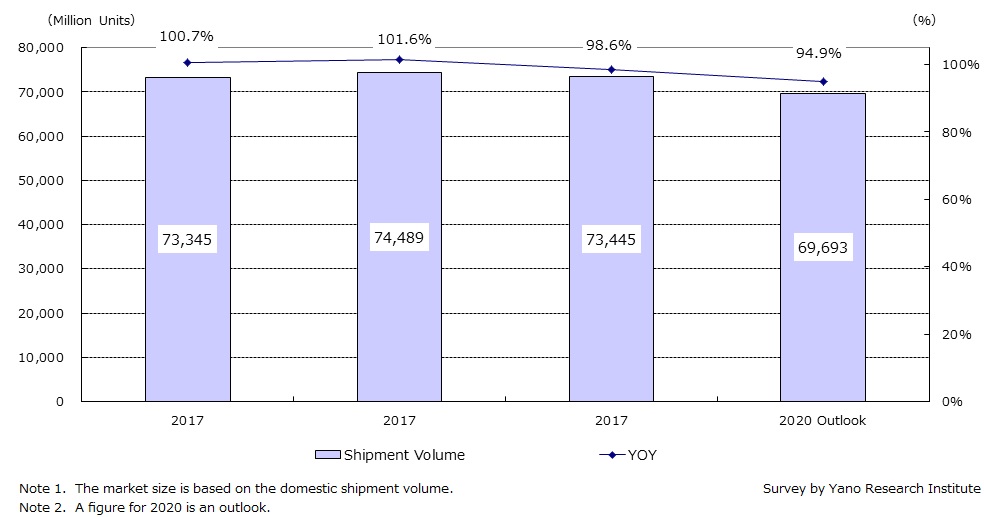 Transition of Beverage Container Market Size by Container Types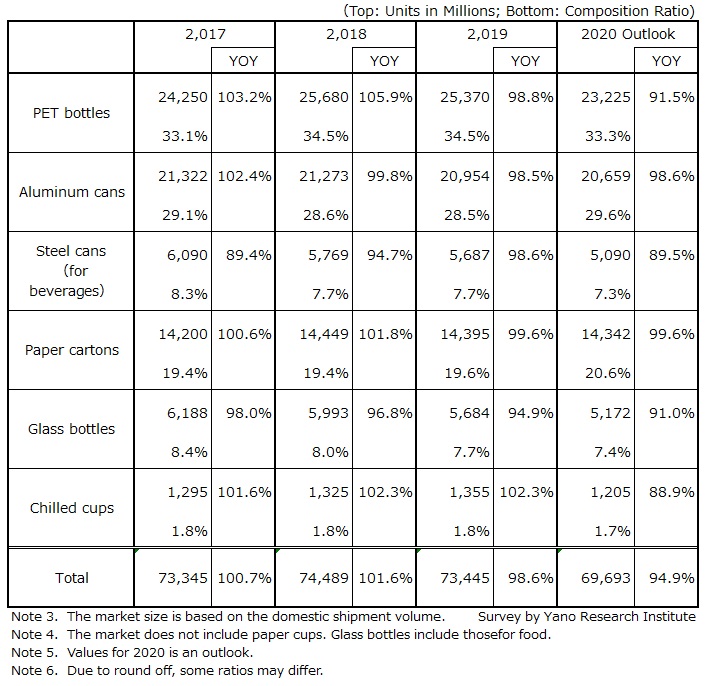 Market Overview
The estimated market size of beverage containers in 2020 (based on the domestic shipment volume) was 69,693 million units, 94.9% of the size of the previous year. Viewing by container type, paper cartons and aluminum cans are selling quite well, with 99.6% and 98.6% on YoY basis, respectively. However, against the background of COVID-19 which led to self-quarantine and working from home, opportunity to use automatic vending machines (referred to as vending machines hereafter) and CVS in office areas have decreased. As a result, the PET bottle market shrunk to 91.5% YoY, followed by glass bottles 91.0% YoY, beverage steel cans 89.5% YoY, and chilled cups 88.9% YoY.

Noteworthy Topics
Demand for Large Volume Containers Rose due to COVID-19 Influence
As people spend more time at home amid COVID-19 calamity for self-quarantine and work from home, demand for large volume containers of beverages and foods as well as containers for take outs and deliveries are increasing.


Examples of large volume containers on the rise are such as mineral water and RTD tea in 2L PET bottles, milk in 900ml to 1L paper cartons, and alcoholic beverages mainly in 1.8L paper cartons.


Future Outlook
Outbreak of the COVID-19 infections shifted market attention from reusable containers to disposable containers, reevaluating convenience of single-use plastic containers. Despite such trend which seems to have halted the plastic-free movement, it is also noted that in 2020 convenience stores that endorse utilization of environmentally friendly materials promoted products in paper containers.


While container makers is obliged to transform, first of all, to turn profits based on present demand, they must also take into consideration that it is possible that the utilization of environmental-conscious materials will be a prerequisite for contracting with their users, the beverage and food manufacturers. Trend against fossil-derived raw materials will not change for the era of during or after COVID-19.


According to the disclosures at each company, the average number of customers from January to November 2020 at 3 leading convenience stores dropped to 89.2% compared to the same period of the previous year. Recovery of the number to the level of 2019 before the outbreak of COVID-19 is difficult to expect. It is assumed that container makers need to regard 2020 as a starting point for re-expanding their businesses, while focusing on the utilization of eco-friendly materials.


Research Outline
1.Research Period: November to December 2020
2.Research Object: Manufacturers of beverage containers and food containers
3.Research Methogology: Face-to-face interviews by the expert researchers and literature survey
What is the Beverage Container Market?
The beverage container market in this research indicates mainly the beverage containers including PET bottles, aluminum cans, steel cans, paper cartons (excluding paper cups), glass bottles, and chilled cups. The market size has been calculated based on the domestic shipment volume.


<Products and Services in the Market>
PET bottles, metal cans (aluminum cans, steel cans), paper cartons (paper cartons, paper cups, paper containers), glass bottles, chilled cups, light weight plastic containers (PSP containers, A-PET containers, OPS containers, PP filler containers, etc.)
Contact Us
©2019 Yano Research Institute Ltd. All Rights Reserved.
The copyright and all other rights pertaining to this report belong to Yano Research Institute.
Please contact our PR team when quoting the report contents for the purpose other than media coverage.
Depending on the purpose of using our report, we may ask you to present your sentences for confirmation beforehand.