Toiletries Market in Japan: Key Research Findings 2020
Toiletries Market for FY2020 Projected to Attain 297,430 Million Yen, Up 5.5% YOY
Yano Research Institute (the President, Takashi Mizukoshi) has carried out a survey on major 50 items of the domestic toiletries market, and found out the market size, the trends by product category, the trends by market players, and the future perspectives.
Market Size Transition and Forecast of Toiletry Products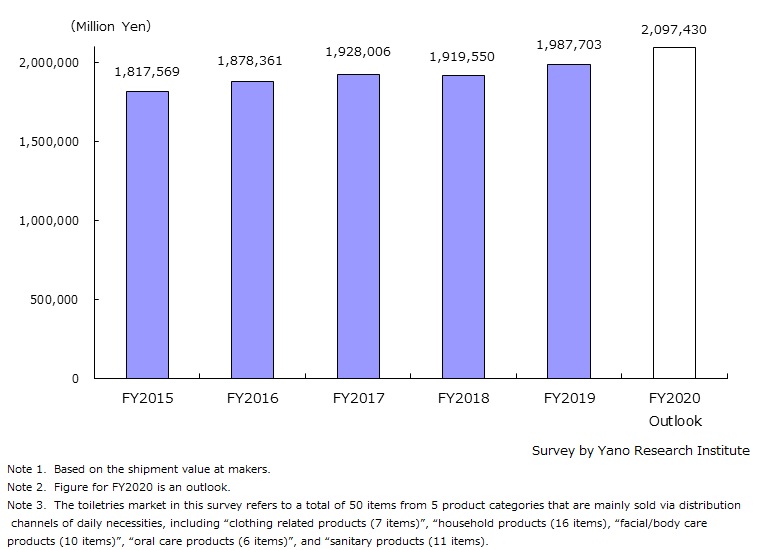 Market Overview
The toiletries market for FY2019 yielded 1,987,703 million yen, which is 103.6% of the previous fiscal year (based on the shipment value at makers, total of 50 items from 5 product categories). While the population declines naturally due to dwindling birthrate and aging population, an overall trend shows makers making a switch in strategy to ensure profit by increasing price per purchase, i.e. shifting from volume-based sales to value-based sales, reinforcing sales of value-added/high priced products to cover the loss from stagnated sales volume.
Additionally, the market expansion was led by the last minute demand before the tax hike from October 2019. Furthermore, panic buying by consumers in fear of COVID-19 outbreak in early 2020 has triggered the market growth, as those people who rushed to retail stores like supermarkets, drugstores, and convenience stores seeking for masks and hand sanitizers/antiseptic products ended up bulk buying, particularly toiletry products.

Noteworthy Topics
Decline in Inbound/Outbound Demand due to Implementation of New E-Commerce Law in China, US-China Trade War, and Other Geopolitical Impact
Until recently, demand of inbound (foreign tourists visiting Japan) including Chinese had been contributing to rise in consumption of domestic toiletry products. However, as Chinese E-Commerce Law took effect in January 2019, inbound demand dropped significantly particularly among Chinese tourists who had been a big customer. Demand decreased especially for items like baby diapers, as (unauthorized) Chinese personal shoppers that used to earn margins from reselling products back home lost their motives to visit Japan.
Japanese toiletry makers are expanding to Chinese market, rolling out full-scale sales for local consumers. Based on a cross-border e-commerce strategy, companies reinforcing sales of Japan-made toiletry products to local consumers through leading e-commerce marketplace such as Chinese giant Alibaba, are increasing. Meanwhile, Hong Kong has seen months of non-stop political unrest which shows no sign of stability since the protest began in March 2019. While the impact of US-China trade conflict since 2018 on Chinese manufacturing industry and Chinese economy continues, uncertainties remain in the sales expansion of Japanese toiletry products in China.


Future Outlook
Women empowerment and diversification of lifestyle/values have boosted pervasion of new buying style, i.e. e-commerce/online purchase, making full use of PC and mobile devices enabling online purchase 24 hours a day, anytime, anywhere. Although the level of penetration differs between generations, going through transitions, e-commerce/online purchase is expected to grow further hereafter, and makers are promoting sales not only through in-house e-commerce sites but also through external e-commerce marketplace.
Furthermore, for the sake of preventing COVID-19 infections, consumers are increasingly shifting toward e-commerce/online purchase to avoid getting into close contact with people or 'Three Cs' (closed spaces with poor ventilation, crowded and close-contact settings) at physical stores. The trend is assumed to accelerate as an embodiment of new lifestyle/consumption style during and after COVID-19 and perfecting of multichannel strategy.


Research Outline
1.Research Period: Toiletries Market in Japan: Key Research Findings 2020
2.Research Object: Manufacturers of toiletry products, other related enterprises
3.Research Methogology: Manufacturers of toiletry products, other related enterprises
What is the Toiletries Market?
The toiletries market in this survey refers to a total of 50 items from 5 categories that are mainly sold via distribution channels of daily necessities, including "clothing related products (7 items such as synthetic detergents for clothing and fabric softeners)", "household products (16 items including kitchen detergents, wrapping films, room fragrance/air freshener/deodorant for rooms and insecticides)", "facial/body care products (10 items like body shampoos and hand soaps)", "oral care products (6 items like toothpastes and mouth washers)", and "sanitary products (11 items including toilet paper, tissue paper and diapers for elderly), and the market size is calculated based on the shipment value at makers.


<Products and Services in the Market>
(1) Clothing related products (synthetic detergents for clothing, high-priced laundry detergents, fabric softeners, bleaching agents for clothing, deodorants for clothing/fabrics, insect-repelling materials for clothing, water-proof agents); (2)Household products (kitchen detergents, kitchen cleaners, wrapping films, oven sheets, aluminum foils, rubber gloves for kitchen, deodorant for refrigerators, sanitization agents for kitchen, detergent for dishwashers, detergent for baths, room fragrance/air freshener/deodorant for rooms, dehumidifying agents, detergent for residence, wax for home, toilet detergents, insecticides); (3)Facial/body care products (soaps, body shampoos, hand soaps, anhidrotic agents, bath salts, hand cream, cosmetic cottons, spare blades, disposable blades for razors, shaving agents); (4)Oral care products (tooth pastes, tooth brushes, mouth washers, denture stabilizing agents, detergents for artificial teeth, dental flosses); (5) Sanitary products (diapers for babies, diapers for elderly, sanitary napkins, products for incontinence, tissue paper, wet wipes, towel paper, toilet paper, cooking paper, home-use masks, oil absorbing facial paper)
Contact Us
©2019 Yano Research Institute Ltd. All Rights Reserved.
The copyright and all other rights pertaining to this report belong to Yano Research Institute.
Please contact our PR team when quoting the report contents for the purpose other than media coverage.
Depending on the purpose of using our report, we may ask you to present your sentences for confirmation beforehand.