Credit Card Market in Japan: Key Research Findings 2020
Credit Card Market Size Expected to Exceed 109 Trillion Yen by FY2025
Yano Research Institute (the President, Takashi Mizukoshi) carried out a survey on the domestic credit card market and found out the current status, trend of market players, and future perspectives.
Forecast of Credit Card Market Size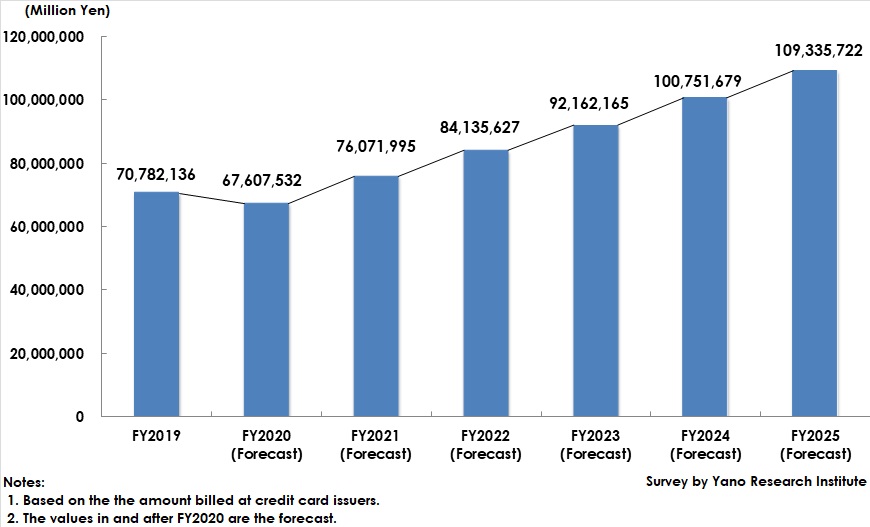 Market Overview
The credit card market size, based on the amount billed at credit card issuers, expanded to around 70 trillion yen by FY2019.

The market expansion stemmed from surge in demand just before the consumption tax hike together with the government-led refund business to consumers for their purchases using cashless payment to encourage cashless shopping, in addition to emerge of new payment services using QR codes or mobile devices that have expanded trading volume of credit cards associated with such payment apps.

Noteworthy Topics
Influence of COVID-19 Infections
The credit card industry has been significantly affected by the COVID-19 pandemic.

After the state of emergency was declared, the trading volume of credit cards has considerably dropped mainly at physical stores.

As going outside has been restrained, consumption itself has become sluggish, making the industries of leisure, travel, food services to decline seriously. In addition, the customers from overseas have drastically decreased, which have harmfully affected the business relating with DCC (dynamic currency conversion) as well as the use of China Union Pay cards.

On the other hand, trading volume of credit cards has been on the rise at supermarkets and drugstores, indicating that the trading volume distinctively differs by industry. As for credit card members (physical stores,) due to rising demand for contactless payment, some retailers have started adopting contactless payment including credit cards.

Meanwhile, credit card issuers have not expected consumption behaviors by general consumers to back to normal. Rather, they have accelerated to make their cards contactless-enabled, as contactless payment has been in high demand in the COVID-19 calamity.


Future Outlook
The credit card market size, based on the amount billed at credit card issuers, is likely to temporarily decline in FY2020 due to COVID-19 infections, but is expected to expand in and after FY2021. By FY2025 the market size is forecasted to reach 109 trillion yen. The factors of market expansion are the government-led promotions for cashless payment, improvement in payment environment, and the rising ratio of cashless payment among all consumption methods.

In particular, implementation of government-led refund business to consumers for purchases using cashless payment has unexpectedly increased adoption of cashless payment systems at local SMEs, as opposed to in the past when they showed reluctance in adoption. Such refund business has helped improve payment environment and change the sentiment against cashless payment.

In addition, expansion of QR-code used payment services is not only likely to increase user convenience and utility, but also expand utilization of credit cards by being associated with such payment. In addition, manpower-saved operations at convenience stores and other physical stores are also one of the growth factors of cashless payment.

In the COVID-19 calamity, the opportunity for cashless payment (especially contactless payment) has ripened because of its nature of avoiding unnecessary contact. Spread of cashless payment for consumption is expected to expand the use of credit cards.

*QR code is the registered trademark possessed by DENSO WAVE Incorporated.


Research Outline
1.Research Period: July to November, 2020
2.Research Object: Domestic leading credit card issuers
3.Research Methogology: Face-to-face interviews by the expert researchers, surveys via telephone, mailed questionnaire, and literature search
What is the credit card market?
The credit card market in this research is the market of transactions via credit cards by the domestic credit card holders who shopped at online shops as well as the real shops in and out of the country. The market size is based on the amount billed at credit card issuers for the purchase using the credit cards.


Contact Us
©2019 Yano Research Institute Ltd. All Rights Reserved.
The copyright and all other rights pertaining to this report belong to Yano Research Institute.
Please contact our PR team when quoting the report contents for the purpose other than media coverage.
Depending on the purpose of using our report, we may ask you to present your sentences for confirmation beforehand.