Robotic Care Device Market in Japan: Key Research Findings 2020
Yano Research Institute (the President, Takashi Mizukoshi) carried out a survey on the domestic robotic care device market for FY2020 and found out the trends by application, the trends of market players, and the future outlook.
Forecast and Transition of Robotic Care Device Market Size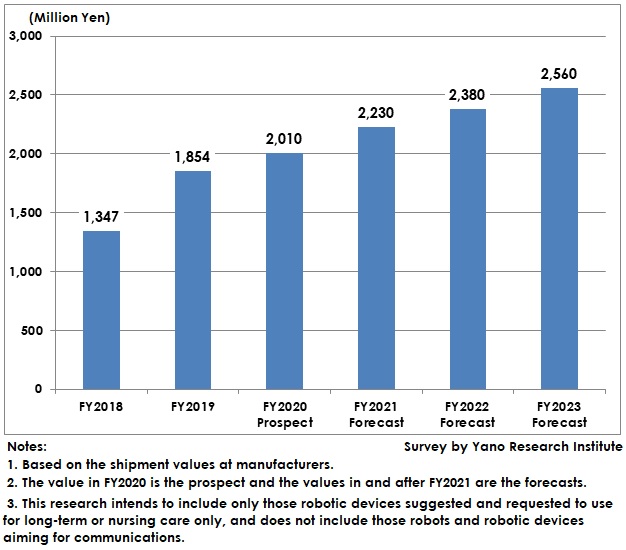 Market Overview
This research targets those robotic care devices with the functions of transfer support, mobility support, toileting aid, bathing assistance, watching, etc., intended to be used on site at long-term care. The robotic care device market for FY2019 rose by 37.6% from the previous fiscal year to attain 1,854 million yen, based on the shipment values at manufacturers. Chronic manpower shortage has stably expanded the number of robotic care devices introduced and used for various long-term care cases. On the other hand, robotic care devices with increasing demands are limited to those for toileting aid and for watching, resulting in growth of the entire market to be highly dependent on them.

In FY2020, the COVID-19 infections affected the manufacturers of robotic care devices to refrain from all the sales activities to those long-term care facilities endeavoring in contact preventions, which is likely to decelerate the market growth rate. The robotic care device market for FY2020 is projected to rise by 8.4% from the preceding fiscal year to achieve 2,010 million yen.

Noteworthy Topics
The Third-Generation Products Projected to Drive Market Expansion
The first and second generations of robotic care device products were those limited for specific users (care workers or care receivers) and with limited moves to attain specific purposes. Therefore, robotic care devices have not yet permeated as a method of long-term care for anyone to use.

So-called the third generation robotic care devices have advanced from the former generations, in that those for transfer or mobility support improved and being released as new products, those for toileting aid lowered the prices, and those for watching being integrated into a total system. The shift to such third-generation robotic care devices mainly commoditized after FY2018 is likely to increase the number of those devices introduced at many long-term care sites.


Future Outlook
Market-oriented third-generation devices, completely different from those in the first and second generations that are product-oriented, are likely to play a major role after FY2021. They are projected to enter into fierce competitions, evaluated by user-friendliness, efficiency, and how much burden can be alleviated. As the third-generation robotic care devices penetrate the market, the market size is likely to grow to 2,560 million yen by FY2023, 138.1% of the size of FY2019, based on the shipment values at manufacturers.


Research Outline
1.Research Period: August to November 2020
2.Research Object: Domestic manufacturers and suppliers of robotic care devices, companies dealing in applied systems, companies and concerned organizations developing robotic care devices, and the government agencies
3.Research Methogology: Face-to-face interviews by the specialized researchers, surveys via telephone, and literature research
What are Robotic Care Devices?
The robotic care devices in this research indicate those robotic devices that support caregivers/care workers or receivers of long-term or nursing care services aiming at alleviating physical and mental burdens of such caregivers and receivers and providing efficiency. This research does not include those robots and robotic devices aiming for communications.

This research intends to include only those robotic devices suggested and requested to use essentially for long-term or nursing care only, although it is sometimes difficult to distinguish from those that are not, because there are some cases of medical robots and robotic devices commercialized for medical treatment, rehabilitations, independence of the patients, or for industrial purposes.


<Products and Services in the Market>
Robotic care devices for transfer support, mobility support, toileting aid, bathing assistance, watching, etc.
Contact Us
©2019 Yano Research Institute Ltd. All Rights Reserved.
The copyright and all other rights pertaining to this report belong to Yano Research Institute.
Please contact our PR team when quoting the report contents for the purpose other than media coverage.
Depending on the purpose of using our report, we may ask you to present your sentences for confirmation beforehand.