IT Solutions for Local Governments in Japan: Key Research Findings 2020
Yano Research Institute (the President, Takashi Mizukoshi) has conducted a survey on the domestic market of IT solutions for local governments, and found out he market overview, the future perspectives, the trends of cloud business for local governments, and the trends at leading vendors (service providers).
Transition of Market Size of IT Solutions for Local Governments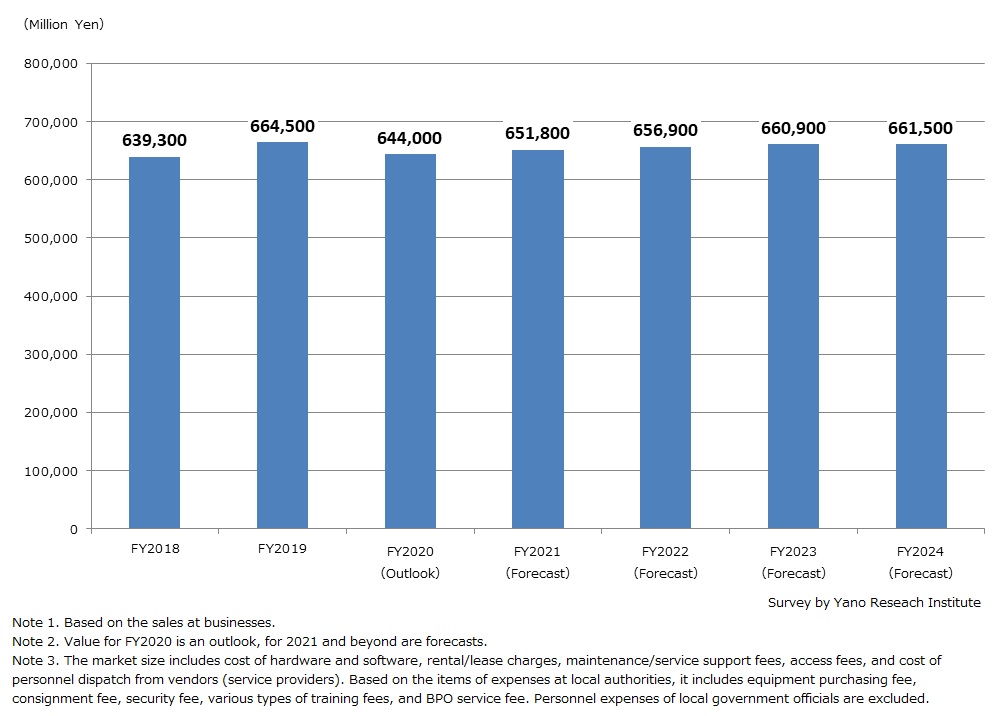 Market Overview
The domestic market size of IT solutions for local governments grew by 3.9% from the previous fiscal year to attain 664,500 million yen for FY2019.
As a part of fiscal consolidation, Japanese government aims to streamline administrative systems and reduce administrative costs at central ministries/agencies, local governments, and extra-government organizations. In line with enforcement of this policy, the Ministry of Internal Affairs and Communications has taken initiative to implement a cloud platform for local governments since 2009. This attempt allows multiple local authorities under agreement to share a system operated at external data center and co-use it via network. Although the local government cloud promoted system sharing and the migration to cloud shrunk the market, special procurement demand triggered by Microsoft's termination of Windows 7 support expanded the market size.
For FY2020, the market not only expects downturn from repercussions, but also decline in capital investments due to rollout of migration to cloud and shared system operation. Nevertheless, against the backdrop of COVID-19 crisis which accelerated the need for various services such as payment of cash handout and development of management tool for close-contacts and the needs to correspond to government's initiative to standardize local government systems, it is assumed that such needs will compensate for the market decline in FY2020. Therefore, size of the market as a whole for FY2020 is likely to stay flat, yielding 644,000 million yen (96.9% of the previous fiscal year).

Noteworthy Topics
Consideration in Progress on Standardization of IT Systems for Local Governments
To avoid redundancy in investments due to gaps between IT systems at each local authority and to establish a foundation for digital transformation at local authorities, the Ministry of Internal Affairs and Communications is promoting the standardization of IT systems and ledger formats used at local governments. Normalization of IT system is expected to reduce the workload of public staffs, explore cost savings, and improve the way the authorities serve their communities. Consideration is in progress for 17 operations including Basic Resident Register, tax payment, and public services related to insurance/welfare. In September 2020, a standardized spec for the system of Certificate of Residence was released. Further investments to adapt to the system standards are anticipated from FY2021 onwards; however, at some local authorities, they may refrain from making any investments until standard specification for systems are defined explicitly.
On the other hand, as pervasion of system standardization intensifies price competition among vendors (service providers) it is assumed that some vendors may withdraw from development of mission-critical systems. At present, most vendors not only develop systems in-house but also expand their businesses by selling and implementing other company's systems for the sake of ensuring profit.


Future Outlook
Against the backdrop of digitization of local public services, materialization of digital transformation, manpower shortage and rising momentum for workstyle reform, use of BPO (Business Process Outsourcing) services particularly in printing operation is expected to continue hereafter. Investments to adopt new IT solutions such as AI (Artificial Intelligence) and RPA (Robotic Process Automation) is expected to expand as well, although it is also assumed that it will take some time before the market gets a boost from these technologies. For this reason, the market size is forecasted to grow gradually to 651,800 million yen for FY2021 (101.2% compared to the previous fiscal year), and levels off to FY2024.
Most recently, vender companies (service providers) have been making efforts to adapt to standardization of systems. At the same time, knowing that differentiating oneself from other companies will be difficult once standardization carries out, companies focus on demonstrating their business strength by improving operability and expanding peripheral services including customer support, while continuing to consider provision of new IT solutions like AI and RPA.


Research Outline
1.Research Period: October to November 2020
2.Research Object: IT vendors, software package vendors, local governments around the country
3.Research Methogology: Face-to-face interviews and online interviews by the specialized researchers, survey by telephone/email, questionnaire and literature review
What is Solutions for Local Governments?
Solutions for local governments in this research indicate IT systems implemented within public sector, which includes local authorities, central government authorities, and independent administrative institutions. The market size is based on purchase cost of hardware and software, rental/lease fee, maintenance/service support fee, network access fee, and fee for vendor personnel dispatch (service providers). Based on the items of expenses at local authorities, it includes equipment purchasing fee, consignment fee, security fee, various types of training fees, and BPO service fee. Personnel expenses of local government officials are excluded.


<Products and Services in the Market>
Mission-critical solutions, internal information systems, and field solutions for local governments, central government authorities and independent administrative institutions
Published Report
Contact Us
©2019 Yano Research Institute Ltd. All Rights Reserved.
The copyright and all other rights pertaining to this report belong to Yano Research Institute.
Please contact our PR team when quoting the report contents for the purpose other than media coverage.
Depending on the purpose of using our report, we may ask you to present your sentences for confirmation beforehand.