POS (Point-of-Sale) Terminal Market in Japan: Key Research Findings 2020
Yano Research Institute (the President, Takashi Mizukoshi) carried out a survey on the domestic point-of-sale (POS) terminal market and found out the trend of retail solutions, the strategies at POS system related enterprises, and the future outlook of the market.
Transition and Forecast of Domestic POS Terminal Market Size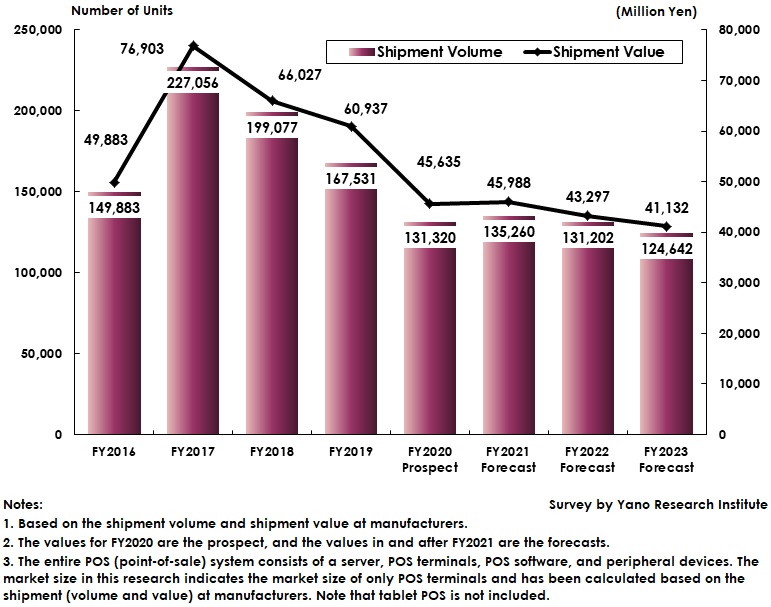 Market Overview
The domestic point-of-sale (POS) terminal market size in FY2019, based on the shipment at manufacturers, was estimated as 167,531 units in volume and 60,937 million yen in value. The shipment volume of POS terminals had been annually around 120 thousand to 150 thousand, but 100 thousand more have been demanded during the two years since FY2017 when replacement of POS terminals took place at three major convenience store chains. If excluding the demand at convenience stores, the market for FY2019 can be said as having gone through somewhat favorably comparing with usual years, when considering that it had to cope with consumption tax hike and EMV (the unified standard of credit cards embedded with IC chips.)

However, the POS terminal market size is likely to considerably decline in FY2020, because, in addition to many major user companies have already replaced POS systems to mature the market by FY2019, not a few user companies were seriously damaged by the COVID-19 pandemic. At user companies dealing in food or daily necessities that can attain somewhat favorable conditions even in the COVID-19 calamity, replacement has been overall done by FY2019, and self-checkout machines which can be said as new demand have already introduced in bulk also in FY2019.Therefore, the POS terminal market size is likely to be 78.4% of the previous year to end up with 131,320 units in volume and 74.9% of the preceding year to be 45,635 million yen in value.

Noteworthy Topics
Trend of Self-Checkout
Due to the influence of manpower shortage and of the COVID-19 pandemic, self-checkout machines is likely to go through new development for the future. AEON RETAIL Co., Ltd. has started no-queuing checkout at some stores since March 2020, letting the customers to use the store-specific smartphones for checking out. Such stores are to increase to around 20 within FY2020, chiefly in Tokyo, Chiba and Kanagawa. Although the company has already provided options for checking out by introducing self-checkout as well as semi-automated machines aiming at improving customer satisfaction levels and at increasing usefulness, this no-queuing checkout allows the customers to enjoy their shopping experiences furthermore by removing checkout time.


Future Outlook
The POS terminal market size for FY2021 somewhat recovers from a significant decrease in shipment volume stemming from the COVID-19 infections, but is likely to be on the decline during the period until FY2023. The reasons are: Replacement of machines at major companies mostly completed by FY2019 and no further demand can be expected for the time being; Use of payment systems without checkout counters is likely to spread mainly at food service providers and at mass merchandisers, and Use of POS systems via tablet or other general-purpose device expected to increase, instead of those POS- specific terminals.

Because of these factors, the POS terminal market size is forecasted to be 124,642 in volume and 41,132 million yen in value by FY2023. It is more imperative than ever before for POS-specific terminal vendors to escape from providing only these terminals.


Research Outline
1.Research Period: July to August 2020
2.Research Object: POS terminal manufacturers, vendors of POS software/tablet POS, and etc.
3.Research Methogology: Face-to-face interviews by the expert researchers, surveys via telephone/email, and literature research
What is the POS (Point of Sales System) Terminal Market?
A POS (Point of Sale) is a sales management system used at the time when the products or services are sold. It tabulates and manages the merchandize sales by each item. The entire POS system consists of a server, POS terminals, POS software, and peripheral devices. The market size in this research indicates the market size of only POS terminals and has been calculated based on the shipment (volume and value) at manufacturers. Note that tablet POS is not included.


Contact Us
©2019 Yano Research Institute Ltd. All Rights Reserved.
The copyright and all other rights pertaining to this report belong to Yano Research Institute.
Please contact our PR team when quoting the report contents for the purpose other than media coverage.
Depending on the purpose of using our report, we may ask you to present your sentences for confirmation beforehand.