Natural & Organic Cosmetics Market in Japan: Key Research Findings 2020
Natural & Organic Cosmetics Market Forecasted to Go Through Negative Growth for First Time since FY2011
Yano Research Institute (the President, Takashi Mizukoshi) carried out a survey on the domestic natural & organic cosmetic market and found out the market trends by product category and by channel, trends of market players, and future outlook.
Transition and Forecast of Natural & Organic Cosmetics Market Size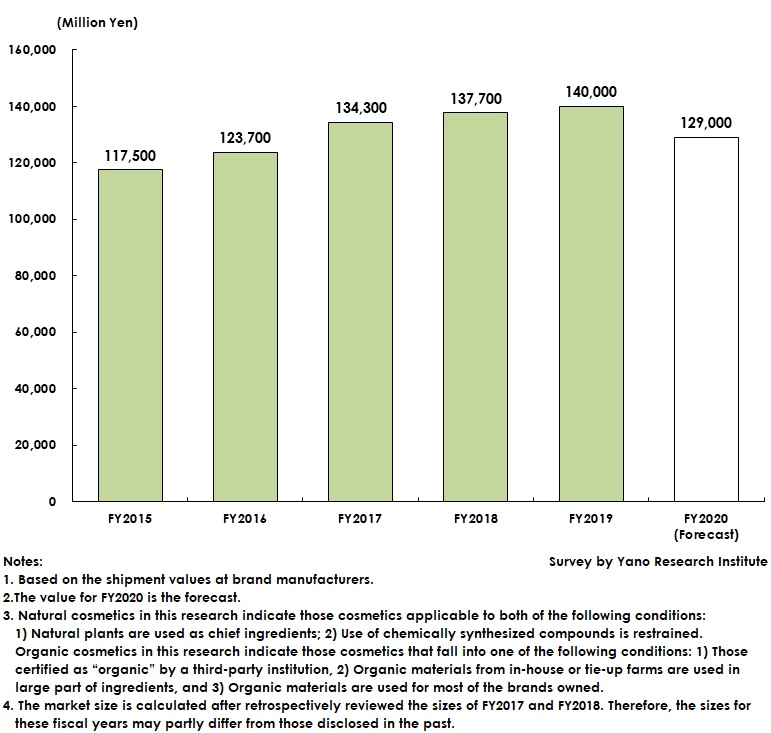 Market Overview
The domestic natural & organic cosmetic market has kept on expanding, against the backdrop of more consumers intending to spend on safe and secured cosmetics and to lead a lifestyle conscious of sustainable environment, and more women suffering from sensitive skins.

Rather than emphasizing the images, natural & organic cosmetics products have become equipped with the functions required in general cosmetics, which increased the appeal power and customer touchpoints of natural & organic cosmetics. This partly led the domestic natural & organic cosmetic market size for FY2019 to attain 140,000 million yen, 101.7% of the size of the previous fiscal year, based on the shipment values at brand manufacturers*.

* The market size is calculated after retrospectively reviewed the sizes of FY2017 and FY2018. Therefore, the sizes for these fiscal years may partly differ from those disclosed in the past.

Noteworthy Topics
Japan's First Natural Cosmetic Certification System Established
In 2020, Japan's first Natural Cosmetic Certification System was founded.

This was launched by a company developing advertisement and retail business. The system determined the certification criteria for the Japanese consumers to select and buy organic or natural cosmetic products. It was the first time ever in Japan to establish certification criteria for natural cosmetics.

In 2000s the organic cosmetic market expanded in Japan, as companies from different industries and some ventures having entered the market after the revised Pharmaceutical Affairs Act went into effect. While there are many certification systems overseas, such as ECOCERT and COSMEBIO from France and USDA from the U.S., the Japanese certification system draws attention on how it affects the market and how it will be accepted widely.


Future Outlook
The natural and organic cosmetics market size in FY2020 based on the shipment values at brand manufacturers is forecasted to end up with 129,000 million yen, 92.1% of the size of the preceding fiscal year. When considering there has been a period when stores had to temporarily close due to the COVID-19 pandemic, the market for FY2020 is projected to diminish from FY2019, the first negative growth forecast since FY2011.

The influence of store closure has been covered for a certain level by the sales at ecommerce, but it is impossible to acquire all the existing customers via ecommerce. Acquiring of new customers who need counselling seems to have slowed down.


Research Outline
1.Research Period: August to October 2020
2.Research Object: Natural & organic cosmetics makers, retailers, related organizations, etc.
3.Research Methogology: Face-to-face interviews (including online) by the expert researchers, surveys via telephone, and literature research
What is Natural & Organic Cosmetics Market?
What are Natural Cosmetics?
Natural cosmetics in this research indicate those cosmetics applicable to both of the following conditions: 1) Natural plants are used as chief ingredients; 2) Use of chemically synthesized compounds is restrained

What are Organic Cosmetics?
Organic cosmetics in this research indicate those cosmetics that fall into one of the following conditions: 1) Those certified as "organic" by a third-party institution, 2) Organic materials from in-house or tie-up farms are used in large part of ingredients, and 3) Organic materials are used for most of the brands owned.


<Products and Services in the Market>
Skin care products, body care products, haircare products, and make-up products of natural & organic cosmetics
Contact Us
©2019 Yano Research Institute Ltd. All Rights Reserved.
The copyright and all other rights pertaining to this report belong to Yano Research Institute.
Please contact our PR team when quoting the report contents for the purpose other than media coverage.
Depending on the purpose of using our report, we may ask you to present your sentences for confirmation beforehand.