Home Fashion Market in Japan: Key Research Findings 2020
Yano Research Institute (the President, Takashi Mizukoshi) carried out a survey on the domestic home fashion market, and found out the current status, the trend by segment, and the future perspectives.
Transition of Home Fashion Retail Market Size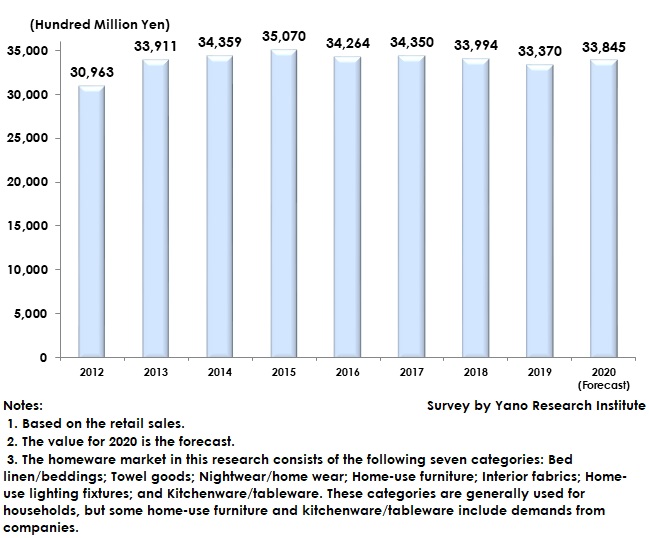 Market Overview
The home fashion retail market in 2019 declined to 3,337,000 million yen, 98.2% of the size of the previous year. When observing the market by category, growth is observed in towel goods and nightwear/home wear, the former due to the demand for giving a petit gift, and the latter for gaining good-quality sleep. All other categories declined from the preceding year.

While overall categories decreased from the previous year, the companies engaging in home fashion ecommerce, such as VEGA Corporation, have emerged by selling their original in-house products. Major chains such as Nitori and IKEA have been active in opening stores in the city centers, and these stores are worth paying attention, for they have abilities to attract customers and play the role as showrooming for invigorating ecommerce websites.

Noteworthy Topics
Expansion of Working at Home Increased Demand for Subscription Services
In addition to workstyle reform started being widely accepted, the COVID-19 infections have encouraged business people to work at home, expanding the demand for subscription services even in the home fashion market.

In particular, high-end furniture has a potential to improve awareness of the quality and brand through casualness of rental furniture. Each company has considered this as a significant business opportunity and begun strengthening the rental business.

On the other hand, buying a set of furniture is increasing among young generation at the time when they start living apart from their parents or when they get married.


Future Outlook
The home fashion retail market for 2020 is forecasted to reach 3,384,500 million yen, 101.4% of the size of the previous year. While the retailers have been significantly damaged by the store closure caused by the COVID-19 pandemic in 2020, the companies that develop ecommerce enjoyed favorable sales by at-home consumptions. Especially, those companies dealing in "home furniture," "beddings," and "kitchen tools" have all showed strong sales.

While longer hours to spend at home increased the chances for consumers to look around their rooms to improve layouts and replace existing goods, introduction of telework by companies generated demand for purchasing telework necessities. These factors increased the sales more than usual years at not a few companies. If the lifestyle with COVID-19 to continue for the time being, favorable demand for home fashion items is projected to remain for longer time period.


Research Outline
1.Research Period: August to October 2020
2.Research Object: Manufacturers, wholesalers and retailers involved in the business of home fashion industry
3.Research Methogology: Face-to-face interviews (including online interviews) by the expert researchers, surveys via telephone and email, and mailed questionnaire
What is Home Fashion Market?
The home fashion market in this research consists of the following seven categories: Bed linen/beddings; Towel goods; Nightwear/home wear; Home-use furniture; Interior fabrics; Home-use lighting fixtures; and Kitchenware/tableware. These categories are generally used for households, but some home-use furniture and kitchenware/tableware include demands from companies.


<Products and Services in the Market>
Bed linen/beddings; Towel goods; Nightwear/home wear; Home-use furniture; Interior fabrics; Home-use lighting fixtures; and Kitchenware/tableware.
Contact Us
©2019 Yano Research Institute Ltd. All Rights Reserved.
The copyright and all other rights pertaining to this report belong to Yano Research Institute.
Please contact our PR team when quoting the report contents for the purpose other than media coverage.
Depending on the purpose of using our report, we may ask you to present your sentences for confirmation beforehand.