Otaku Market in Japan: Key Research Findings 2020
Yano Research Institute (the President, Takashi Mizukoshi) has conducted a survey on "OTAKU" market in Japan for FY2019, and found out the trends by category in leading categories, the trends by market players, and the future perspectives.
Transition of "Otaku" Market Size by Major Category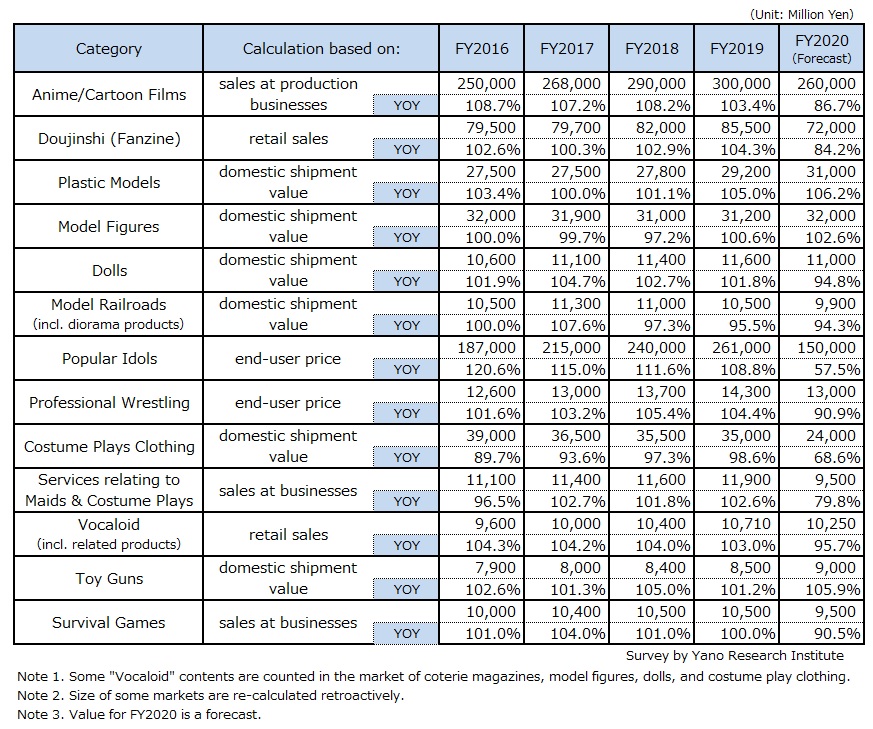 Market Overview
While there were some ups and downs by category in "Otaku" market in this reseach, the anime/cartoon market and popular idol market, the two major categories of "Otaku" market, grew stably till FY2019.
Based on the sales at production businesses, size of the anime market for FY2019 is estimated to increase to 300,000 million yen, 3.4% from the previous fiscal year. Although an outbreak of COVID-19 in the end of the fiscal 2020, i.e. February and March 2020, delayed releases of some theatrical anime movies, a big hit of TV anime "Demon Slayer" as well as the theatrical version of "Weathering With You" and "Detective Conan: The Fist of Blue Sapphire" led to sales expansion in both domestic and international video streaming services.
Size of the popular idol market for FY2019 is calculated 261,000 million yen, up 8.8% from the previous fiscal year based on the user price. Like anime market, spread of COVID-19 had influence over the poplar idol market by causing cancellation or postponement of live performance on the stage in March 2020, the fiscal year end. Still, by year-round the market continued to rise, as concert audiences for groups like "Johnny's" and "AKB48" grew and other idol groups continued to increase their popularity.

Noteworthy Topics
Hobby Related Market Expects Growth due to Rise in At-Home Consumption Demand
As people refrained from going out and stayed home longer due to the COVID-19 infections, demand is rising for hobby related products, such as plastic models, model figures, and toy guns. Plastic models have been successful in particular in increasing consumption among existing users, stimulating demand of potential customers and digging up family needs.
Despite shutdowns at production plants overseas, delays in product delivery due to distribution restrictions, and cancellation of regular events like launch event of new products, many makers of hobby-related products are enjoying stable expansion by actively focusing on to promotions such as internet ads to meet increasing demand of at-home consumption.
The hobby product market has been said to be unsusceptible to economic conditions, because the fans prop up the market. Nevertheless, since the extent of COVID-19 influence remains uncertain and further outbreak of pandemic may hit economic activities even harder, consumption behavior for the hobby products may be impacted hereafter.


Future Outlook
The two leading categories of Otaku market, the anime market and popular idol market, is projected to shrink significantly for FY2020 due to influences of the novel coronavirus.
Market size of anime for FY2020 based on the sales at production businesses is estimated 260,000 million yen, dropping by 13.3% from the preceding fiscal year. Serious impact of COVID-19 exposed at divisions of production, events, and product sales at each company.
Since the outbreak of pandemic led production companies and TV broadcasting companies to give more priorities to telework and staggered commuting than to delivery schedule of new anime productions, distribution of new TV animes in April-June period were decreased, postponed, or cancelled. It also affected sales of games and toys related to the animes. Although production schedule is mostly back on track from July, depending on infection status, level of influence on streaming schedule and peripheral businesses remains uncertain.
With regard to theatrical animes, release of many animated movies scheduled in first half of the year was postponed because movie theatres were subject to suspension request. As some movies will be released from 2021 onwards, FY2020 business performance will be impacted significantly.
On the other hand, video streaming business keeps on rising domestically and internationally, as service subscriptions are growing at an accelerating pace due to people staying home longer.
The popular idol market is projected to attain 150,000 million yen for FY2020, declining by 42.5% year on year. As events were subject to suspension requests, live performance on the stage had been either cancelled or postponed from March. Because of the cancellations, "graduation concert" and "break up concert" of some idol groups are being withheld. Although some groups have restarted activities by online streaming behind closed doors, amid prolongation of COVID-19 calamity, significant decrease of live performance on the stage is slumping fan's consumption.


Research Outline
1.Research Period: July to September 2020
2.Research Object: Enterprises and organizations doing business on "Otaku" contents and products
3.Research Methogology: Face-to-face interviews by the expert researchers, interview by telephone, online questionnaire, and literature research.
What is "Otaku" Market?
The "Otaku" market in this research refers to the contents, commercial products, and services that has certain number of core users which are available in areas like Akihabara, the "holy place of Otaku". Target of this survey includes anime/cartoon films, comics/manga (including e-comics), light novels, coterie magazines, plastic models, model figures, dolls, model railroads, popular idols, professional wrestling, costume plays clothing, services relating to maids and costume plays, online games, vocaloid, toy guns, and survival games, and the market size is calculated based on these categories. Here, the market size of major 13 categories is announced.


<Products and Services in the Market>
Anime/cartoon Films, comics/manga(including e-Comics), light novels, coterie magazines, plastic models, model figures, dolls, model railroads, popular idols, professional wrestling, costume plays clothing, services relating to maids and costume plays, online games, vocaloid, toy guns, and survival games.
Contact Us
©2019 Yano Research Institute Ltd. All Rights Reserved.
The copyright and all other rights pertaining to this report belong to Yano Research Institute.
Please contact our PR team when quoting the report contents for the purpose other than media coverage.
Depending on the purpose of using our report, we may ask you to present your sentences for confirmation beforehand.