Roofing Materials Market in Japan: Key Research Findings 2020 Domestic Roofing Materials Market for FY2019 Rose to 115,480,000 Square Meters, Up 1.3% from Preceding FY
Yano Research Institute (the President, Takashi Mizukoshi) has conducted a survey on the domestic market of roofing materials, and found out the product trends by material, the trends at market players, and the future outlook.
Transition of Domestic Roofing Materials Market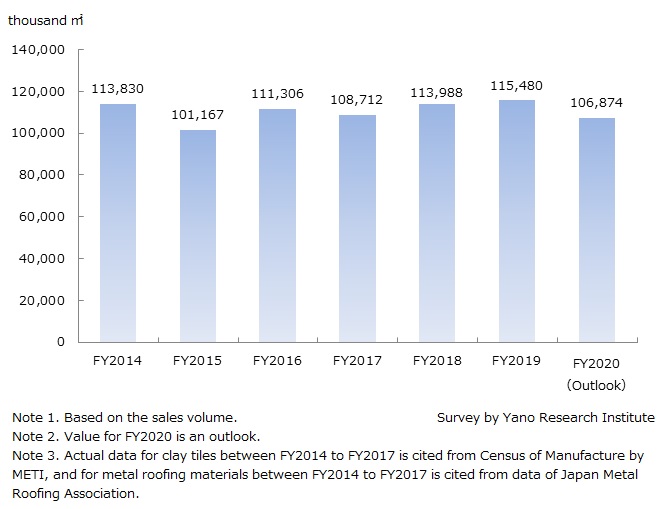 FY2019 Market Share of Domestic Roofing Materials by Material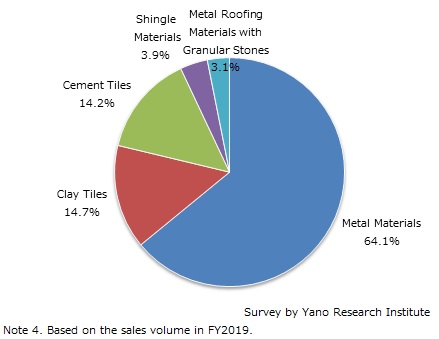 Market Overview
For FY2019, size of the domestic roofing materials market was 115,480,000 m2 (101.3% YOY). Demand increased for facilities related to the Olympic and Paralympic Games Tokyo 2020 (stadiums, accommodations, stores, etc.), renovations of public facilities, and disaster recovery of existing homes across the nation.

Since the growth of roofing materials market is highly dependent on main applications of metal materials, i.e. warehouse construction and housing starts, it is assumed that it will continue to rely on these new constructions.

Noteworthy Topics
Metal Roofing Materials Account for 64.1% of The Total Market
Looking at the roofing materials market for FY2019 by material, share for metal tiles accounted for 64.1%, clay tiles 14.7%, cement tiles 14.2%, shingle materials 3.9%, and metal roofing materials with granular stones 3.1%.


Future Outlook
As the number of new constructions decrease due to spread of the COVID-19 infections, the market of roofing materials expects downturn in FY2020. Situation will be harsh especially for clay tiles, cosmetic slates and shingle materials, which are mainly used for new houses. Nevertheless, only slight decline is expected for the market, as metal roofing materials can expect rise in demand for an increasing demand for lightweight materials against the backdrop of natural disasters all over the country in FY2018 and FY2019, and for growing needs to build new distribution facilities due to expansion of e-commerce market.
Moreover, a trend at home refurbishing businesses focusing more on exterior than on interior living space which may involve higher risk of COVID-19 infections may lead to further boost for the roofing materials market.


Research Outline
1.Research Period: June to August 2020
2.Research Object: Roofing material manufacturers, roofing material sales distributors, industry associations
3.Research Methogology: Face-to-face interviews by the expert researchers and literature research.
Roofing Materials Market
Roofing materials market in this research includes (1) clay tiles, (2) cement tiles such as molded cement tiles, concrete tiles and decorative slate tiles, (3) asphalt shingle materials, (4) metal materials including 55% aluminum-zinc alloy coated sheet steel (Galvalume sheet steel), stainless, aluminum, copper and titanium, and (5) metal roofing materials with granular stones. Note that protective concrete layers and waterproofing sheet materials for flat roofs of buildings are not included.





<Products and Services in the Market>
Clay tiles, metal materials, cement tiles (molded cement tiles, concrete tiles, decorative slate tiles), shingle materials, metal roofing materials with granular stones
Contact Us
©2021 Yano Research Institute Ltd. All Rights Reserved.
The copyright and all other rights pertaining to this report belong to Yano Research Institute.
Please contact our PR team when quoting the report contents for the purpose other than media coverage.
Depending on the purpose of using our report, we may ask you to present your sentences for confirmation beforehand.