Call Center Service & Contact Center Solution Markets in Japan: Key Research Findings 2020
Yano Research Institute (the President, Takashi Mizukoshi) has conducted a survey on the domestic markets of call center and contact center services and solutions and has found out the market trend by service, the trend of market players, and future perspectives.
Transition and Forecast of Domestic Call Center Service Market Size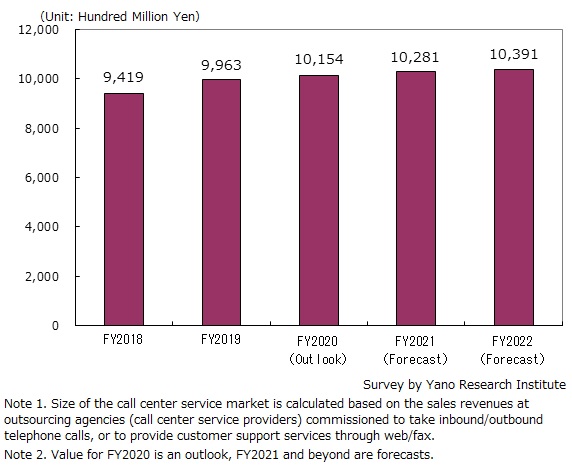 Transition and Forecast of Domestic Call Center Solution Market Size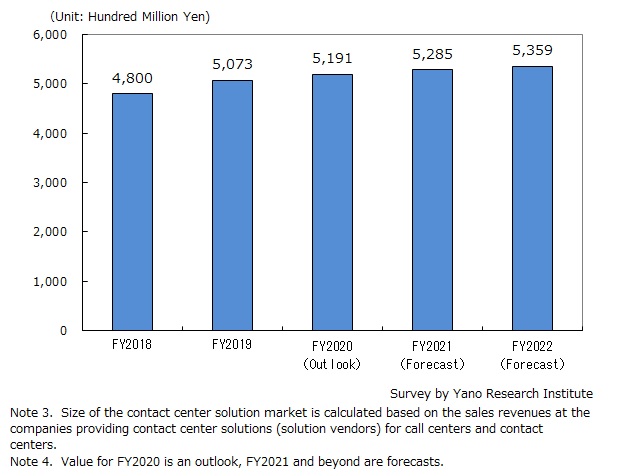 Market Overview
The domestic call center service market in FY2019 rose by 5.8% from the preceding fiscal year to attain 996,300 million yen, based on the sales revenues at call center service providers. Growth was led by manpower shortage at many companies that continued to cause them outsource their call center tasks, and stable demands relating with deregulation of electricity and city gas, and large project-based customer deployment in public sector.
The domestic contact center solution market in FY2019 rose by 5.7% from the previous fiscal year to attain 507,300 million yen (based on the sales revenues at the businesses). The contact center solution market expanded significantly because of demand due to once around every few years of system replacement at enterprises, increase of investments at contact centers for call center solutions using AI, and penetration of low-priced cloud solutions for contact centers.



Noteworthy Topics
Call Centers Adopting Work-From-Home Workstyle
As call centers are, by nature, at risk of being "3Cs" workplace, i.e. confined and crowded places and close-contact settings, operating companies are taking preventive measures for the novel coronavirus. In addition to ensuring safety of their workforce through infection control measures onsite, they are introducing/expanding work-from-home workstyle. Even though most call centers used to be reluctant to adopt work-from-home workstyle mainly out of concern for personal information leakage, in the COVID-19 crisis, adoption is in progress not just as a countermeasure for 3Cs on site but also as a process of BCP (Business Continuity Planning) and a solution for manpower shortage.





Future Outlook
In the call center service market, large ad hoc projects in public sector emerged from influence of COVID-19 infections, and trend is rising among general companies to outsource call center operations against the backdrop of manpower shortage and revision of Worker Dispatching Law. Moreover, wider range of call center operations due to changes in customer touchpoints from just fixed telephones to multichannel including social media is a motive for user companies for outsourcing.
On the other hand, quite a few negative factors for market growth are also seen. While COVID-19 calamity worsens business performance at user companies and develops uncertainty for the future which may cut down customer project size, service price per project may drop due to increase of work-at-home operations and expansion of operations from just telephones to multichannel. For these reasons, the call center service market beyond FY2020 is expecting annual growth of 1 to 2 %.
In contact center solutions market, amidst COVID-19 crisis, FY2020 saw slowdown in growth compared to the previous fiscal year, because unit price was on declining trend as user companies focused more on investing to cloud-type contact center solutions suited for work-at-home workstyle.
From FY2021 and beyond, investments to call center system, the customer touchpoint, is projected to continue steady growth. Nevertheless, as investment will be mainly on cloud-type contact center solutions, drop in unit price and slowdown in growth is anticipated.
Still, the market is forecasted to show marginal growth continually, since it is assumed that increasing number of SMEs that weren't the user of services will be deploying cloud services, and establishment of systems to reinforce new customer support system merging web channel and call center function will be on the rise.


Research Outline
1.Research Period: July to September 2020
2.Research Object: Call center service providers and contact center solution vendors
3.Research Methogology: Face-to-face interviews by the expert researchers, surveys via telephone/email and literature research
What is the call center service market? What is the contact center solution market?
Size of the call center service market in this research is calculated based on the sales revenues at outsourcing agencies (call center service providers) commissioned to take inbound/outbound telephone calls, or to provide customer support services through web/fax.
Size of the contact center solution market in this research is calculated based on the sales revenues at the companies providing contact center solutions (solution vendors) for call centers and contact centers.


<Products and Services in the Market>
Call center services (inbound, B2B outbound, B2C outbound, temporary staffing, commissioned service, outsourcing, helpdesk, customer service, sales support, reminder service (demand notice), customer support services through web/fax/social media), contact center solution (hardware, software, SI/service/support, SaaS [Software as a Service])
Contact Us
©2019 Yano Research Institute Ltd. All Rights Reserved.
The copyright and all other rights pertaining to this report belong to Yano Research Institute.
Please contact our PR team when quoting the report contents for the purpose other than media coverage.
Depending on the purpose of using our report, we may ask you to present your sentences for confirmation beforehand.