Vehicle Leasing Market in Japan: Key Research Findings 2020
Yano Research Institute (the President, Takashi Mizukoshi) carried out a survey on the domestic vehicle leasing market and disclosed the current market status, the trend of market players, and the future perspectives.
Transition and Forecast of Number of Vehicles Secured for Automotive Leasing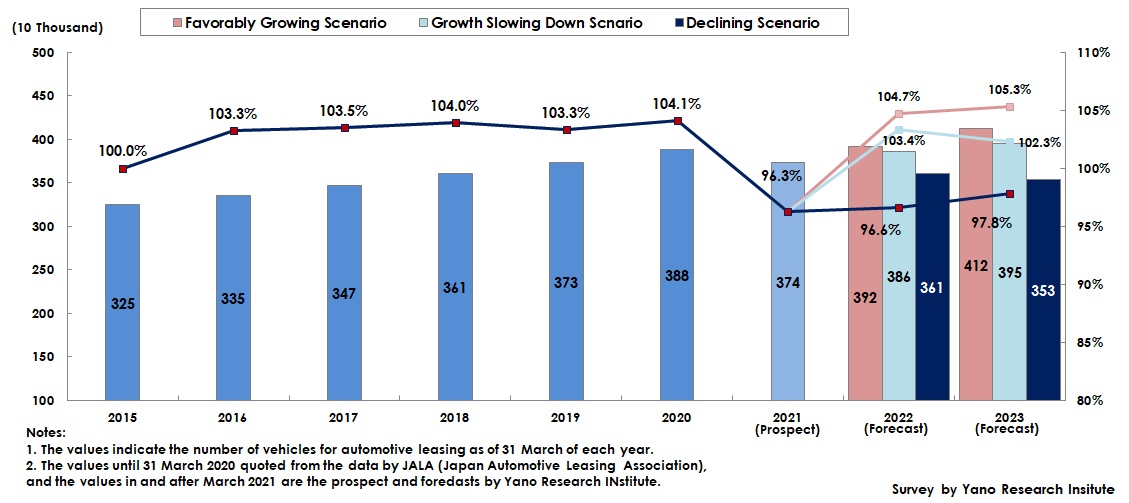 Market Overview
According to Japan Automotive Leasing Association, the number of vehicles for automotive leasing as of end of March 2020 was 3,880 thousand, up by 4.1% from Marth 2019. The increase was nine years in a row since March 2012.

The market expansion was because of increased customers at small-to-midsize businesses in the regions where the rate of vehicle leasing was still low, and acceleration in client acquisition by those companies that newly entered the personal car leasing market. In particular, the number of vehicles for automotive leasing for individuals rose by 21.7% on a year-to-year basis to reach 374 thousand, driving the growth of the entire vehicle leasing market.

Noteworthy Topics
Shift to "Mobility Service Providers" Accelerating
To expand the business domain for the future growth, increasing number of companies plan to generate synergistic effect with the existing vehicle leasing business. This include a new service for corporate customers, combining corporate vehicle leasing and car sharing to allow private use of leased vehicles by employees at corporate customers, which is expected to reduce cost and generate flexible ideas in utilizing automobiles. Also in the market of vehicle leasing for individuals, new market players came up with the services that combine personal car leasing with car sharing. Such new services that combine automotive leasing with some other leasing services invigorate the vehicle leasing market as a whole, which can accelerate the market expansion furthermore for the future.


Future Outlook
Outbreak and spread of the COVID-19 infections since the beginning of the year led the whole economy to slow down in 2020. As the corporate users, the main customers for the vehicle leasing market, have been conscious to reduce cost by diminishing the number of automobiles possessed due to deteriorated sales performance, the number of vehicles for automotive leasing is projected to decline by 3.7% on a year-on-year basis to end up with 3,740 thousand units, as of end of March 2021. As for the number of vehicles for automotive leasing at the time of 31 March 2023, three scenarios are prepared, according to how large the COVID-19 pandemic influences the market: 1) Favorable Growth Scenario allows the number of vehicles to achieve 4,120 thousand; 2) Growth Slowing Down Scenario lets the number of vehicles to reach 3,950 thousand; and 3) Declining Scenario results in the number of vehicles to be 3,530 thousand.


Research Outline
1.Research Period: May to August 2020
2.Research Object: Companies that mainly dealing with vehicle leasing, and automobile maintenance companies
3.Research Methogology: Face-to-face interviews by our expert researchers, survey via telephone and email, and mailed questionnaire
What is Vehicle Leasing?
Vehicle leasing has been chiefly expanded by corporate users to receive some advantages from the aspect of accounting where reduction of initial cost and levelized cost are expected in capital investment, and from the aspect of finance where efficient fund operations and secured borrowing limits from financial institutions can be available, and from the aspect of management where manpower can be reduced for vehicle management. Currently, the vehicle leasing market not only for corporations but for individual users (including individual business owners) are expanding.


Contact Us
©2019 Yano Research Institute Ltd. All Rights Reserved.
The copyright and all other rights pertaining to this report belong to Yano Research Institute.
Please contact our PR team when quoting the report contents for the purpose other than media coverage.
Depending on the purpose of using our report, we may ask you to present your sentences for confirmation beforehand.