DMP (Data Management Platform) and MA (Marketing Automation) Market in Japan: Key Research Findings 2020
Yano Research Institute (the President, Takashi Mizukoshi) has conducted a survey on the domestic DMP (Data Management Platform) and MA (Marketing Automation) market, and has found out the market overview, the trends at market players, and the future perspective. This press release announces transition and forecast of DMP/MA market size.
Transition and Forecast of DMP/MA Market Size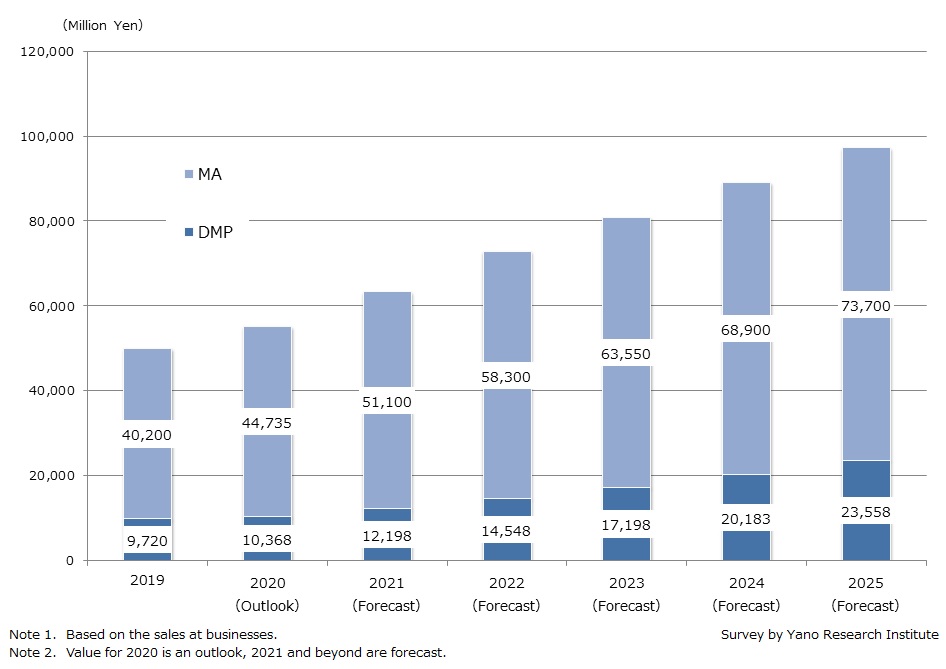 Market Overview
As an expansion trend continues for the DMP and MA market (based on the sales of businesses), total of the two markets is projected to reach 55,103 million yen for 2020. DMP market achieved 10,368 million yen (106.7% YoY), and MA market yielded 44,735 million yen (111.3% YoY).
As customer behavior shifted drastically from offline to online during COVID-19 calamity, use of digital marketing tools for the purpose of studying customers' online behavior and creating customer touchpoints become increasingly important. User companies that have online shopping channels are accelerating attempts to reinforce sales activities.
On the other hand, sales of digital marketing services decreased for tourism and exhibition, the industries badly hit by the impact of stay-at-home requests. Moreover, some prospective user companies faced difficulty proceeding service deployment, because as more people started to work from home, decision making process took longer due to delays in administrative process and/or meetings withheld.

Noteworthy Topics
Customers' Adaptation to New Normal/Going Online Further is an Opportunity
Due to the impact of COVID-19, in 2020 buying behaviors of consumers migrated rapidly from offline to online. For user companies, studying customer behavior, understanding customer needs, and communicating with customers online have become the urgent issues. While more people work from home and infection prevention is a critical perspective, customary face-to-face sales activity is not easy to promote.
Instead of promoting strategies based on conventional customer behavior, it is necessary to build customer experience that is in line with new normal formed by rapid online migration. Therefore, needs for introduction and utilization of digital marketing tools like MA are expected to rise.
As amount of data collected online increases in accordance with customers' online migration, user companies will be able to develop marketing strategies with higher accuracy and deepen understanding of customers. Since digital marketing tools are still complex for user companies to utilize on their own, supports by service providers will remain important.


Future Outlook
On an assumption that the market continues to grow hereafter, the DMP and MA market is projected to reach 23,558 million yen and 73,700 million yen by 2025, respectively (based on the sales at businesses).
Demand for digital marketing is expected to rise now on in order to study customer behavior, understand customer needs, and communicate with customers online. What is more, as customer's purchasing behavior diversifies further, customer touchpoints multiplies, and at the same time, become complicated. To communicate relevantly with customers online, it is essential to utilize digital marketing tools. Moreover, since the domestic market has labor shortage and hiring issues due to decrease in population, introduction of such tools will be encouraged as means to streamline business operation and improve productivity.
On the other hand, in addition to establishing a system within user companies to root the use of tools, challenge remains for the entire digital marketing market to support user companies clarify their goals, i.e., what they would like to achieve by using these tools.





Research Outline
1.Research Period: July to September 2020
2.Research Object: Service vendors of DMP, MA, CRM/SFA, business card management services for corporate customers, and online sales system vendors, selected based on original criteria.
3.Research Methogology: Face-to-face interviews by the expert researchers (including online interviews), surveys via telephone, and literature research
What is DMP? What is MA?
DMP (Data Management Platform) in this research refers to a system that collects and analyzes the data on customer behavior at various sales channels, aiming to identify the characteristics of each customer so as to be able to optimize the ads, emails, direct mail, and other marketing methods accordingly. There are public DMP and private DMP; while the former uses customer data possessed by not the in-house websites but by the third party, the latter uses its own website customer data. Private DMP in this research includes CDP (customer data platform) that carries out data management based on individual customers.
MA (Marketing Automation) is a system or a service that integrates and automatically assesses the vast volume of data on the prospects and existing customers, automatically executes the actions based on the scenario designed for each prospect and customer, and increases their loyalty, in order to eventually create highly-promising business negotiations.


<Products and Services in the Market>
DMP, CDP, MA, and business card management services for corporate customers
Published Report
Contact Us
©2019 Yano Research Institute Ltd. All Rights Reserved.
The copyright and all other rights pertaining to this report belong to Yano Research Institute.
Please contact our PR team when quoting the report contents for the purpose other than media coverage.
Depending on the purpose of using our report, we may ask you to present your sentences for confirmation beforehand.