Outdoor Business Market in Japan: Key Research Findings 2020
Yano Research Institute (the President, Takashi Mizukoshi) carried out a survey on the domestic outdoor business market and found out the trend by outdoor style, by category, and the trends of market players.
Transition of Outdoor Business Market Size by Style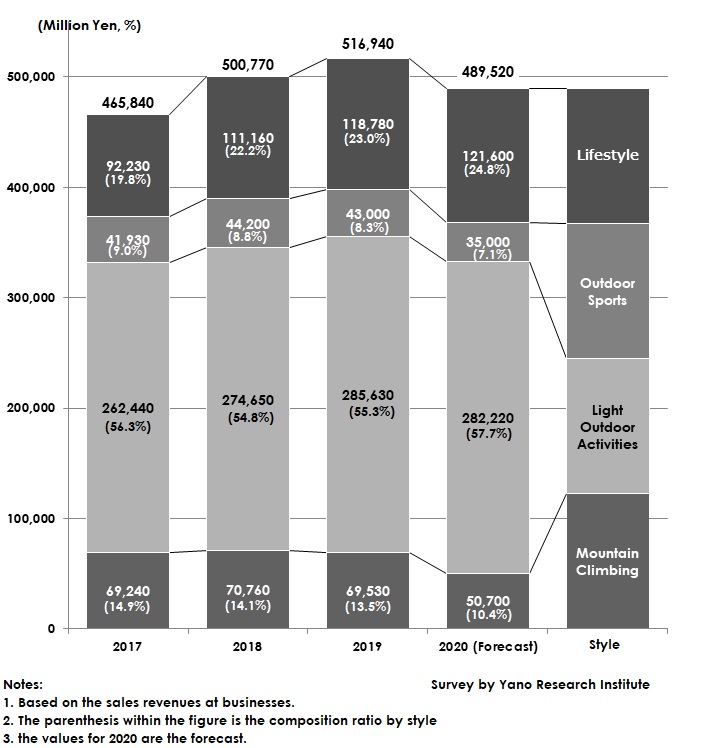 Market Overview
Size of the domestic outdoor business market in 2019 was estimated as 516,940 million yen, 103.2% of the size of the previous year. While "light outdoor activities" occupied 55.3% of total four outdoor styles (i.e. mountain climbing, light outdoor activities, outdoor sports, and lifestyle), "outdoor gear" occupied 81.3% of all the market categories (i.e. outdoor gear market, outdoor facility market, and outdoor-related service market).

As the popularity of camping continues among people of all ages from young to old, the demand for camping has widened. Even solo campers have increased especially during the slack period such as on weekdays or during wintertime. Although camping was recognized from long time ago, it used to be somebody else's business for general people. It has recently become more familiar pastime to enjoy diversely.

Of all outdoor styles, "lifestyle," where clothing and shoes by outdoor brands becoming a part of everyday lives, continues strong sales of major outdoor brands' products that are used for town strolling, travelling, and even commuting to schools and workplaces by general consumers.

After March 2020 when expansion of the COVID-19 infections still a concern, camping has been in the limelight as a relatively safe pastime, for it takes place "outdoor," "with only family members," or "without anyone around." These keywords are considered to make low risks for infection, and camping is one of few recreations that can achieve these conditions. The demand for camping, therefore, has been on the stable rise even in the COVID-19 calamity.

Noteworthy Topics
Camping Site Market Continues Booming
The most attention-attractive category in the outdoor business market is the camping site market. Camping is said to have been in the boom since three years ago, bringing about the camping site market to prosper. Although the conventional camping used to be something to enjoy Mother Nature, the recent camping differs in that the peripheral environment is fully equipped with shower booths and flushing lavatories and that those camping sites that have the power supply and convenience of smartphone availability are increasing.

In addition, camping gear has become numerous in variety from those for the beginners to those for the experts who have strong preference in camping; the former is represented by easy tents that can prepare within a few minutes, while the latter represented by cooking tools for making oven-baked recipes or smoked recipes outdoor.

Camping is basically enjoyed by families, but recently solo camping has been in the spotlight, which is driving the manufacturers to develop and sell various camping instruments for such loners to feel convenient, such as small firing stands that are easy-to-handle and lightly-weighted. Also, programs and videos of how to enjoy solo camping have been affluent at video streaming websites including YouTube. Because solo camping does not need to adjust the schedule with others, people just leave for camping all by themselves whenever and wherever they like, oftentimes at weekdays when the sites are vacant. Therefore, the issue at camping sites regarding how to occupy vacancy during weekdays has been improving.


Future Outlook
The outdoor business market size for 2020 is forecasted to attain 489,520 million yen, 94.7% of the size of the previous year, based on the sales revenues at businesses. Although the COVID-19 infections have affected to downturn the market to temporary negative growth, the market is expected to grow steadily for the next few years.

Continuous growth of the outdoor business market attracts new entries from different industries, which in turn may stimulate the market to expand furthermore. WORKMAN CO., LTD. which used to be the manufacturer specializing in working uniforms such as for construction sites, has recently come to the fore after it enhanced the designs of its in-house products of highly functional clothing to fit to the lifestyle segment. In addition, Decathlon S.A., a French sporting gear retailer, has successfully entered the market in Japan by opening large-scale stores in 2019 and 2020 consecutively, developing a sales strategy completely different from those existing outdoor brands that have promoted their high-functional or added-value products.

In addition to expectation of a boost by new entrants and of a recent attention to outdoor activities including camping even in the COVID-19 calamity, strong sales of camping gear and lifestyle clothing and shoes are projected to keep driving the entire outdoor business market even during 2020.


Research Outline
1.Research Period: June to August 2020
2.Research Object: Domestic manufacturers, wholesalers, and retailers of outdoor goods, companies that operate or provide outdoor facilities and services, organizations regarding outdoor activities, and etc.
3.Research Methogology: Face-to-face research by the expert researchers, surveys via telephone and email, and literature research
What is the Outdoor Business Market?
The outdoor business market in this research indicates the total size of the followings: outdoor gear market, outdoor facility market (mountain huts, camping sites, climbing gyms, and fishing sites under management), and outdoor-related service market (mountain guides, guides to nature, and outdoor-goods rental). The report classifies the outdoor business market into the following four styles, with the analysis of each style disclosed within: 1) Mountain climbing, 2) Light outdoor activities, 3) Outdoor sports, and 4) Lifestyle. Note that the products, facilities and services relating to any of marine leisure (diving, sea fishing and etc.) and winter sports (skiing, etc.) are not included.

The definition of the four styles is as follows:
1) Mountain Climbing: Products, facilities and services regarding leisure activities aiming mainly to "climb a mountain."
2) Light Outdoor Activities: Products, facilities and services regarding leisure activities aiming mainly to "recreate oneself in the nature," such as camping, hiking, fishing (mountain stream fishing), Ayu (sweetfish) fishing, hera-crucian fishing, fishing using a lure (bass/trout), fly-fishing, outdoor festivals (mainly outdoor rock music lives by multiple bands), and etc.
3) Outdoor Sports: Products, facilities and services regarding outdoor activities positioned as sports, which indicate trail running, sports climbing, and etc.
4) Lifestyle: Generally everything sold by outdoor brands that is not included in the above-mentioned items and used in daily lives, business, and travel.


<Products and Services in the Market>
Mountain climbing, hiking, camping, outdoor festivals, trail running, sports climbing, rock climbing (bouldering), lifestyle, travelling, mountain huts, camping sites,
Contact Us
©2019 Yano Research Institute Ltd. All Rights Reserved.
The copyright and all other rights pertaining to this report belong to Yano Research Institute.
Please contact our PR team when quoting the report contents for the purpose other than media coverage.
Depending on the purpose of using our report, we may ask you to present your sentences for confirmation beforehand.