Eyewear Retail Market in Japan: Key Research Findings 2020 Domestic Eyewear Market for 2019 Declined Slightly to 504,000 Million Yen, 99.6% of Previous Year, on Subdued Demand for Health-and-Beauty-Conscious Functional Eyewear
Yano Research Institute (the President, Takashi Mizukoshi) carried out a survey on the domestic eyewear market and found out the trend of products by segment, newsworthy topics, and future perspectives.
Transition of Domestic Eyewear Retail Market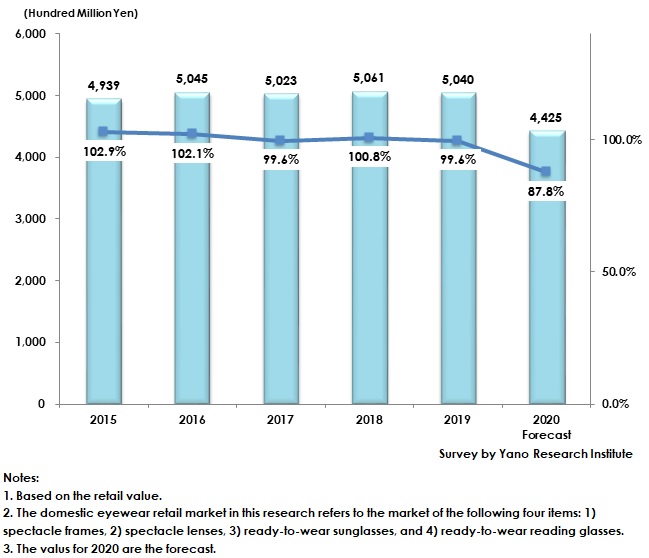 Market Overview
The domestic eyewear retail market size in 2019 was estimated as 504,000 million yen, a slight decline by 0.4% from the previous year. The sales of reading glasses for the aged and eyewear for kids continued showing steady growth, while those of functional eyewear products appealing to health and beauty consciousness (e.g. UV protection products) leveled off.

In 2019, the sales increase was observed for anti-glare lenses for the elderly and anti-fatigue lenses used by the people working from home as many companies introduced telework due to widely accepted workstyle reform. As functions of each lens are specific, functional lenses have increasingly been used as optional lenses. The reasons for the favorable sales of functional lenses were increased awareness of consulting services and eye-care services enhanced at the manufacturers, which enlightened the importance of lenses among users.

Other following factors also contributed to the favorable sales: Easy lens-exchangeable products showed strong sales, supported by the users from wide age ranges; sports glasses or goggles that can be fixed and fit at the head sold remarkably well; second generations of baby boomers have begun entered the presbyopia market; and expansion of ecommerce sales. However, the market as a whole downturned due to the subdued demand for UV-protection products which had driven the entire eyewear market for the past several years.

Noteworthy Topics
Domestic Eyewear Enhances Branding
A shop that deal in diverse types and brands of eyewear has newly opened a boutique that sells the products manufactured in Sabae, a location in Fukui Prefecture famous for manufacturing eye glasses. In cooperation with eye-wear manufacturers in Fukui, the boutique has attracted attention for being particular about the items made in Fukui of Japan.

Development of eyewear business at such a boutique located in a fashion-sensible commercial facility is innovative in terms of branding and adding fashionable values to domestically-manufactured eyewear.


Future Outlook
The eyewear retail market for 2020 is expected to be affected considerably by COVID-19 pandemics, with the sales at physical stores estimated to decline substantially to 442,500 million yen, 87.8% of the previous year. However, not completely all items are projected to go through negative growth, as retailers have attempted to travel to consumers (i.e. mobile shop), or to enhance e-commerce.

With dramatic changes in lifestyles in the midst of COVID-19 pandemics and with DX (digital transformation) in progress, eyewear market players are courageously challenging to promote products that can solve various eyewear issues. Multiple products have been developed to provide "values" such as; progressive lenses to solve eyestrains for people staying home or restricted to go out; blue-light blocking lenses for increasing number of teleworking people; eyewear disinfecting services for growing consciousness for sterilization; UV-protection lenses for eye health; and face shields with latest technologies as well as mask straps. Thus, flexible adaptation to the changes in consumer activities stemming from new lifestyles has begun considered as a remarkable business opportunity, which can reinvigorate the eyewear market that lead to an early recovery, if the industry as a whole take a progressive step.


Research Outline
1.Research Period: June to August, 2020
2.Research Object: Companies in eyewear business (manufacturers, wholesalers and retailers)
3.Research Methogology: Face-to-face interviews by the expert researchers, surveys via telephone and email, and mailed questionnaire
The Domestic Eyewear Retail Market
The domestic eyewear retail market in this research refers to the market of the following four items: 1) spectacle frames, 2) spectacle lenses, 3) ready-to-wear sunglasses, and 4) ready-to-wear reading glasses. They cover the entire genre including imported brands, licensed brands, in-house brands, functional eyewear, and sports eyewear.


<Products and Services in the Market>
Spectacle frames, spectacle lenses, ready-to-wear sunglasses, ready-to-wear reading glasses
Contact Us
©2021 Yano Research Institute Ltd. All Rights Reserved.
The copyright and all other rights pertaining to this report belong to Yano Research Institute.
Please contact our PR team when quoting the report contents for the purpose other than media coverage.
Depending on the purpose of using our report, we may ask you to present your sentences for confirmation beforehand.