Imported Luxury Brands Market in Japan: Key Research Findings 2020
Yano Research Institute (the President, Takashi Mizukoshi) carried out a survey on the domestic imported luxury brand market and disclosed the current status, the trends, and future perspectives.
Transition of Domestic Imported Luxury Brand Retail Market Size (Major 15 Items)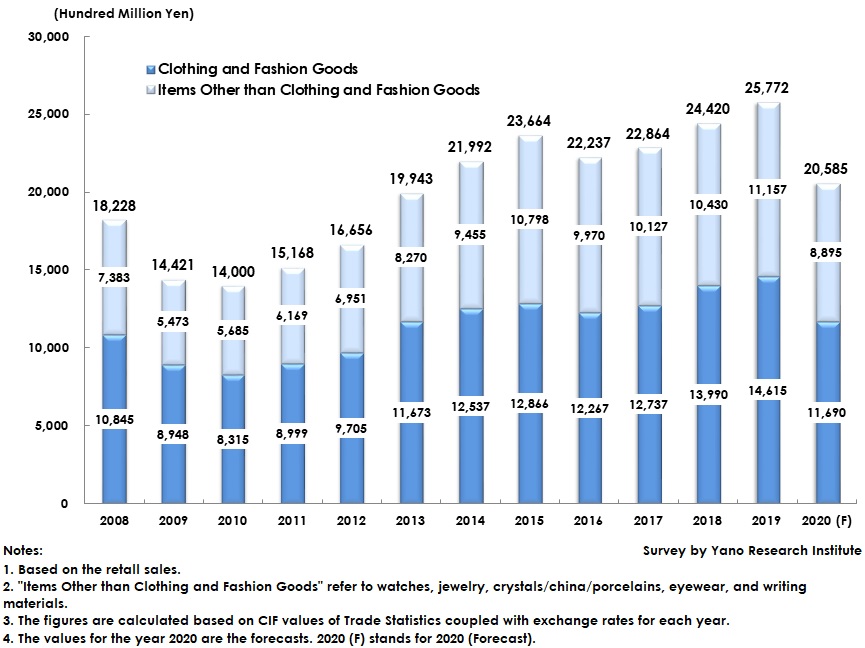 Market Overview
The retail market size of domestic imported luxury brands (major 15 items) in 2019 rose by 5.5% from the previous year to attain 2,577,200 million yen. Underlying factors were rising consumption of the wealthy population driven by high stock prices and an uptick in the consumption of the millennials* throughout the year. On the other hand, there were some factors that showed different tendency between the former and latter half of the year. Inbound tourism demand (tourists from overseas) that had been stably expanded in recent years showed favorable growth in the first half of the year but slowed down in the second half due to currency exchange rates and political influence. In addition, the consumption tax hike in October and warm winter weakened consumption especially after the tax hike by the middle-class consumers in Japan. The domestic imported luxury brand retail market size in 2019 resulted to expand further from 2018 but showed deceleration in the latter half of the year.

*The millennials have been variously defined. In this research, they refer to the young generation in early 20s up to late 30s as of 2020, born from 1980s to late 1990s reaching working ages at around 2000.

Noteworthy Topics
Digital Shift in COVID-19 Calamity (Supplementing Physical Stores in Customer Services and Sales)
In the COVID-19 calamity, attracting customers to and servicing customers at brick and mortar just like before have become difficult. Therefore, many brands and retailers have started introducing online tools such as ZOOM and LINE for customer services.

Especially at luxury brands, customers tend to purchase only after actually looking at and touching the products at physical stores. However, they have begun reducing the frequency of or refraining from visiting physical stores and avoiding crowded hours. Attending customers through online tools not only help the customers reduce the number of times to visit stores until deciding to purchase, but also make high customer satisfaction level, as the tools enable to respond to the customers individually. In addition, to supplement the physical stores, each brand needs to strengthen ecommerce and make it one of reliable channels by enhancing in-house ecommerce and by opening ecommerce stores at external online malls. When doing so, it is better for UI (user interface) and UX (user experiences) to be localized, but difficult at luxury brands where ecommerce tends to be operated at their home countries.

In the COVID-19 calamity, while younger people often travel about, older adults refrain from going outside as they have higher risk of severe illness. In the current situation where major older customers are reducing the opportunity to go outside, the brands are required to reconsider the communication methods for customers to touch on the brand information and to keep them being interested. Rather than hammering out a digital strategy to just draw attention of younger generation, it is more necessary to implement a digital strategy for conveying messages to existing customers especially those at advanced age.


Future Outlook
Global outbreak of COVID-19 infections since the beginning of the year brought about declaration of the state of emergency on 7 April 2020 in Japan, which led fashion brands to be regarded as non-essential and non-urgent matters, and to voluntarily close the physical stores for about two months. In June and July, after the declaration was lifted, the consumption rose more sharply than expected (the phenomenon was called "revenge consumption"), as customers waiting for the shops to open rushed to buy things. However, the hopeless situation of inbound tourism demand has been unchanged, making the brands whose sales ratio highly occupied by the visitors from overseas to continue being in predicament, even though the stores resumed. Furthermore, it is virtually impossible to cover the loss during two months of store closure without sales. For 2020, it is a challenge for the entire industry of how to shrink the negative impacts in the COVID-19 calamity with only Japanese consumers.

The new lifestyles that are asked to avoid closeness with the others not only discourage holding conventional events to attract people and serve customers, but also clearly reduced store visits by older adults, not to mention those at risks of severe illness. Because the main customers for department store channel are such older people, the imported luxury brands that place department stores as their main channel are in strained condition. In addition, the changes in business locale, decreased events as well as opportunities to go outside seem to have daunted consumers in general for buying fashion items. If there is no need for some measures such as the state of emergency declaration to be taken again during when the economic activities continue in the COVID-19 calamity, the domestic imported luxury brand retail market size (major 15 items) in 2020 is likely to be 2,058,500 million yen, a decline by 20.1% of the size of the previous year, considering various factors of the current situation.


Research Outline
1.Research Period: May to August 2020
2.Research Object: Trading firms, manufacturers, retailers that import and sell products such as clothing, accessories, watches, jewelry, crystals/china/porcelains, eyewear, and writing materials, produced by the European and U.S. brands, and Japanese subsidiaries of imported luxury brands
3.Research Methogology: Face-to-face interviews by the expert researchers, surveys via telephone, and literature research
The Imported Luxury Brands Market
The imported luxury brands in this research indicates the brands dealing in the following 15 items (conventional ten items and newly-added five items): 1) Women's clothing, 2) Men's clothing, 3) Babies' clothing, 4) Bags & leather goods, 5) Shoes, 6) Ties, 7) Scarves/shawls/handkerchiefs, 8) Clothing made from leather, 9) Belts, 10) Gloves, 11) Watches, 12) Jewelry, 13) Crystals/china/porcelains, 14) Eyewear, and 15) Writing materials. Note that luxury brands are only those imported from U.S. or Europe.


<Products and Services in the Market>
Women's clothing, Men's clothing, Babies' clothing, Bags & leather goods, Shoes, Ties, Scarves/shawls/handkerchiefs, Clothing made from leather, Belts, Gloves, Watches, Jewelry, Crystals/china/porcelains, Eyewear, and Writing materials
Contact Us
©2019 Yano Research Institute Ltd. All Rights Reserved.
The copyright and all other rights pertaining to this report belong to Yano Research Institute.
Please contact our PR team when quoting the report contents for the purpose other than media coverage.
Depending on the purpose of using our report, we may ask you to present your sentences for confirmation beforehand.