Processed Food Market in Japan: Key Research Findings 2020 Increased Demand for Simplified and Timesaving Cooking Procedure Causing Steadfast Growth of Processed Food Market
Yano Research Institute (the President, Takashi Mizukoshi) carried out a survey on the domestic processed food market and disclosed the transition and forecast of the market size, trend by item, and future perspectives.
Transition of Domestic Processed Food Market Size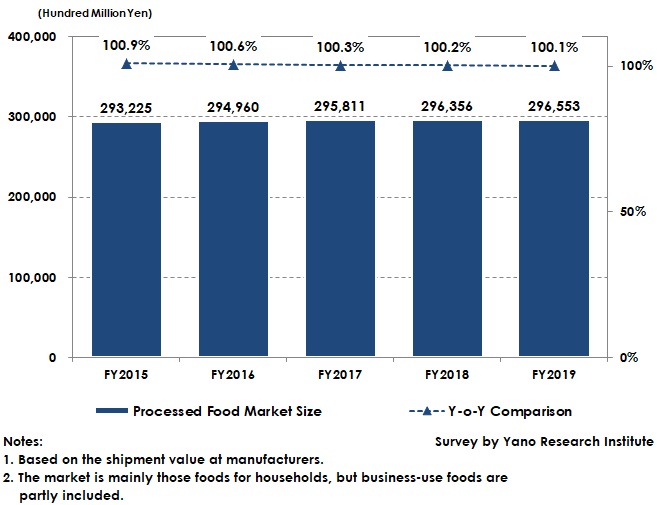 Forecast of Domestic Processed Food Market Size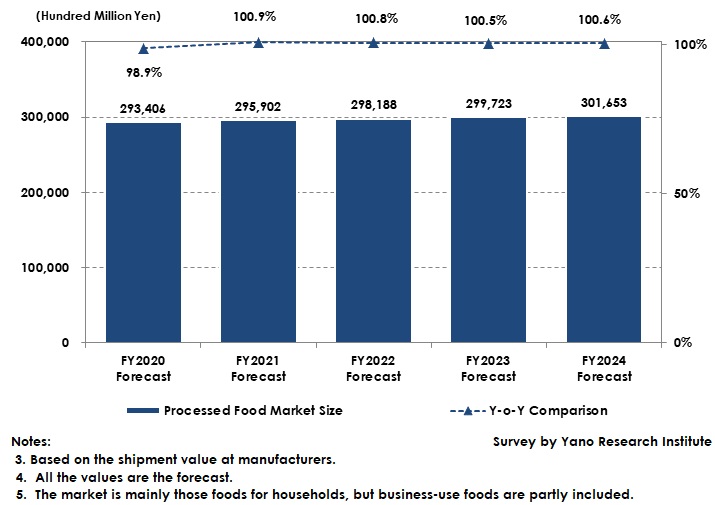 Market Overview
The domestic processed food market size for FY2019, based on the shipment value at manufacturers, rose to 29,655,300 million yen, 100.1% of the size of the previous fiscal year. After FY2015, the growth rate has slowed down, but the demand for processed food has been stable, due to increasing demand for simplified and timesaving cooking procedures against the backdrop of expanding women's empowerment and increasing number of senior households.

Noteworthy Topics
"Health" Keeps Being Growth Factor
Growth factors for the processed food market are "health" "storage" and "Drinking at home." Consumers have become more and more health conscious in recent years, incrementing the demand for food that is said to be healthy. There is a tendency of some food, such as processed seaweed and Natto, increase demand after their health effects being featured in TV shows.

When observing the market by item, those products that can easily associate health, such as Japanese tea drink, vegetable juice, and drinking yogurt continue expanding.

In recent years, improved awareness of taking protein being good for health and beauty has led consumers to eat more meat, bringing about and establishing the boom of "lean meat" and "barbecue." This has caused sauces for barbecued meat and other items that garnish meat dishes have shown favorable growth.

In the oil category, the demand for healthy oil represented by sesame oil, linseed oil, perilla oil, and rice oil has been on the rise, while suppliers earnestly convey messages on how healthy the products are.

As for low-calorie sweeteners, increased awareness of limiting carbohydrate as a method for health management and losing weight has raised the demand for zero-carbohydrate or carbohydrate-off food, keeping strong sales.

When observing from the aspects of ingredients and functionality, more consumers have been eager to take protein as a measure to keep health, beauty, and fitness, and to prevent from frail (fragile health both in mind and body caused by aging), and sarcopenia (declined physical performance through decreased muscle mass caused by aging and diseases). Also, the food that encourages intestinal improvement such as yogurt, drinking yogurt, and Natto are selling well.


Future Outlook
For FY2020, the market is projected to decline slightly, due to economic anxiety stemmed from the COVID-19 pandemic even though it affected positively to some categories. The demand for processed food for the food service industry dropped significantly, as consumers restrained from going out. On the other hand, changed workstyles of office workers, as telework and working at home becoming normal, have led convenience stores to be in predicament. The products mainly for convenience stores have slowed down the sales.

From mid to long-term viewpoints, progress of aging society and increase of small households are likely to expand the markets of health food and food for the seniors, with diverse food packed in small packages. As more consumers opt for simplified cooking procedure, the cooked food market is expected to grow stably. The domestic processed food market based on the shipment value at manufacturers is forecasted to increase to 30,165,300 million yen by FY2024.


Research Outline
1.Research Period: June to August 2020
2.Research Object: Leading food manufacturers, wholesalers, and other organizations in the related industries, government agencies
3.Research Methogology: Face-to-face interviews by our expert researchers, survey via telephone and email, questionnaire, and literature research
The processed food market
The processed food market in this research refers to the market comprising 176 items belonging to the following fifteen categories: 1) Liquor, 2) Beverages, 3) Dairy Produce, 4) Processed Meats, 5) Processed Seafood, 6) Processed Agricultural Products, 7) Breads and Noodles, 8) Wheat Flour Products, 9) Condiments, 10) Oil/Fat Products, 11) Sugar/Sweeteners, 12) Frozen Foods 13) Instant Foods/Retort Packaged Foods, 14) Sweets/Confectioneries, and 15) Health Foods.

The market size is calculated based on the shipment value at manufacturers. Note that the market is mainly those foods for households, but some business-use foods are partly included.


<Products and Services in the Market>
Liquor, Beverages, Dairy Produce, Processed Meats, Processed Seafood, Processed Agricultural Products, Breads and Noodles, Wheat Flour Products, Condiments, Oil/Fat Products, Sugar/Sweeteners, Frozen Foods Instant Foods/Retort Packaged Foods, Sweets/Confectioneries, and Health Foods.
Contact Us
©2021 Yano Research Institute Ltd. All Rights Reserved.
The copyright and all other rights pertaining to this report belong to Yano Research Institute.
Please contact our PR team when quoting the report contents for the purpose other than media coverage.
Depending on the purpose of using our report, we may ask you to present your sentences for confirmation beforehand.