Logistics Robotics Market in Japan: Key Research Findings 2020
Yano Research Institute (the President, Takashi Mizukoshi) carried out a survey on the domestic logistics robotics market, and found out the market size, trend of market players and future perspectives.
Transition and Forecast of Logistics Robotics Market Size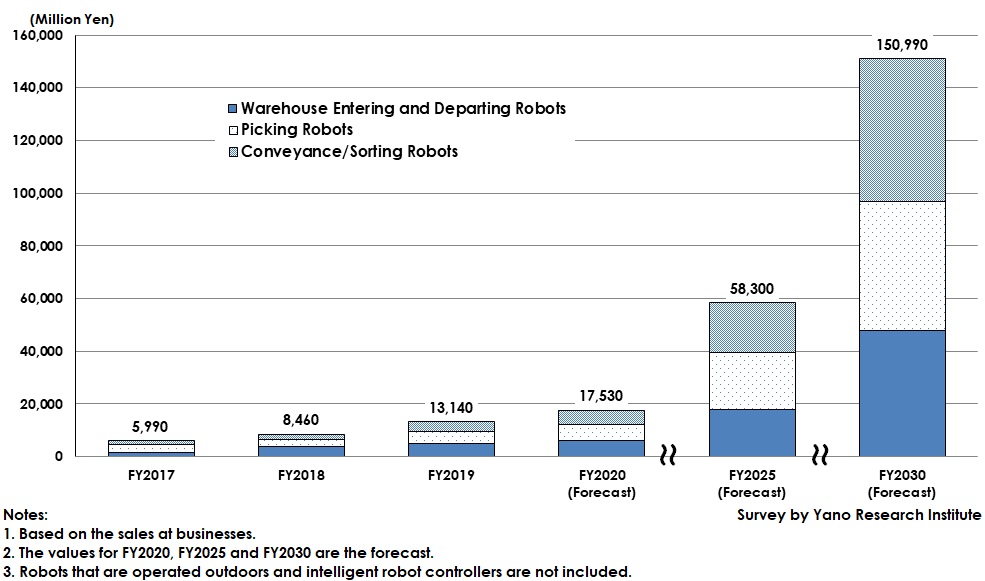 Definition of Logistics Robotics by Work Process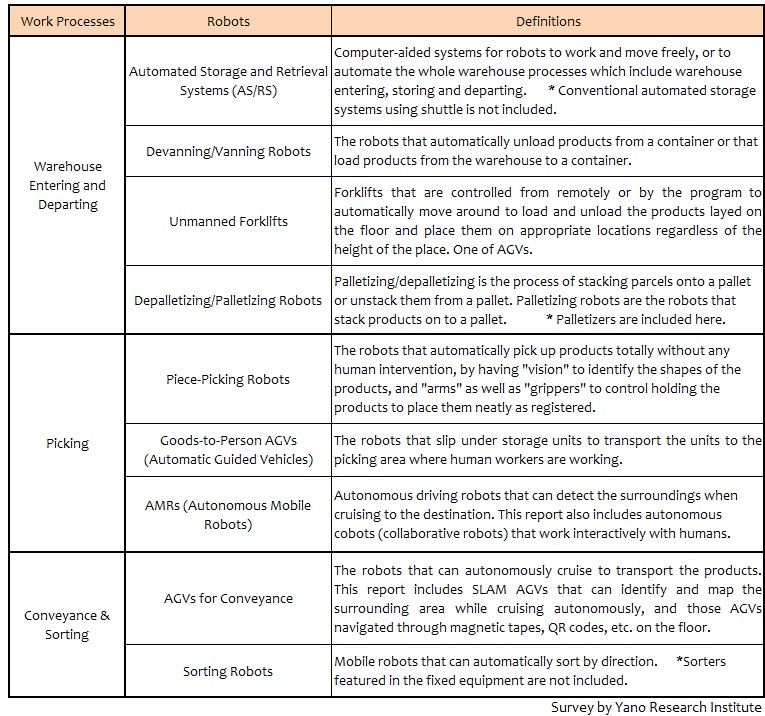 Market Overview
The logistics robotics market size (based on the sales at businesses) in FY2019 was estimated as 13,140 million yen, 155.3% of that of the previous fiscal year.

Logistics has become one of the important social infrastructures, but it faces the issue of manpower shortage more serious than other industries due to its labor-intensive nature. Introduction of logistics robotics at warehouses and distribution centers is attracting attention as one of the effective solutions for the issue.

It was around 2014 that logistics robotics systems began gaining prominence in Japan. Since then, the types of logistics robotics released have increased year by year. The market grew steadfastly in FY2019, as picking AMRs (Autonomous Mobile Robots) that work interactively with humans were released and Goods-to-Person AGVs as well as autonomous storage systems showed favorable growth.

Noteworthy Topics
Logistics Robotics Gathering Attention in Terms of BCP in COVID-19 Calamity
Logistics robotics conventionally had significance to supplement manpower shortage by bringing about unmanned or labor-saving workplaces, but they now gather attention in terms of BCP (business continuity planning).

As new coronavirus infections expanded, some measures had to be taken to secure social distances for preventing cluster generations even at a warehouse where people used to be unmindful of gathering closely together when working. Logistics robotics systems have an advantage of being able to run as usual, even in an emergency or when warehouse tasks cannot be performed due to absence of workers at site.

Prerequisite of logistics is "to continue," and therefore, logistics has the social responsibility not to discontinue distributing merchandises. The role of logistics robotics systems is essential from the BCP point of view. In that sense, logistics warehouses can cope with the emergency such as when a disaster hit the area. Hence, it is possible for warehouses to be regarded as a reliable and efficient business-continuity method during the emergency.


Future Outlook
Development and utilization of logistics robotics have just started, and are likely to expand furthermore. COVID-19 pandemics have boosted the utilization of robotic systems at logistics sites as a method to prevent the sites from"three closenesses" i.e. closed space, crowded places, and conversations in close proximity, as well as from the viewpoint of BCP. Introduction of logistics robotics systems, including those in the demonstration phase, is expected to accelerate. The logistics robotics market size in FY2020 based on the sales at businesses is projected to achieve 17,530 million yen, 133.4% of the size of the preceding fiscal year.

In addition, delivery robots and drones operated outdoors for last mile logistics and delivery with some demonstrations and tests underway, which are not included in this market, are highly likely to be rolled out within five years, as Road Traffic Act and Aviation Law are scheduled to be revised and regulated. If such outdoor logistics robotics is launched, the logistics robotics market is projected to expand to 58,300 million yen by FY2025 and 150,990 million yen by FY2030.


Research Outline
1.Research Period: April to August 2020
2.Research Object: Manufacturers related with logistics robotics, service providers, businesses utilizing logistics robotics
3.Research Methogology: Face-to-face interviews by our researchers, and literature research
The Logistics Robotics Market
According to the materials in METI (the Ministry of Economy, Trade, and Industry), a robot is defined as an intelligent machinery system equipped with three types of technologies, i.e. sensors, intellect and control, and drive system.

Logistics robotics in this research targets the robots utilized indoors for distribution such as at warehouses and logistics centers, and categorized into the following three types by work process: Robots for warehouse entering and departing, picking robots, and conveyance and sorting robots. Those logistics robots used for production at manufacturers, or those that operated outdoors, or intelligence robot controllers are not included in this research.


<Products and Services in the Market>
Automated Storage and Retrieval Systems (AS/RS), Devanning/Vanning Robots, Unmanned Forklifts, Depalletizing/Palletizing Robots, Piece-Picking Robots, Goods-to-Person AGVs (Automatic Guided Vehicles), AMRs (Autonomous Mobile Robots), AGVs for Conveyance, Sorting Robots
Contact Us
©2019 Yano Research Institute Ltd. All Rights Reserved.
The copyright and all other rights pertaining to this report belong to Yano Research Institute.
Please contact our PR team when quoting the report contents for the purpose other than media coverage.
Depending on the purpose of using our report, we may ask you to present your sentences for confirmation beforehand.