Global Market of Mobile Phone Subscriptions: Key Research Findings 2020 Global Shipment Volume of Smartphones in 2020 Projected to Generate 1,204,960 Thousand, 87.8% of Previous Year
Yano Research Institute (the President, Takashi Mizukoshi) carried out a survey on the global number of mobile-phone subscriptions and the markets of smartphones and feature phones in global major 33 markets (32 countries and 1 region), and forecasted the number of subscriptions by telecommunication provider, shipment volume by type of mobile phones, and market share by manufacturer. This press release makes clear of the forecast on the global number of subscriptions for mobile phones, handsets (total of smartphones and feature phones), and 5G smartphones.
Forecast of Global Number of Mobile-Phone Subscriptions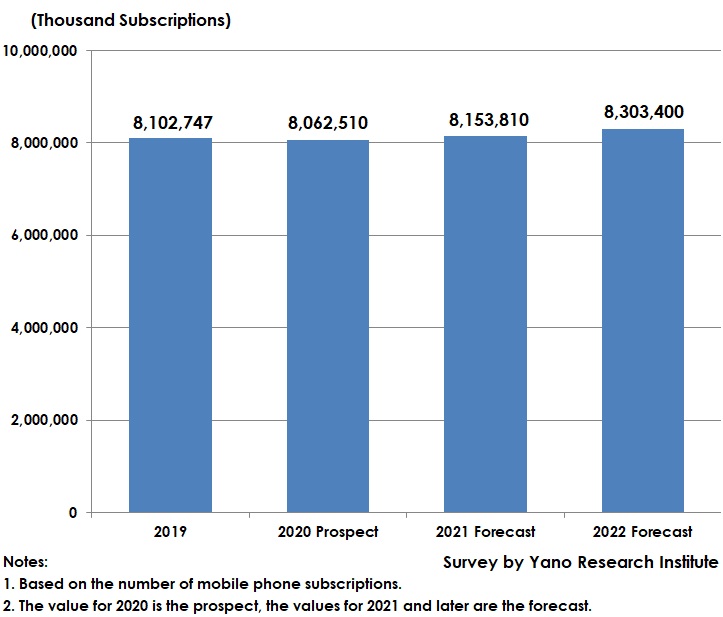 Forecast of Global Shipment Volume of Handsets, Smartphones, 5G Smartphones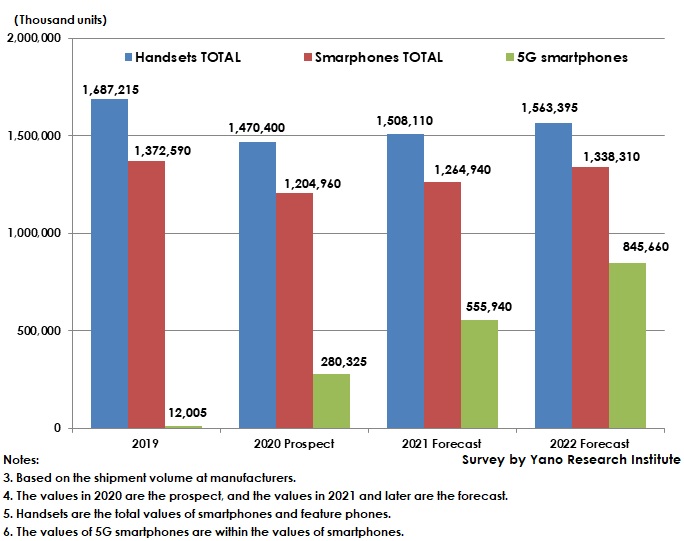 Market Overview
The global number of mobile phone subscriptions has shown tremendous rise in Africa and Latin America, though growth of two major markets of China and India is slowing down and limited growth is observed in the developed countries. Also, there are some markets of the developed countries with the number of subscriptions significantly decreased, because many unused prepaid IDs have been deleted as a result of promotions of post-paid services and of stricter ID verifications carried out for prepaid services.

The global number of mobile phone subscriptions in 2019 was 8,102,747 thousand. In 2020, although growth is expected in Africa and Latin America, sluggish economy caused by COVID-19 infections is likely to slow down the new subscriptions. As the loss from the above-mentioned deleted pre-paid subscriptions cannot be covered, the global number of mobile phone subscriptions in 2020 is projected to decline to 8,062,510 thousand, 99.5% on a year-over-year basis.

Although the shipment volume of smartphones is on the rise in India as well as in the countries of ASEAN and Africa, the market of mobile phone terminals worldwide is on the fall, due to stagnant economy in China which is the largest market of mobile phone terminals, and to the markets of developed countries being on the decline.

The number of global shipment volume of handsets (total of smartphones and feature phones) shipped from manufacturers was 1,687,215 thousand (97.8% on a YoY basis), of which smartphones were 1,372,590 thousand (96.8% on a YoY). The slight decline of the market is because of limited room for growth in the developed countries together with sudden decreased demand in China, despite expanding demand for smartphones in the emerging countries. The global shipment volume of handsets for 2020 is expected to decline to 1,470,400 thousand (87.1% on a YoY), of which smartphones is projected to be 1,204,960 thousand (87.8% on a YoY). In addition to the global market as a whole has somewhat matured, the influence of COVID-19 reduced the shipment and sales of mobile terminals in the second quarter (fiscal April to June). The market, therefore, is likely to significantly decline, though it somehow resumed in the third quarter (fiscal July to September) which is not good enough to cover the loss of the earlier period.

Noteworthy Topics
Influence of COVID-19
At the time when many citizens were forced to stay home in many countries, use of mobile phone services as well as data communication services has increased, due to expansion of streaming services. On the other hand, considerable decrease in visitors to the shops in the first (fiscal January to March) and second (fiscal April to June) quarters of 2020 led to a substantial drop in new subscriptions and in terminal sales, though many telecommunication service providers responded to inquiries online.

Likewise, for the market of mobile phone terminals, there were delays in manufacturing and in product procurement due to shutdown of factories and plants, in addition to significant reduction in demand. As a result, some terminal manufacturers decided to postpone releasing of new products which were supposed to be for the year-end shopping period. The promotional activities of new products have been shifting mainly to online, which is reducing the opportunities for customers to take actual products in their hands.


Future Outlook
The global smartphone market for 2020 is likely to suffer a significant blow, inflicted by COVID 19 and US-China trade frictions, to tether with the matured market. Especially, the stagnant global economy affected by COVID-19 led the manufacturing and logistics of smartphones to stall, and the demand to decrease. Eventually, almost all the terminal manufacturers in 2020 are expected to face sales reduction from the previous-year results.

If the global economy recovers and reinvigorates after 2021, the number of mobile subscriptions is forecasted to gradually recover. However, each telecommunication service provider has enhanced identification verifications for new subscribers, which can slow down the pace of increase.

When observing smartphones, even affordable phones are expected to cover 5G progressively. While having improved performance by adopting larger screens, foldable displays, multiple camera modules, and higher megapixel cameras to allow high resolution filming, smartphone manufacturers are required to develop the products that conform to the 5G-era, such as to increase connectivity with other smart devices.


Research Outline
1.Research Period: April to August 2020
2.Research Object: Domestic/International Mobile Network Operators (MNOs; mobile carriers), mobile phone device makers, mobile phone parts makers, EMS (Electronics Manufacturing Service) & ODM (Original Design Manufacturing) companies, etc.
3.Research Methogology: Face-to-face interviews by the expert researchers (Japan, China, and Taiwan, including online interviews), interviews at seminars, and literature research
Mobile Communication Services
Mobile communication service is the generic term for services provided by the Mobile Network Operators, including (1) voice calls and (2) data communication services. For billing, both pre-paid and post-paid methods are available. Today, majority of the services give 4G coverage (the fourth generation of mobile phone technology).

Global shipment volume of handsets is the shipment volume of smartphones (including 5G coverage) and feature phones at manufacturers in 33 major markets including Japan (32 countries and 1 region). However, those tablets with cellular chips installed or the Wi-Fi routers are not included.


<Products and Services in the Market>
Mobile communication services (voice calls, data communication services), smartphones, feature phones, tablets, wearable devices (smart watches, smart bands, HMDs, etc.)
Published Report
Contact Us
©2021 Yano Research Institute Ltd. All Rights Reserved.
The copyright and all other rights pertaining to this report belong to Yano Research Institute.
Please contact our PR team when quoting the report contents for the purpose other than media coverage.
Depending on the purpose of using our report, we may ask you to present your sentences for confirmation beforehand.