Golf Goods Market in Japan: Key Research Findings 2020 Domestic Golf Goods Market in 2020 Declines to 87.3% on YOY
Yano Research Institute (the President, Takashi Mizukoshi) carried out a survey on the domestic golf goods market and found out the trends by product category, trends of the leading companies, and future outlook taking account the influence of COVID-19 pandemics.
Transition of Domestic Golf Goods Market Size by Product Category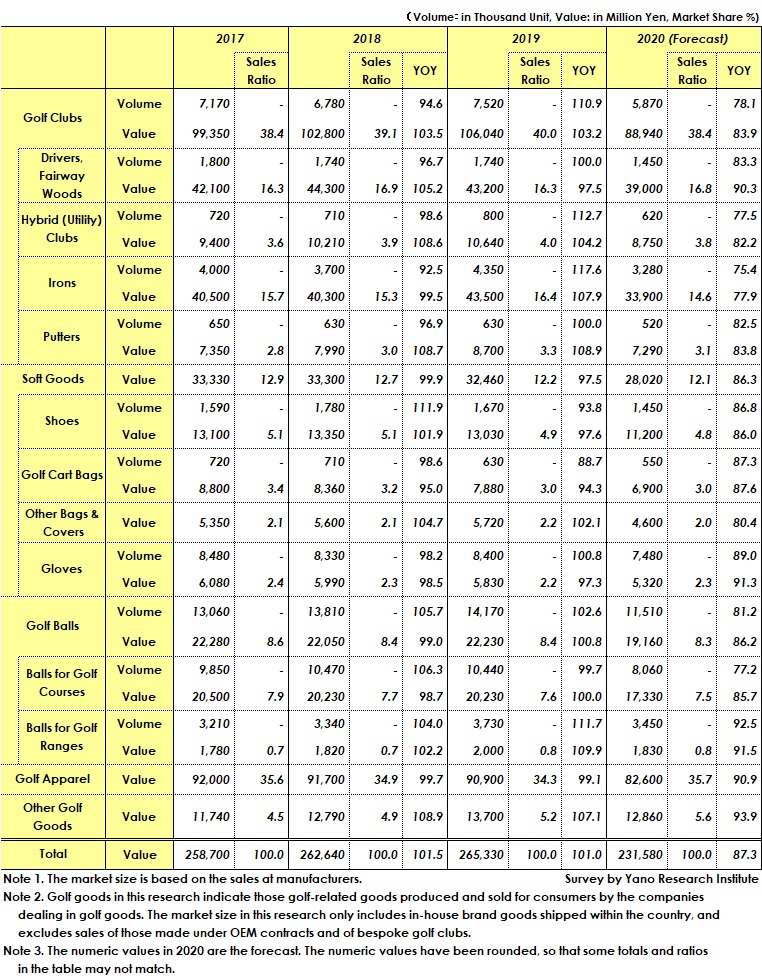 Market Overview
The domestic golf goods market size based on the sales at manufacturers rose to 265,330 million yen in 2019, 101.0% of the size of the preceding year, recording three consecutive years of slight uptrend since 2017. The trends of each product category are as follows:

The sales volume of golf clubs rose by 10.9%, a double-digit growth, from the previous year to attain 7,520 thousand clubs, proving as a driving force of the market just like in 2018. Of all golf clubs, hybrid clubs and irons grew remarkably, as the sales of irons rose to 4,350 thousand in volume, 117.6% of that of the previous year, or the sales value reaching 43,500 million yen, 107.9% of that of the preceding year. Putters raised the unit price per sale. This is because each manufacturer raised the price by releasing high-value added products and as the sales ratio of price-reduced products decreased at retailers, causing these retailers to complain about the shortage in low-price products to sell.

The markets of soft goods (golf shoes, cart bags, gloves) and balls for golf courses made a slight growth. The market of golf cart bags has started being healthy (showing improvement in the balance of supply and demand), but cannot keep from diminishing.

The golf apparel market, the second largest in the entire golf goods market following golf clubs, resulted in 90,900 million yen, 99.1% of the previous year, recording two consecutive years of decline. This is because of lack of new items for a long period of time to encourage golfers to replace the existing ones or to buy another. In addition, the climate changes in our country increased the sales composition ratio of clearance-sales products, which is considered as one of the reasons for contraction of the market.

Other golf goods continued achieving prominent growth, though "survival of the fittest" in the market among the manufacturers and the brands becoming more obvious. The market of portable golf rangefinders, the largest market size in "other golf goods" has marked another noteworthy growth, boosted by the rule revisions.

Noteworthy Topics
Golfers in COVID-19 Calamity
Apart from this research, online consumer survey was carried out regarding frequency of playing golf (at golf courses and golf ranges) during this COVID-19 calamity and regarding restarting of golf after the state of emergency declaration is lifted. The results revealed the timing when golfers resume playing golf after their self-restraint period and that there are a certain number of people newly started afresh or resumed playing golf in the changing environment owing to new lifestyles being required under the COVID-19 calamity.

In the status where no hopes so far for COVID-19 pandemics to end, there are some golfers decided to retire, but there are also some people triggered by the status of COVID-19 pandemics to newly start or resume playing golf. The entire golf industry is required to carry out strategical measures for such new or resumed players to continue playing golf.


Future Outlook
The domestic market size of golf goods for 2020 based on the sales at manufacturers is likely to end up with 231,580 million yen, 87.3% of the size of the previous year, which includes the influence of COVID-19 pandemics as of August 2020.

The influence of COVID-19 infections changes every moment. According to weekly report of YPS Golf Data that Yano Research Institute collected and analyzed the sales trends at domestic 1,100 golf shops, apart from this research, the market sensitively responded to the COVID-19 information.


Research Outline
1.Research Period: May to August 2020
2.Research Object: Domestic enterprises dealing in golf goods (manufacturers, wholesalers, retailers, operators of golf courses and golf ranges, and golf-related organizations)
3.Research Methogology: Face-to-face interviews (including online) by the expert researchers and questionnaire via email or post
The Golf Goods Market
Golf goods in this research indicate those golf-related goods produced and sold for consumers by the companies dealing in golf goods. The market size in this research only includes in-house brand products shipped within the country, and excludes the sales of those made under OEM contracts and of bespoke golf clubs.

"Other Golf Goods" refers to the following products sold for consumers including tees/markers, practicing devices, competition prizes, and portable golf rangefinders. However, measuring instruments and golf simulators installed at some retailers by golf goods manufacturers are not included.


<Products and Services in the Market>
Golf clubs (Drivers/Fairway woods, hybrid clubs, irons, putters, golf balls (for golf courses or for golf ranges), soft goods (golf shoes, golf cart bags, other bags and covers, golf gloves, golf clothing/apparel, other golf goods (tees/markers, practicing devices, competition prizes, and portable golf rangefinders, etc.)
Contact Us
©2021 Yano Research Institute Ltd. All Rights Reserved.
The copyright and all other rights pertaining to this report belong to Yano Research Institute.
Please contact our PR team when quoting the report contents for the purpose other than media coverage.
Depending on the purpose of using our report, we may ask you to present your sentences for confirmation beforehand.