ERP Market in Japan: Key Research Findings 2020 ERP Solution Package Market in 2019 Boosted by DX to Rise by 7.0% from Previous Year to Attain 119,830 Million Yen
Yano Research Institute (the President, Takashi Mizukoshi) carried out a survey on the domestic ERP (Enterprise Resource Planning) solution package license market and found out the trends of market players and user companies, status of cloud introductions, and future outlook.
Transition and Forecast of ERP Solution Package License Market Size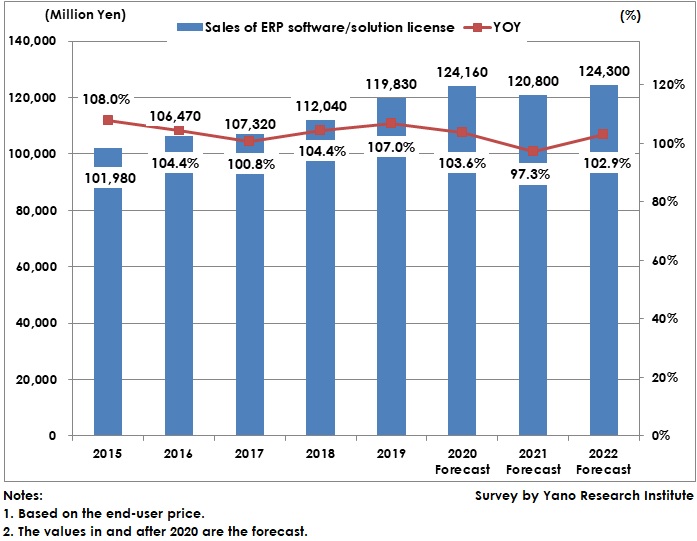 Transition and Forecast of Cloud ERP Usage Rate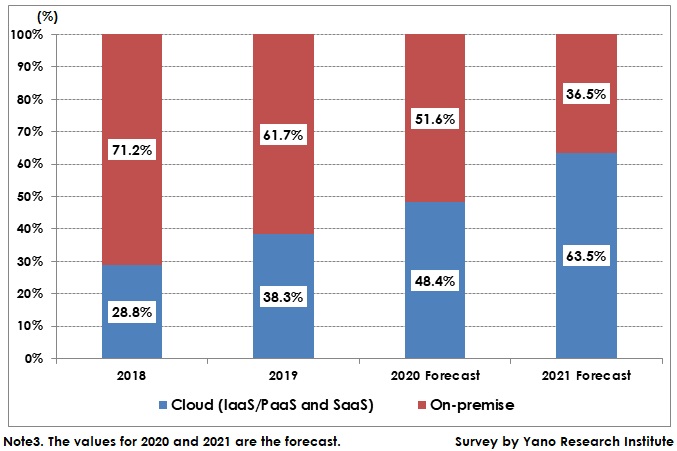 Market Overview
The ERP solution package license market in 2019 rose by 7.0% from the previous year to reach 119,830 million yen, based on the end user price. 2019 recorded a prominent expansion to exceed the remarkable growth rate (4.4%) of 2018.

Such market expansion of 2019 is considered to be boosted by DX (digital transformation). DX gives diverse meanings, including "innovate new systems from legacy ones," "reviewing business platform through promotion of business reform and digitization," both of which have driven replacement of ERP.

Although COVID-19 pandemics can be a menace in and after 2020, the influence to the ERP solution vendors is insignificant as of August 2020. Even 2020 alone, the ERP solution package market is projected to keep the positive growth of 3.6% on YOY to generate 124,160 million yen, as it includes the deals that they have accepted in the previous year when the market has shown steadfast growth.

Noteworthy Topics
Introduction of Cloud ERP Accelerates during COVID-19 Calamity, Usage Rate Reaching 63.5% by 2021
Usage rate of cloud services (total usage rates of IaaS/PaaS and SaaS) stably expanded to 38.3% in 2019. This tendency is likely to accelerate in this COVID-19 calamity where face-to-face contact is not recommended and the usage rate of telework is rising, which is raising the value of cloud services. ERP hereafter is also required for finance or HR personnel to work from home, or for the vendors to be able to remotely support the users for maintenance or troubleshooting.

Adoption of ERP hereafter is expected to be led by cloud ERP, rather than on-premises. The usage rate of cloud ERP is likely to reach 63.5% by 2021, exceeding the rate of on premise ERP.


Future Outlook
In the status where no hopes so far for COVID-19 pandemics to end, further deterioration is predicted in various industries, which may lead to reduction of ERP investment at user companies. This does not seem to affect the ERP solution package market until the latter half of 2020, but the market size seems to downturn on a YOY basis by 2021.

However, the demand to upgrade mission-critical systems, which used to boost the market until 2019, seems to be robust. This is likely for IT investment to continue being the high priority. In addition, it is indispensable for many companies to adopt DX for complying with "new normal" in this "With Corona" era, which accompanies ERP replacement. Therefore, the ERP solution package market is predicted not to decline drastically like at the time of the Lehman's collapse, but remains 2.7% of decline to attain 120,800 million yen in 2021, based on the end user price.


Research Outline
1.Research Period: June to August 2020
2.Research Object: ERP solution package vendors
3.Research Methogology: Face-to-face interviews by the specialized researchers, and literature research
The ERP (Enterprise Resource Planning) Solution Package License Market
ERP is a software package to integrate and streamline corporate mission-critical processes across finance, HR, sales administration, production management and others, which used to have been managed separately within the company.

The ERP solution package license market size in this research is the software/solution license sales (including cloud subscription sales) at ERP package vendors and calculated based on the end user price. No peripheral sales such as consulting, SI, or maintenance services fees are included.


<Products and Services in the Market>
ERPパッケージ ERP solution package, ERP (Enterprise Resource Planning) Solution Package License
Contact Us
©2021 Yano Research Institute Ltd. All Rights Reserved.
The copyright and all other rights pertaining to this report belong to Yano Research Institute.
Please contact our PR team when quoting the report contents for the purpose other than media coverage.
Depending on the purpose of using our report, we may ask you to present your sentences for confirmation beforehand.