AGV (Automated Guided Vehicle) & Transportation Robot Market in Japan: Key Research Findings 2020 Domestic AGV & Transportation Robot Market Continues Expansion, Yet to Be Affected by COVID-19 Pandemics
Yano Research Institute (the President, Takashi Mizukoshi) carried out a survey on the domestic AGV & transportation robot market and found out the trend by type, the trend of market players, and the future perspectives.
Transition and Forecast of AGV (Automated Guided Vehicle) & Transportation Robot Market Size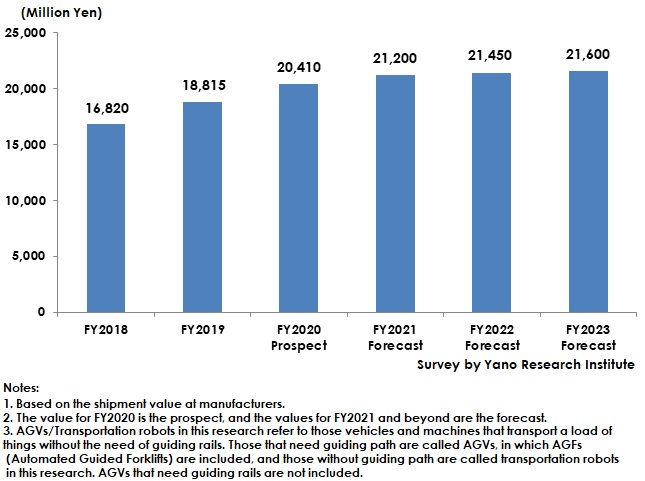 Market Overview
FY2019 showed strong economy in Japan, which led the AGV (Automated Guidance Vehicle) and transportation robot market size based on the shipment value at manufacturers to reach 18,815 million yen, 111.9% of that of the previous year. Since it cannot prevent the influence of COVID-19 pandemics, the demand currently on the rise may slow down in FY2020, but transportation robots without guiding paths or rails is expected to expand, which makes the entire market to grow, though the growth rate decelerates.

Noteworthy Topics
User Demand for AGVs as well as Proposals at Manufacturers Diversify
New demands for AGVs have been emerging at existing users, which include the demands derived from the existing applications or novel applications that have not yet been used in AGVs, showing the changes occurred at user companies in required functions or the ways they use.

In addition, AGV manufacturers themselves have increasingly developed new applications and proposed new functions, which is likely to widen the range of usage for AGVs


Future Outlook
The AGV & transportation robot market size based on the shipment value at manufacturers for FY2023 is expected to slightly rise to 21,600 million yen.


Research Outline
1.Research Period: April to August, 2020
2.Research Object: Domestic manufacturers and distributors of AGVs and transportation robots, companies dealing in the systems using such technologies, companies and organizations developing AGV-and-transportation-robots-related technologies, and relevant government offices
3.Research Methogology: Face-to-face interviews by the expert researchers, surveys via telephone, and mailed questionnaire
What are AGVs (Automated Guided Vehicles)/Transportation Robots?
AGVs and transportation robots in this research refer to those vehicles and machines that transport a load of things without the need of guiding rails. Those that need guiding path are called AGVs, in which AGFs (Automated Guided Forklifts) are included, and those without guiding path are called transportation robots in this research. AGVs that need guiding rails are not included.


<Products and Services in the Market>
AGV (Automated Guided Vehicle), Transport Robot, Transportation Robot system
Contact Us
©2021 Yano Research Institute Ltd. All Rights Reserved.
The copyright and all other rights pertaining to this report belong to Yano Research Institute.
Please contact our PR team when quoting the report contents for the purpose other than media coverage.
Depending on the purpose of using our report, we may ask you to present your sentences for confirmation beforehand.