Sports Shoes Market in Japan: Key Research Findings 2020
Yano Research Institute (the President, Takashi Mizukoshi) carried out a survey on the domestic sports shoes market and found out the trend by product category, the trends of market players, and the future perspectives.
Transition and Forecast of Domestic Shipment Volume of Sports Shoes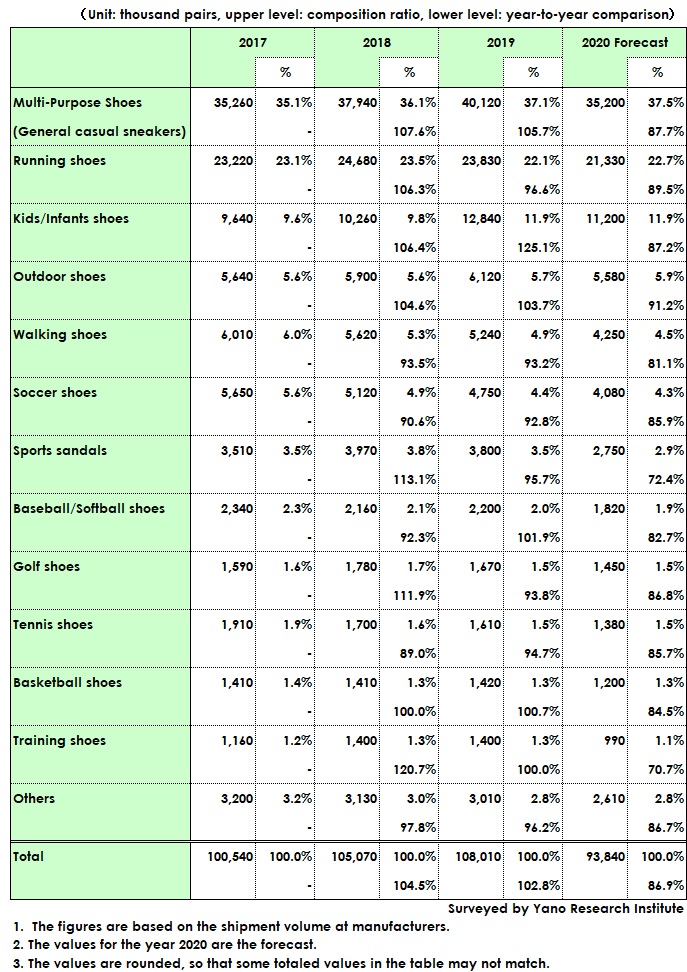 Transition and Forecast of Domestic Shipment Value of Sports Shoes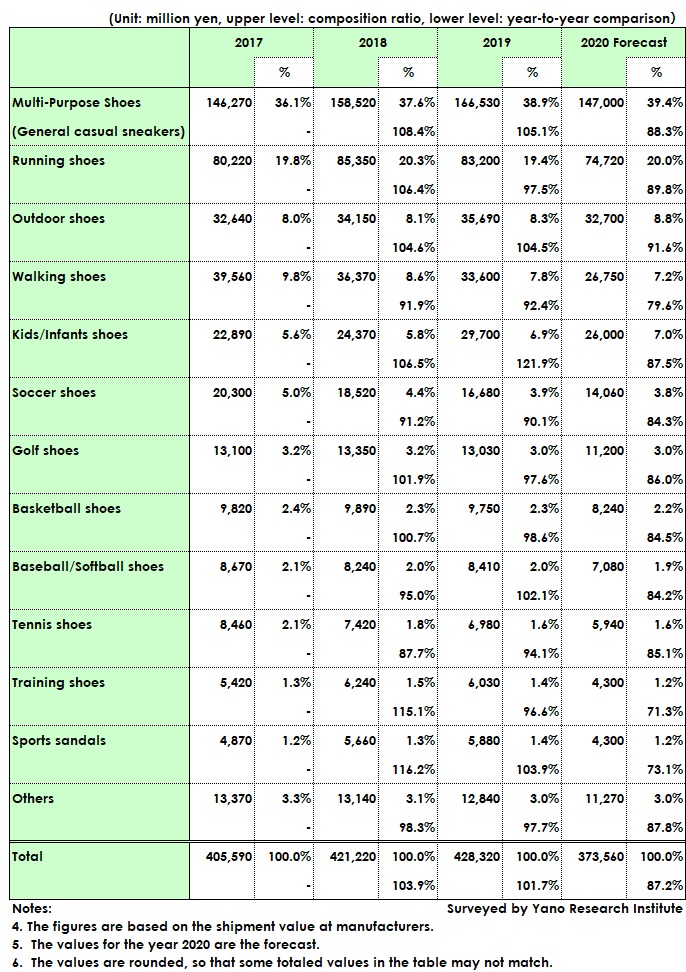 Market Overview
The domestic sports shoes market size in 2019 grew to 102.8% on a YoY basis in volume to 108,010 thousand pairs, and increased to 101.7% on the same basis in value to 428,320 million yen.

In particular, multi-purpose shoes (casual sneakers) that occupy almost 40% of entire market in shipment value have grown the most among all types of sport shoes, achieving 40,120 thousand pairs for 2019, 105.7% on a YoY basis in volume, and 166,530 million yen, 105.1% on the same basis in value. Those multi-purse shoes were worn as town shoes, as athleisure style fashion became a trend, coordinating casual sneakers with sports-brand clothing.

Noteworthy Topics
Do New Concept Shoes "Smart Shoes" Trigger Market Prosperity?
In the running shoes market, "smart shoes" which is a kind of training shoes aiming at improving the runner's performance are expected to enter fierce competition.

Smart shoes have various sensors embedded within to acquire every travelling data of the runner and to analyze the running form by which to identify the defects while running and to find solutions to challenges.

Although the data to obtain and the items to diagnose differ by sports shoes manufacturer, they all share the same objective, i.e. to improve the runner's performance. UNDER ARMOUR and other sports brands have already released such items. In addition, some venture companies of sensor kits that can connect with smartphone applications have already commercialized their products. Many manufacturers have positioned such smart shoes as their growth strategies, which is expected to make the competition fiercer.


Future Outlook
The domestic sports shoes market size for 2020 based on the shipment at manufacturers is expected to significantly decline to 86.9% of 2019 to 93,840 thousand pairs in volume, and end up with 87.2% of the same year to 373,560 million yen in value. Negative growth in 2020 cannot be avoided because of the stagnant economic activities stemming from the COVID-19 pandemic. However, if the postponed Tokyo Olympic & Paralympic Games are actually held, it is promising for demand for sports shoes to revive again by 2021.


Research Outline
1.Research Period: April to July, 2020
2.Research Object: Sports shoes manufacturers, importers, wholesalers, and retailers
3.Research Methogology: Face-to-face interviews by the expert researchers, survey through mailed questionnaire
What is the Sports Shoes Market?
The sports shoes market in this research indicates the market of the products manufactured as "sports shoes" shipped by sporting goods manufacturers. The market size is calculated based on the shipment volume and the shipment value, respectively.


<Products and Services in the Market>
Multi-Purpose Shoes, General casual sneakers, Running shoes, Kids/Infants shoes, Outdoor shoes, Walking shoes, Soccer shoes, Sports sandals, Baseball/Softball shoes, Golf shoes, Tennis shoes, Basketball shoes, Training shoes, "Others" include shoes for volley ball, badminton, table tennis, rugby, handball, American football, etc.
Contact Us
©2019 Yano Research Institute Ltd. All Rights Reserved.
The copyright and all other rights pertaining to this report belong to Yano Research Institute.
Please contact our PR team when quoting the report contents for the purpose other than media coverage.
Depending on the purpose of using our report, we may ask you to present your sentences for confirmation beforehand.