Loyalty Program (Point Reward Service) Market in Japan: Key Research Findings 2020
Yano Research Institute (the President, Takashi Mizukoshi) carried out a survey on the domestic loyalty program (point reward service) market and found out the current status, the trends of market players, and the future outlook.
Transition and Forecast of Domestic Loyalty Program Market Size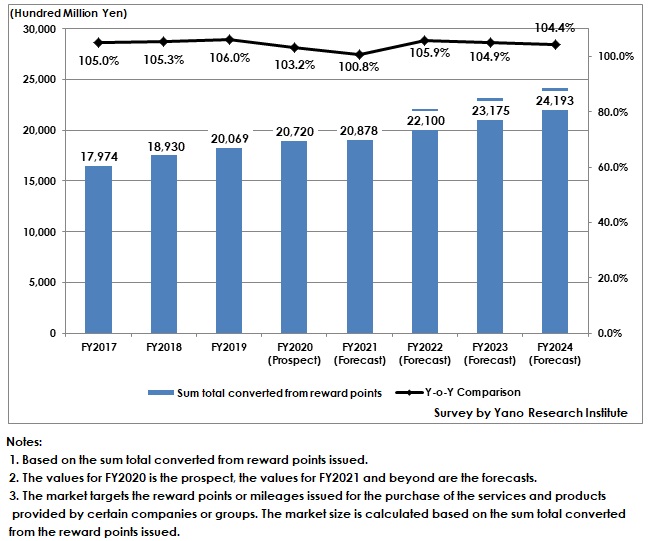 Market Overview
Size of the domestic loyalty program (point reward service) market in FY2019, based on the sum total converted from reward points issued, rose to 2,006,900 million yen, 106.0% of that of the previous fiscal year. The increase of amount converted from reward points is because of the growing number of businesses introducing multiple shared point services and of the encouraged cashless rebate program subsidized by the government to grant reward points to consumers.

COVID-19 pandemics are likely to slash consumption in some industries in which the amount converted from reward points may significantly drop. On the other hand, My Number Point business is projected to partly cover the loss. The domestic loyalty program (point reward service) market size in FY2020 is expected to rise by 3.2% from the previous fiscal year to achieve 2,072,000 million yen, but to rise only slightly by 0.8% in FY2021, remaining the same level as the previous fiscal year.

Noteworthy Topics
Convenience Stores Started Introducing Multiple Reward Points
The number of retailers that have introduced multiple shared reward point systems has increased. Among such retailers, those that have been attracting attention are convenience stores.

Family Mart had developed its loyalty program based on T-Points, but newly adopted "d POINT CLUB" as well as "Rakuten Points" in November 2019. How the consumers react to this or to what extent the users who used to submit T-Point Cards at Family Mart will shift to collect "d Points" or Rakuten Points may significantly affect the market of shared reward point services hereafter.

If other convenience stores follow suits and introduce multiple shared point services just like Lawson and Family Mart, consumers may consider shared reward points as a matter of course. Such a situation may enforce even those convenience stores that have developed their in-house loyalty program to introduce shared reward point services. Therefore, it may become natural for convenience stores to deal with multiple shared point services.


Future Outlook
The domestic point reward service market size (based on the total amount converted from the reward points issued) is projected to attain 2,419,300 million yen by FY2024. As the number of companies introducing multiple shared point systems to increase furthermore, the total amount converted from the reward points issued is likely to keep on expanding. Because consumption is likely to gradually recover from the impact of COVID-19 pandemics, decreased amount observed in some industries is projected to upturn.

The companies with their own loyalty programs are expected to continue their sales promotion by granting in-house reward points to the member buyers and continue carrying out customer marketing by analyzing the purchasing tendency based on ID-POS data.

Meanwhile, increase in the number of companies introducing multiple shared point services indicates that shared reward points can be issued from many companies. Consumers may feel natural to receive reward points at any stores. It may become necessary for reward point service providers to differentiate from others by improving convenience for the member users, while proving effectiveness of sales promotions against the reward point costs and improving customer acquisition as a result of marketing measures through data analysis for the member stores.

As a result of a business partnership signed between Loyalty Marketing, Inc. and KDDI Corporation, four shared point services are now connected to each of mobile phone carriers. From here on, the shared point service market is highly likely to change according to the competition among mobile phone carriers.


Research Outline
1.Research Period: April to July, 2020
2.Research Object: Rewarding point issuers, shared point service providers, reward points exchanging service providers, mileage service providers, website operators of loyalty programs, reward points related solution vendors, etc.
3.Research Methogology: Face-to-face interviews by our researchers, survey via email and telephone in combination with literature research
About the Loyalty Programs/Point Reward Service Market
The market of loyalty programs, or point reward services in this research indicate the market of the points or mileage given as a reward for purchasing products or services provided by the certain companies and groups. The market size is calculated based on the total amount converted from the reward points issued.


The amount from the reward points issued include those points and mileages issued by the specific companies, and the reward points given when specific payment methods are used (credit cards, electronic money, cashless application, etc.,) and shared reward points available to use at any member stores regardless of the industry or the form of business (T Points, Ponta, Rakuten points, d POINT CLUB, etc.)


<Products and Services in the Market>
Point reward services, shared point services, reward points exchanging services, mileage services, loyalty program websites, reward points related solutions
Contact Us
©2019 Yano Research Institute Ltd. All Rights Reserved.
The copyright and all other rights pertaining to this report belong to Yano Research Institute.
Please contact our PR team when quoting the report contents for the purpose other than media coverage.
Depending on the purpose of using our report, we may ask you to present your sentences for confirmation beforehand.