Global Polarizers and Component Films Market: Key Research Findings 2020FH
Yano Research Institute (the President, Takashi Mizukoshi) has conducted a survey on the global market of polarizers and component films in the first half of 2020, and found out the trend by product segment and the future outlook.
Transition and Forecast on Global Polarizer Production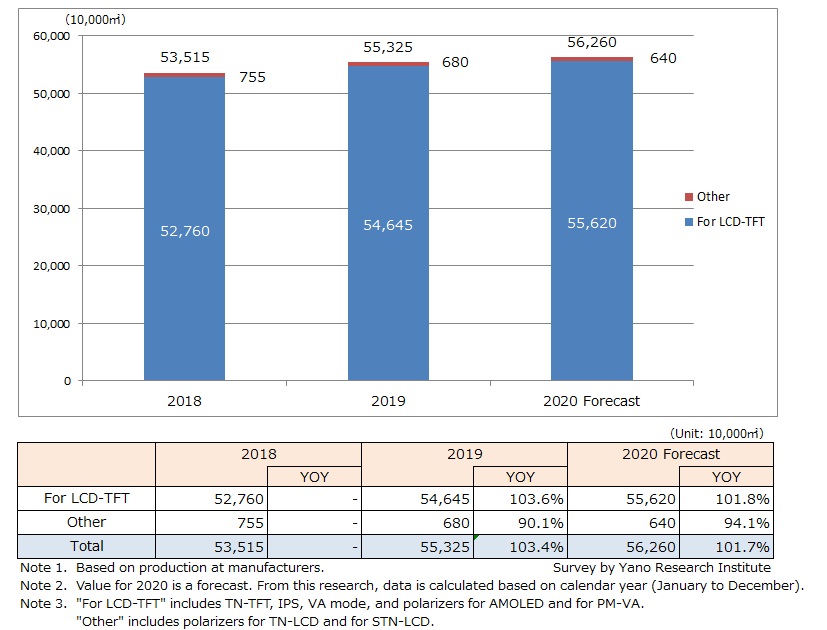 Summary of Research Findings
While it depends on when the novel coronavirus will be stamped out, global production volume of polarizers for 2020 is projected to reach 562.6 million square meters, 101.7% of the preceding year.

The global market size of TV (body) for 2020 is estimated to drop by 10% year-on-year due to the spread of coronavirus. Nevertheless, it should be noted that a shift to larger-sized TV is expected to advance from the second-half of 2020, and shipment volume of polarizers for TV is unlikely to decrease as much as the number of TV units. Several positive factors that enable the market to overcome the downturn in TV production can be noted.

Viewing the polarizer market for 2020, in January, the market saw frontloaded orders by Chinese New Year as in other years, which was even greater in volume; global shipment volume in January was making a good start. Due to the outbreak of coronavirus between the end of February to mid-March, production volume by BOE, CSOT and other Chinese TV display makers shrunk by 30 percent compared to normal production. Still, because nearly 70% operated as usual, there was no significant drop in actual shipment volume. As operations at most Chinese TV display makers got back on track by the end of March, their production capacity returned to the normal level. Moreover, production for orders that were suspended during the outbreak was added onto regular production volume at the end of March. Owing to these factors, it proved that the global production volume of polarizers for 4 months period between January to April 2020 was not affected by the coronavirus pandemic.

While demand between the end of May and mid-July is forecasted to decrease, the trend of polarizer demand after 3Q of 2020 is expected to turn for the better afterwards. Although period of production and speed of recovery may vary among TV display makers, since 3Q is normally a time when production volume reaches its peak for the next term of new TV display production, demand for new TV displays for 2021 is likely to rise; recovery in demand for TV display panels is anticipated from late July to August.

Due to the drop in demand for TV (body), it is assumed that even leading Chinese display manufacturers cannot avoid downturn in production volume between June and July 2020. However, considering that both BOE and CSOT have schedule to start operating new production lines for G10.5 (generation 10.5) TV displays in July, improvements in utilization of the new production lines may drive the demand of polarizers. In accordance with this trend, full-scale production of TV displays over 65 inches is expected mainly by Chinese TV display manufacturers from the second half of 2020, and by the end of 2020 the average size of displays produced by Chinese manufacturers will likely be over 55 inches. While the level of growth may be low, global production volume of polarizers for TV is estimated to achieve positive growth for 2020.

Noteworthy Topics
Perspectives of Global Polarizer Market after the Pandemic is Over
Global production volume of polarizers for 2021 is expected to rise on the rebound of 2020. Although growth rate for 2021 depends on a level of growth in 2020, there will be a full line of growth factors that drives expansion of global polarizer market from 2021 and beyond.

Presumable growth factors for global polarizer market from 2021 and beyond are: (1) increase in demand for polarizer production volume, i.e. primary demand plus demand generated as post-COVID19 market; (2) reorganization of LCD industry led by Chinese manufacturers (decline of production by Korean LCD display panel manufacturers, rise of production by Chinese TV display manufacturers); (3) Operation of production line for Gen 10.5 (generation-10.5) display panels to be in full-scale; and (4) rise in production of ultra-wide polarizer over 2,300mm in width.

Research Outline
1.Research Period: February to May 2020
2.Research Object: Polarizer makers, retardation film makers, PVA protection film makers, surface-treated film makers
3.Research Methogology: Face-to-face interviews by the expert researchers and literature research
Global Polarizers and Component Films Market
A polarizer is an optical filter that lets light waves of a specific polarization or a deflection pass through, and is a polarizing film used for the display. Since the polarizer is the key component in all displays, the polarizer market expands in accordance with the rise of the display market. The polarizer market in this research includes the polarizers for TN-LCD and STN-LCD (categorized as 'other') in addition to the polarizers for TFT-LCD display panels, for AMOLED display panels, and for PM-VA. Size of the market is estimated based on the production volume at manufacturers (in 10,000 square meters).


<Products and Services in the Market>
Polarizers, component films (retardation films, PVA films [treatment on outer side], surface- treated films, etc.)
Published Report
Contact Us
©2019 Yano Research Institute Ltd. All Rights Reserved.
The copyright and all other rights pertaining to this report belong to Yano Research Institute.
Please contact our PR team when quoting the report contents for the purpose other than media coverage.
Depending on the purpose of using our report, we may ask you to present your sentences for confirmation beforehand.