Automotive Aftermarket in Japan: Key Research Findings 2020
Yano Research Institute (the President, Takashi Mizukoshi) conducted a survey on the automotive aftermarket in Japan, and found out the trends by product segment, the trends by market players, and the future outlook.
Transition of Automotive Aftermarket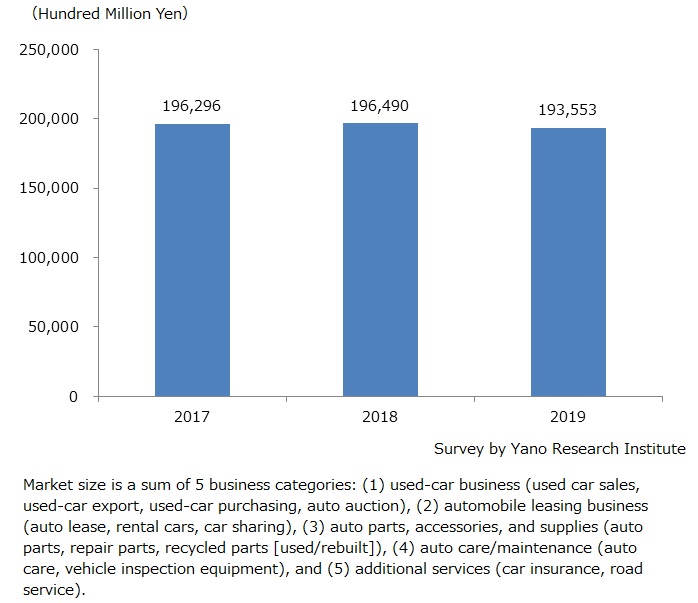 Market Overview
The automotive aftermarket for 2019 is estimated at 19,355 billion yen. Due to the influence of persistent late-summer typhoons and the consumption tax hike in October, the number of new cars sold, a starting point of automotive distribution, remained at 5.195 million (1.5% decrease from the previous year)*1. (*1 source: Japan Automobile Dealers Association and Japan Mini Vehicles Association)
While the number of new car sales dropped, the used-car market was underpinned by the last-minute demand before the tax hike, replacement demand for vehicles damaged by typhoons, and increasing trend in imported used-cars. The number of registered used-cars in Japan for 2019 showed marginal growth compared to the preceding year. *2 In addition, due to the domestic trend of long-term ownership, the total number of four-wheeled vehicles owned for 2018 rose to a record-high 78.48 million.*3 (*2 source: Japan Automobile Dealers Association and Japan Mini Vehicles Association/ *3 source: Ministry of Land, Infrastructure, Transport and Tourism)
Although the number of cars owned continued increase for 2018, from a demographic perspective, downturn is unpreventable in a middle-to-long term. In anticipation of shrinking of the market, component markets in the automotive aftermarket are pursuing business diversification: New car dealers are focusing on auto loan with prearranged trade-in price,*4 promoting used-car sales by shortening purchase cycle for new cars while enhancing trade-in price of late-model used cars; used car dealers are expanding auto care facilities to meet the demand of their customers for car maintenance; auto parts suppliers are making inroads to car sales and car purchasing; and auto care operators are developing businesses in auto lease, insurances, and rental cars. The wave of business multilateralism increases the number of new entries to each market in automobile distribution, and as a result, market competition is becoming even harsher.
*4. A type of vehicle sales contracts that charges purchaser a vehicle body price which is discounted of prearranged trade-in price.

Noteworthy Topics
"Subscription Service" at the Dawn: Major Automotive Manufacturers Entering the Market
Flat-rate automotive service (subscription service) is garnering attention. Just as penetration of smartphones made various subscription contents available, the concept of a service providing access to a product at a recurring price charge at regular intervals, such as monthly charge, is also actively introduced in the automobile sales market. However, the subscription service which seems novel is, essentially, a "similarity to short-term auto lease" by which service providers promote new car sales. With harsher market environment for new car sale, dealers have developed a sales method of "credit with residual value (walk-away lease)"*4, which reduces monthly payment, and lowers body price of an automobile. Moreover, as such method became generalized, the market of auto lease for individuals expanded, for it is also based on the same idea of deferring payments of residual value. Automotive subscription service was developed as "purchase" shifts to "what looks like purchase that is in fact auto lease". The automotive subscription service shortened auto lease contract period, making users feel at ease to trade in their cars. The service gathers attention as a systematic method to increase the number of new car "lease", and to compensate for the shortfall in new car sales in the future.
Significance of having major automotive manufacturers, primarily manufacturing and selling in traditional ways, entering this market is that styles of new car sales is diversifying to adapt to the shift in user awareness from ownership to usership. It is a "seeding" process looking forward to market expansion in the future. The automotive subscription market is still at the dawn, and the market growth hereafter is likely to depend on capital strength of service providers, sales channel expansion, and level of cooperation among dealers.


Future Outlook
Due to the outbreak of the novel coronavirus, leading manufacturers in each countries had no choice but to scale down their production from the beginning of 2020; meanwhile, as overall economic activities stagnated, it became obvious that people are less inclined to consume (according to the "Family Income and Expenditure Survey" by the Ministry of Internal Affairs and Communications, an average expenditure [of a household with more than two persons] between January to April 2020 dropped approximately 5% from the same period of preceding year). Viewing from the decline at both demand and supply side, decrease in new car sales for 2020 compared to previous year seems inevitable.
In addition, markets that link to the trends of new car sales is assumed to be influenced considerably. Since substitution demand for new cars is a starting point for the used car market, distribution of used vehicles will diminish in proportion to the fall on new car sales. Car supply market will lose new car sales opportunity itself, which is their largest business chance. Auto care market cannot escape from shrinking, as the market will be required to minimize items to check at periodic vehicle inspection to meet stronger demand of saving-oriented users.
In auto lease market, decrease is anticipated both in the number of contracted auto- lease vehicles for cost reduction at companies and in the number of users for rental cars and car sharing due to stay home during corona pandemic. On the other hand, it is said that the use of short-term auto lease and car sharing are increasing because commuting by cars are preferred to public transportation from the perspective of infection prevention, especially in the urban areas. Although both positive and negative sides can be seen, negative aspects are likely to overwhelm in yearly basis, slashing the number of B2B auto lease contracts, demand of rental cars due to sharp drop in inbound tourists visiting Japan, and decline in demand for car sharing as work from home increases. The auto lease market is projected to diminish for fiscal 2020.


Research Outline
1.Research Period: January to May 2020
2.Research Object: Companies operating business related to automotive aftermarket, related organizations and competent authorities
3.Research Methogology: Face-to-face interviews by the expert researchers, survey by telephone and email, and literature research.
Automotive Aftermarket in Japan
The automotive aftermarket in this research refers to all kinds of businesses provided after new car sales, including following 5 categories: (1) Used-car business (used car sales, used-car export, used-car purchasing, auto auction), (2) automobile leasing business (auto lease, rental cars, car sharing), (3) auto parts, accessories, and supplies (auto parts, repair parts, recycled parts [used/rebuilt]), (4) auto care (maintenance)(auto care, vehicle inspection equipment), and (5) additional services (car insurance, road service).


Statistical data from the following organizations are used as a source for estimating the size of each market: Japan Auto Parts Industries Associations (car repair parts), Japan Automobile Service Promotion Association (car maintenance), Japan Automotive Service Equipment Association (vehicle inspection equipment), The General Insurance Association of Japan (car insurance), and Japan Automobile Federation (road service).


<Products and Services in the Market>
New cars, used cars, used-car export, auto auction, bidding, auto-lease, auto-lease for individuals, maintenance lease, finance lease, rental car, car sharing, subscription service, car parts, tire, aluminum wheel, car audio device, car navigation system, drive recorder, car accessories, oil/chemical products, consumable supplies, functional products, dress-up products, car-tuning products, genuine parts, JAPA recommended parts (JAPA: Japan Automotive Parts Association), repair parts, recycled parts, reused parts, rebuilt parts, car maintenance, vehicle inspection, periodic checkup and inspection, auto-repair shops, packaged car maintenance plans, car inspection equipment, car insurance, compulsory automobile liability insurance, voluntary insurance, direct non-life insurance, road services, gasoline, self-service fueling, customer management systems for car maintenance service shops.
Contact Us
©2019 Yano Research Institute Ltd. All Rights Reserved.
The copyright and all other rights pertaining to this report belong to Yano Research Institute.
Please contact our PR team when quoting the report contents for the purpose other than media coverage.
Depending on the purpose of using our report, we may ask you to present your sentences for confirmation beforehand.