Medical Bionics (Artificial Organs) Market in Japan: Key Research Findings 2019
Yano Research Institute (the President, Takashi Mizukoshi) carried out a survey on the domestic medical bionics (artificial organs) market, and found out the transition of market size by product, future growth factors, and market characteristics.
Transition of Medical Bionics (Artificial Organs) Market Size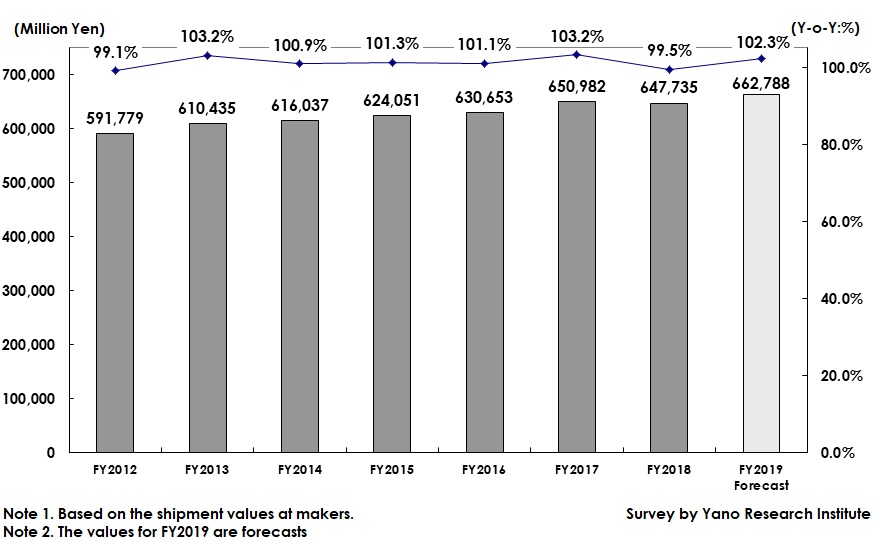 Market Overview
Medical bionics (artificial organs) products are implantable medical devices used at hospitals, clinics inspection centers, etc. While revisions of the medical payment system and NHI (National Health Insurance) prices affect the domestic medical equipment market, the revision of National Health Insurance Drug Price Standard that took place in accordance with the consumption tax hike in October 2019, raised the drug price of 6,100 items that accounted for 37% of the entire target items, but reduced the prices of the rest of more than 60% of the items. In addition, the revision of the medical payment system that took place in April 2020 raised the remuneration by 0.55%, and reduced the drug price by 0.99% inclusive of large reduction in prices for the items that sold more than expected, and reduced the prices for medical supplies by 0.02%. Of the 0.55% of remuneration rise, 0.08% was allocated to hospital doctors at emergency hospitals as "a special measure of the Work-style reform." The rest of 0.47% was distributed to each segment with the following revision rates: the medical department 0.53%, dentistry 0.59%, and medicine dispensing 0.16%.

In such a status, the sales of medical bionics products for cardiovascular surgery such as devices for valvular heart disease and ventricular assist devices have been relatively stable from multiple-year perspectives. ICDs (Implantable Cardioverter Defibrillators) and circulatory system devices were affected at the time when reimbursement pricing was revised. As for the bone domain for orthopedic surgery, while plates and screws such as in spinal fixation systems and HTO (High Tibial Osteotomy) plate systems have shown high growth rate, treatment by administering medicines (i.e. anti-osteoporosis drugs or anti-rheumatic drugs) to rheumatoid arthritis patients has been increasing, slowing down the growth rate of artificial joints and reducing the number of surgical operations. A bipolarization tendency is continually seen in the use of medical devices including those in "Others" category, according to which disease or body part the device treat.

Also, in the artificial organs market excluding extracorporeal circulation apparatuses, as development of minimally invasive surgical techniques and introduction of new devices has been invigorated, transcutaneous surgical devices are increasingly adopted at clinical sites during the past several years, conforming to application guidelines. Increase in elderly population is favorably affecting adoption of devices for the diseases that generally require surgeries when patients are aged around 60 to 65, or of devices to treat chronic disease or continually occurring diseases. Nevertheless, the growth rate fluctuates depending on the techniques and other market environments, which do not necessarily affect favorably to the artificial organs market.

Noteworthy Topics
Trend of Hemostatic Agents and Tissue Sealants
When observing the number of cases in the market of hemostatic agents and tissue sealants, aortic replacement valve has been affected by TAVI/TAVR (Transcatheter Aortic Valve Implantation), while in the chest and cardiovascular surgery, the cases of using hemostatic agents and tissue sealants have increased at four branches plus one branch due to growing number of surgical operations for dissecting aortic aneurysm and other surgeries in thoracic aorta, proportionate to growth in valvoplasty as well as cardiotomy followed by closure by stitching. For orthopedic surgery, in addition to artificial joints (i.e., THA [Total Hip Arthroplasty] and TKA [Total Knee Arthroplasty]), more cases of using hemostatic agents and tissue sealants have been seen in spinal fixation systems. On the other hand, sharp drop in fibrin adhesives, occupying large market share, has brought down the market of hemostatic agents and tissue sealants for FY2018 by 5.9% to 18,593 million yen. As this tendency is likely to continue in FY2019, the market is forecasted to decline by 6.9% to 17,319 million yen.


Future Outlook
When observing the market by major category, for chest and cardiovascular surgery, the cases using artificial heart valves increased due to growing cases of TAVI/TAVR (Transcatheter Aortic Valve Implantation) and to insurance coverage of percutaneous mitral valve repair, while artificial vessels for abdominal as well as peripheral blood vessels were affected by insurance coverage and full-scale sales of DCB (drug-coated balloons); for orthopedic surgery, expansion was observed for the markets of artificial joints (i.e. THA [Total Hip Arthroplasty] and TKA [Total Knee Arthroplasty]) as well as artificial shoulder joints due to growing number of cases of reverse shoulder replacement, and continued rise in HTO (High Tibial Osteotomy) plate systems and spinal fixation systems used for gonarthrosis, all of which resulted in the only growing major category for FY2018. As for artificial kidney and other related markets, increase of more than 5,000 chronic hemodialysis patients led to expand HDF (hemodiafiltration), but the market slightly decreased from the preceding fiscal year because of negative growth in dialyzing circuits and peritoneal dialysis.

Consequently, the medical bionics (artificial organs) market size for FY2018, based on the shipment values at makers, declined by 0.5% from the previous fiscal year to generate 647,735 million yen.

As the market is proportionate to the number of cases, continuous growth can be expected in the orthopedic surgery category, due to continual rise in the use of spinal fixation systems, artificial joints and bones. The category of chest and cardiovascular surgery can expect remarkable growth in products that achieve percutaneous or minimally invasive surgery such as TAVI/TAVR and stent grafts, and the category of dialysis is projected to continuously rise due to increase in the number of HDF-using patients. Driven by these factors, the entire medical bionics (artificial organs) market for FY2019 is estimated to rise by 2.3% to achieve 662,788 million yen.


Research Outline
1.Research Period: May 2019 to March 2020
2.Research Object: Domestic manufacturers and distributor of imported products
3.Research Methogology: Face-to-face interviews by the expert researchers, and survey via telephone
The Medical Bionics (Artificial Organs) Market
The medical bionics (artificial organs) market in this research indicates the domestic market of implantable medical devices that consist of implant materials, extracorporeal circulation apparatuses and related devices (major 34 items, 68 products.)

For the category of chest and cardiovascular surgery, there are artificial heart and lungs, artificial blood vessel, pacemakers, and artificial heart valves: For orthopedic surgery, there are artificial joints, artificial bones, artificial ligament and various plates; Other categories include artificial kidney, vulnerary covering material for skin defect, artificial anus/bladder (stoma appliances), and various stents.


<Products and Services in the Market>
Artificial lungs and other related products, Products to cure heart related diseases, Pacemaker, Implantable cardioverter defibrillator (ICD), cardiac resynchronization therapy defibrillator (CRT-D), Artificial heart valve, Annuloplasty ring, Artificial blood vessel (graft, stent graft), Auxiliary artificial heart set, Vascular metallic stent, Various types of prosthesis, Artificial joints, Bone cement: Internal fixation material, Mini-micro plate system, Fixator, Spinal fusion system, Artificial ligament and fixation materials, Artificial bone (artificial prosthesis), Covering (coating) materials and grafts for defective dermis/skin, Tissue expander, Artificial nose, Collagen implant, Biliary metallic stent, Esophagus metallic stent, artificial esophagus tube, Artificial tracheal and bronchus metallic stent tube, Artificial larynx, electric vocal apparatus, Urinary tract stent set, BPH (benign prostatic hyperplasia) therapy metallic stent, Artificial kidney dialysis, Hemodialysis, Artificial anus, artificial urinary bladder, Artificial internal ear (set), Cochlea implant system, Cerebral aneurysm operation clip, Shunt valve, Port for catheter-access, CAP, Hemostatic materials, Binding materials for Hemo statistics
Contact Us
©2019 Yano Research Institute Ltd. All Rights Reserved.
The copyright and all other rights pertaining to this report belong to Yano Research Institute.
Please contact our PR team when quoting the report contents for the purpose other than media coverage.
Depending on the purpose of using our report, we may ask you to present your sentences for confirmation beforehand.