Market of Foods for Dysphagia, Chewing Difficulty, and Preventive Care in Japan: Key Research Findings 2020
Yano Research Institute (the President, Takashi Mizukoshi) conducted a survey on the domestic market of foods for dysphagia, chewing difficulty and preventive care, and found out the trends by segment and by market player, and the future outlook.
Transition of Market Size Regarding Foods for Dysphagia, Chewing Difficulty, and Preventive Care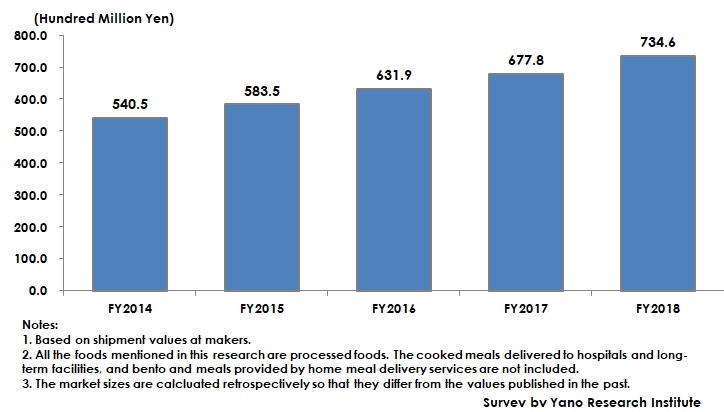 Market Share of Foods for Dysphagia, Chewing Difficulty, and Preventive Care (FY2018)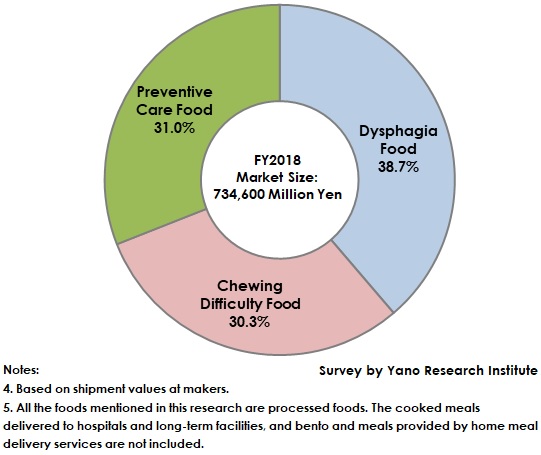 Market Overview
Disorders of eating functions, such as dysphagia and eating disorders, not only have risks of bring about aspiration pneumonitis, suffocation, dehydration, and undernutrition, but also deprive humans of joy of eating. The market of processed foods for senior citizens and patients having difficulty in chewing and swallowing (i.e. swallowing assisting food and food for chewing difficulty), and also for the older persons suffering from small appetite and not enough nutrition (i.e. food for preventing care especially for the seniors) are on the rise. The estimated total market size for foods for dysphagia, chewing difficulty and preventive care rose by 8.4% from the previous fiscal year to 73,460 million yen in FY2018.

When observing the market size by food category, the dysphagia food market for FY2018 rose by 6.8% on a Y-o-Y basis to 28,450 million yen, the chewing difficulty food market rose by 11.6% on the same basis to 22,250 million yen. Both dysphagia food and chewing difficulty food are increasingly needed at hospitals and long-term care facilities, the former because of increasing number of inpatients and of people admitted to the facilities, while the latter because of labor-saving needs at kitchens of those facilities due to serious manpower shortage. The preventive care food market for FY2018 attained 22,760 million yen, a rise by 7.3% on a Y-o-Y basis. The food is attracting attention and has been growing mainly for older population at home (including those healthy seniors or those without any symptoms of diseases), in the status where undernutrition among older people has become a problem.

Noteworthy Topics
Market Environment surrounding Foods for Dysphagia, Chewing Difficulty, and Preventive Care
As the aging society is in progress and as awareness of dysphagia symptoms is rising, the number of people recognized as dysphagia patients is likely to increase rapidly, which is projected to stably expand the market size of dysphagia food, though the food is mainly consumed at hospitals and long-term care facilities.

In addition, those elderly people certified as long-term care needed amount to 6,400 thousand and are increasing year by year. This indicates that it is quite possible for the chewing-difficulty food market to grow to the level of 40,000 million yen.

In many cases, preventive care food is used for additional diet at businesses such as hospitals and long-term care facilities. "Smile Care Food" is new long-term care food that has been presided over by MAFF for market penetration, aiming to solve the problem of undernutritious people staying at home including both the elderly and the handicapped.


Future Outlook
The dysphagia food market is likely to increase steadily hereon, but the growth rate is to slow down to around 3 to 4% per year, as the market expands. This is because there is a limit in the number of dysphagia patients and because price competition is expected to become fiercer and fiercer.

The chewing difficulty food market is projected to expand at annual growth rate of around 7 to 8%. With sales floors of softened food (chopped food) at general sales channel are expected to expand, the sales of such food are likely to gradually be on the rise. Meanwhile, the sales of grinded food (or milled food) are predicted to continuously and steadfastly grow for business use.

As demand for additional diet (for snacks (oyatsu) and dessert) for preventing residents of long-term care facilities from undernutrition is stably on the rise, and by tap into home-care elderly patients, the preventive care food market is projected to increase with around 3% of growth rate from hereon. Further expansion can be expected by appropriately connecting with extension of healthy life expectancy.


Research Outline
1.Research Period: January to April, 2020
2.Research Object: Manufacturers of foods for patients suffering from dysphagia/chewing difficulty, and preventive care food
3.Research Methogology: Face-to-face interviews by the expert researchers, survey by telephone, and literature research
Foods for Dysphagia/Chewing Difficulty/Preventive Care
Dysphagia food in this research refers to the processed food for patients and senior citizens who have difficulty in swallowing things to make them easier to swallow. Chewing-difficulty food is the processed food for patients and older people who have difficulty in chewing things to make them easier to chew. Preventive-care food is the supplemented processed food with nutrients and nutritive values mainly for the older population to prevent them from being under long-term care.

All such foods in this research are processed foods. The cooked meals delivered to hospitals and long-term facilities, and bento and meals provided by home meal delivery services are not included.


<Products and Services in the Market>
Food for dysphagia (jellified foods, gelling agent, dessert bases, and jelly for replenishing water), food for chewing difficulty (softened food (chopped food), milled or grinded food, and others (food with the shape kept, jellified food, etc.), food for preventive care (high-protein food, high-vitamin food, low-calorie food)
Published Report
Contact Us
©2019 Yano Research Institute Ltd. All Rights Reserved.
The copyright and all other rights pertaining to this report belong to Yano Research Institute.
Please contact our PR team when quoting the report contents for the purpose other than media coverage.
Depending on the purpose of using our report, we may ask you to present your sentences for confirmation beforehand.