Domestic 5G Services Market: Key Research Findings 2020
Domestic 5G Subscriptions to Reach 11.85 Million for FY2020, 5G Smartphone Shipments to 13.33 Million Units in 2020
Forecast on Domestic Mobile Network Service/5G Service Subscriptions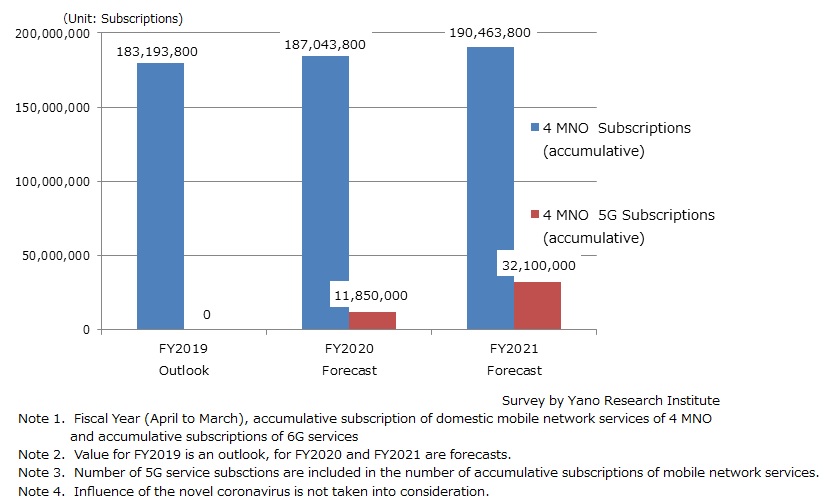 Forecast on Domestic Shipments of 5G Smartphones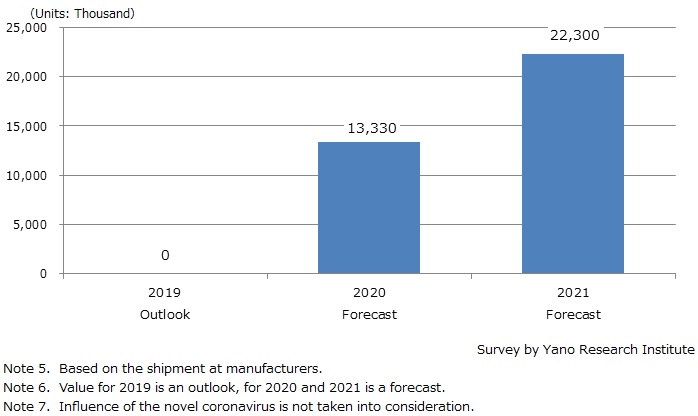 Market Overview
According to Telecommunication Carriers Association (TCA), domestic subscriptions for the period ended in December 2019 reached 180 million, indicating wide penetration of 5G as social infrastructure. In 2010s, the fourth generation cellular network technology (4G) was updated repeatedly as a critical technology to support infrastructure. High-speed was particularly beneficial, which brought impressive improvements in services quantitatively. Meanwhile, in terms of mobile communication service as a whole, shifts to smartphones proceeded; with increase of e-commerce and SNS (Social Networking Service) using smartphones, consumer use style is diversifying.
As some years have passed since the introduction of services by major domestic MNO (Mobile Network Operator) and "budget smartphones" by sub-brands of major MNO and MVNO (Mobile Virtual Network Operator), range of selection for consumers has been expanding. In March 2020, 3 MNOs have started commercial services of the fifth generation cellular network technology (5G), which is a standard after 4G networks. New market entry for the first time since 2007 concurrently with the 5G installation was also in the news.

Noteworthy Topics
Trends of Domestic 5G Commercial Subscriptions
Domestic 5G subscription of 4 MNO for FY2020 is estimated 11.85 million, and shipment of 5G smartphones 13.33 million units. *
While the service is available only at specific areas and opportunities to experience 5G is still limited, shifts to 5G-compatible subscription that has exempt from the upper limits for various services is anticipated when switching to 5G compatible smartphones. However, due to the impact of corona virus, number of subscriptions for the first fiscal year of 5G service introductions is assumed to fall short of primary projection by more than 20%; although demand might recover in the latter half of the latter half, it may not be enough to cover the shortage in the first half.
*Forecast does not take the influence of novel coronavirus into consideration.


In FY2021, as service area expands further, introduction of 5G commercial services by MVNO can be anticipated. Moreover, with the Tokyo Olympic Games and Paralympic Games awaiting and expectation for invigorated competition of services among MNO, 5G subscriptions is forecasted to reach 32.1 million for FY2021, and domestic shipment of 5G smartphones to attain 22.3 million units for 2021.


Future Outlook
Major fields that may utilize 5G capabilities the most are (1) video streaming (4K/8K, XR [VR/AR/MR], etc.), (2) connected car, (3) IoT (Internet of Things), and (4) security.
Video streaming, especially, has large demand as it includes both services for consumers and wide range of services for businesses such as education/training fields. As video streaming by smartphones has taken root more since the outspread of novel coronavirus, rich video experience supported by 5G environment would have enough appeal to promote penetration of 5G services.


Research Outline
1.Research Period: January to April 2020
2.Research Object: Telecommunications carriers (MNO, MVNO Businesses), communication device manufacturers, ODM/EMS companies, semiconductor manufacturers, research firms/consulting firms overseas
3.Research Methogology: Face-to-face interviews by the expert researchers, interviews via email, interviews at seminars, and literature research.
Domestic 5G Services Market
5G is the fifth generation cellular network technology developed as the global wireless standards after 4G networks by ITU-R (International Telecommunication Union - Radio Communications Bureau) which is characterized by (1) high data speeds/massive network capacity, (2) multiple simultaneous connections, and (3) ultra low latency.
5G is seen as indispensable technology for establishing social infrastructure in the era of IoT, and is expected to empower various industrial fields (such as mobility, delivery/distribution, service industry/tourism, entertainment/sports/leisure, factories/manufacturing/offices, education/training/culture, finance/financial settlements, smart home/smart city/energy, agriculture/forestry/fishery, civil engineering/construction, media/advertising/contents creation, medical/healthcare, government/municipality/disaster prevention).
Reference:
"XR(VR/AR/MR)& 360-Degree Video Market in Japan: Key Research Findings 2019" released on January 6, 2020


<Products and Services in the Market>
Mobile network services, mobile communication devices, telecommunication modules, base stations
Contact Us
©2019 Yano Research Institute Ltd. All Rights Reserved.
The copyright and all other rights pertaining to this report belong to Yano Research Institute.
Please contact our PR team when quoting the report contents for the purpose other than media coverage.
Depending on the purpose of using our report, we may ask you to present your sentences for confirmation beforehand.