Hospital Equipment and Supplies Market in Japan: Key Research Findings 2019
Yano Research Institute (the President, Takashi Mizukoshi) conducted a survey on the domestic hospital equipment and supplies market and found out the transition and forecast of market size, trends by product type and by function, and the influences received from new products releases.
Transition and Forecast of Domestic Hospital Equipment and Supplies Market Size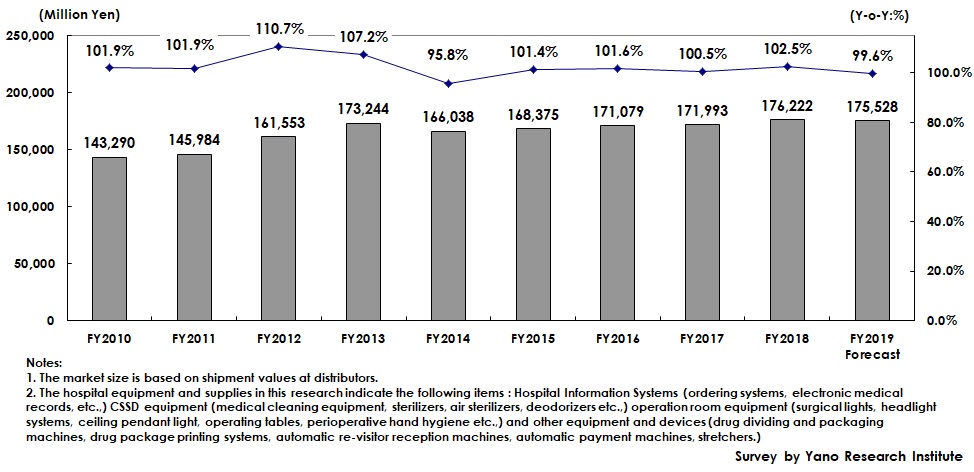 Market Overview
This research targeted major hospital facilities and equipment, used as HIS (Hospital Information Systems), and those for CSSD (central sterile services department), operational rooms, dispensing, hospital wards, reception and etc. The equipment that directly related to diagnosis and medical treatment was not included.

The domestic hospital equipment and supplies market, especially the equipment and devices for operational rooms, CSSD, and reception had kept on expanding, as flagship hospitals had prepared themselves to accept emergency care systems and advanced medicines. Since 2014, however, both new constructions and remodeling of hospitals have decreased, which led the market to be in a predicament.

Size of the domestic hospital equipment and supplies market for FY2018 (based on shipment values at distributors) was estimated as 176,222 million yen, 102.5% of that of the previous fiscal year. However, of 27 products, those that exceeded the previous fiscal year in shipment value were only 11. Because many items seem to continue being on the fall, the market size for FY2019 is expected to be 175,528 million yen, 99.6% of that of the preceding fiscal year.

Noteworthy Topics
About Bedpan Washers and Macerating Units
Bedpan washers have pervaded even to small-to-mid size general hospitals, as they lower the burdens of hospital staff and improve safety, in addition to reduced supply prices associated with more companies having entered the market. Introduction of bedpan washers used to continue permeating but has downturned in recent years, because new establishment as well as remodeling of large-scale hospitals have overall finished and because hospital construction plans have been on the decline. On the other hand, macerating units that drain and crush the contents-included disposable toilet bowels made of recycled paper have started being introduced at domestic hospitals. How the system units affect bedpan washers hereafter is attracting attention.


Future Outlook
According to the (Static/Dynamic) Survey of Medical Institutions and Hospitals for 2019 by MHLW, domestic number of medical institutions as of 2019 was 8292, a decrease by 80 from the previous year. The declining tendency started since 1990 at which there had been 10,096 facilities. The number of general hospitals among the entire medical institution in 2019 was 7,238, a decline by 76 from the previous year, indicating that the number of decommissioned hospitals exceeded that of newly established ones.

Also, according to the statistics on construction starts by use by MLIT, there were 3,001 medical or health and sanitation facilities with total 2,025,000 square meters in 2018, and 2,905 facilities with total 2,365,000 square meters in 2019. The expense for construction planned amounted to total 600,978 million yen for 2018 while that in 2019 amounted to 767,052 million yen. This indicates that the hospital equipment and supplies market can tap mainly into replacement at existing facilities rather than newly built ones. With construction fees expanding, the expense budget for hospital equipment and supplies can be smaller, bringing about the market to continuously be in severe conditions.


Research Outline
1.Research Period: December 2019 to April 2020
2.Research Object: Hospital equipment makers and dealers of imported products
3.Research Methogology: Face-to-face interviews by the specialized researchers, survey via telephone, literature research, and website research
Hospital Equipment and Supplies
The hospital equipment and supplies in this research indicate the following: Hospital Information Systems (ordering systems, electronic medical records, etc.,) central sterile supply department (CSSD) equipment (medical cleaning equipment, sterilizers, air sterilizers, deodorizers etc.,) operation room equipment (surgical lights, headlight systems, ceiling pendant light, operating tables, perioperative hand hygiene etc.,) and other equipment and devices (drug dividing and packaging machines, drug package printing systems, automatic re-visitor reception machines, automatic payment machines, stretchers.)


<Products and Services in the Market>
Medical information/management systems, central sterile supply department equipment, operation room equipment, other equipment and supplies
Contact Us
©2019 Yano Research Institute Ltd. All Rights Reserved.
The copyright and all other rights pertaining to this report belong to Yano Research Institute.
Please contact our PR team when quoting the report contents for the purpose other than media coverage.
Depending on the purpose of using our report, we may ask you to present your sentences for confirmation beforehand.