Cloud Service Market (IaaS/PaaS) in Japan: Key Research Findings 2020 Cloud Service Market for 2019 Projected to Attain 780 Billion Yen, 134.5% of Previous Year
Yano Research Institute (the President, Takashi Mizukoshi) has conducted a survey on the cloud service market (IaaS/PaaS) in Japan, and found out the market size transition/forecast, the trends at cloud vendors, and the pervasion level of new services, etc.
Size Transition and Forecast on Cloud Service Market (IaaS/PaaS)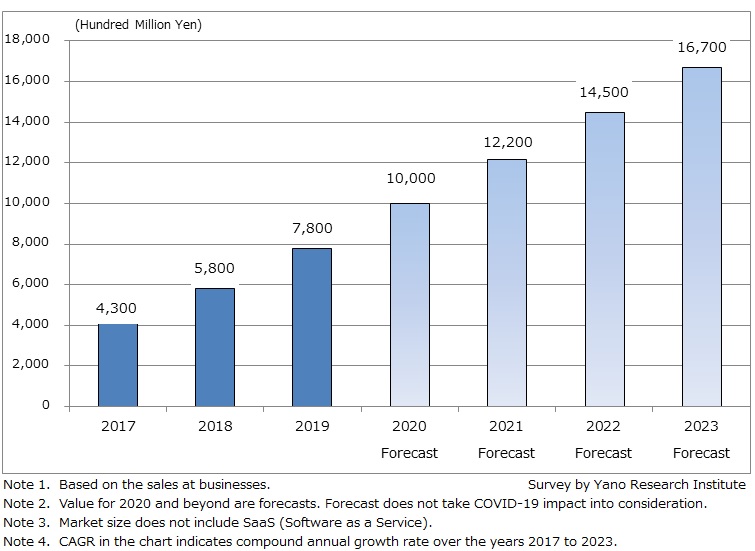 Market Overview
With stable growth led by cloud migration of existing information systems, the domestic cloud services market (IaaS/PaaS) in 2019 is estimated to reach 780 billion yen, 134.5% of the previous year.
Hybrid cloud has already become popular; yet, in 2019, demand rose for container-based and microservice-based applications for the purpose of utilizing the right platform at the right task and managing risks. This led end-user enterprises to increase deployment of multicloud approach in use of IaaS/PaaS, i.e. using multiple cloud services by multiple providers. The trend is likely to continue hereafter.

Noteworthy Topics
Rise in Use of Cloud Services by Financial Services
In 2019, introduction and use of cloud services expanded among financial services; number of cases in which major insurance companies and securities companies adopting Amazon Web Services and Microsoft Azure increased. Moreover, mega-banks and regional banks are showing intention to use cloud services, aiming to apply it for a broader range of operations. Recently, there are increasing cases of implementing public cloud for accounting systems; unless failures occur in these systems, momentum will shift to utilization of public cloud. It is likely to assume that user companies that used to avoid public cloud for security reasons will be encouraged to use cloud services, thus accelerating the market growth of cloud services.


Future Outlook
Against the backdrop of "Cloud-by-Default (Cloud Adoption) Policy" for government information systems, cloud services in public sector is anticipated to expand and therefore cloud vendors see it as one of their prime prospects. Nevertheless, as public sector often requires longer time from consideration to implementation compared to private sector, or has circumstances peculiar to regions, finding a partner with a fair understanding of their challenges is crucial.
In addition, management and analysis on massive amount of data will be necessary hereon due to data transfer associated with migration from on-premise systems to cloud services, use of services for actualization of digital transformation (DX), and pervasion of IoT, AI, and 5G. Owing to security leakage accidents at cloud services overseas, data management in cloud services is drawing concern. From 2020 on, attention will be paid on domestic cloud services as well, leaving cloud vendors with data management expertise to stand out in the market.
Although growth rate may decrease due to market size expansion, the market will continue growing rapidly; the cloud services market (IaaS/PaaS) is projected to reach 1,670 billion yen by 2023 (based on the sales at businesses). * The market is projected to grow at CAGR (compound annual growth rate) of 25.4% over the years 2017 to 2023.


*The forecast does not take impact of COVID-19 pandemic into consideration.


Research Outline
1.Research Period: January to April 2020
2.Research Object: Domestic cloud-service-related vendors (providers of public cloud and its peripheral services), HCI providers, domestic private companies, etc.
3.Research Methogology: Face-to-face interviews by the expert researchers, surveys by telephone and email, and questionnaires sent to companies via mail.
Cloud Service Market (IaaS/PaaS) in Japan
IaaS (Infrastructure as a Service) and PaaS (Platform as a Service) in this research refers to cloud computing environment managed on public cloud (cloud services by service providers) that provides virtualization, automation, and other technologies via internet.
Size of the cloud service market is calculated based on the sales of cloud vendors (service providers). However, SaaS (Software as a Service) is not included.


<Products and Services in the Market>
IaaS, PaaS
Contact Us
©2021 Yano Research Institute Ltd. All Rights Reserved.
The copyright and all other rights pertaining to this report belong to Yano Research Institute.
Please contact our PR team when quoting the report contents for the purpose other than media coverage.
Depending on the purpose of using our report, we may ask you to present your sentences for confirmation beforehand.