Sporting Goods Market in Japan: Key Research Findings 2020
Yano Research Institute (the President, Takashi Mizukoshi) has conducted a survey on the domestic sporting goods market and has found out the market trend by product segment, the trends of market players, and the future outlook.
Transition of Domestic Sporting Goods Market by Category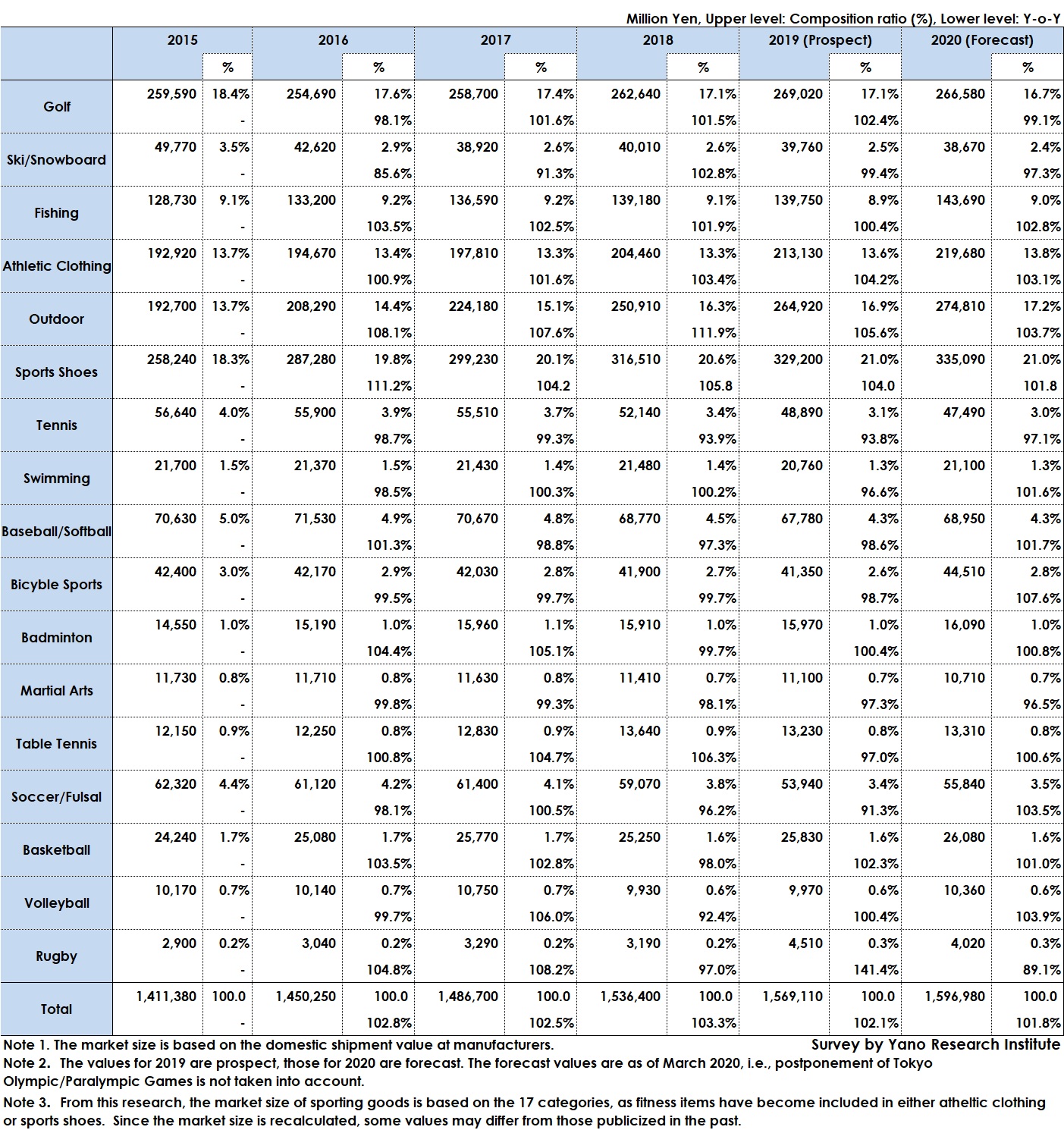 Market Overview
The domestic sporting goods market size in 2019, based on the domestic shipment value, is projected to increase to 1,569,110 million yen, 102.1% of that of the previous year. The market has been supported by strong demand for "athleisure" lifestyle and clothing, i.e., the coined word from athletics and leisure indicating a relaxed yet stylish lifestyle led by young adults and fitness-conscious consumers donned with sportswear), which has driven the sales of sports shoes and outdoor goods, bringing about the entire sporting goods market to be projected to grow for four consecutive years. On the other hand, the product sales of team sports with their main players consist of school-club students (high-school and junior high students) are facing predicament due to decreasing number of children.

Noteworthy Topics
Heavy Blow to New Semester Product Sales by COVID-19
The impact of COVID 19 pandemic to the sports industry is outrageous, with each of sports events forced to cancel or postpone, and the players, too, are asked to self-restrain from participating or hosting various events.

For domestic sporting goods shipment market, the suspended operation of factories and plants in China and other countries disconnected the supply chains, disabling the items to be delivered to retailers. This especially damaged the product sales for new semesters, because consumers disappeared from retailers that was supposed to have flourished, as the various sports seasons supposed to have started and a variety of sports events were to be taken place if it had been the usual years.


Future Outlook
The domestic sporting goods market size for 2020 based on the shipment values was projected to attain 1,596,980 million yen, 101.8% of the previous year*, driven by the categories of sports shoes, outdoor goods, and athletic clothing.

Currently, new coronavirus pandemic is affecting the various sports events and activities, more enormous an influence than aftermath of the Great East Japan Earthquake which victimized limited areas of eastern Japan. The influence of the virus is just exorbitant, stopping all the flows of people, things, and money nationwide. The sporting goods market has naturally been unavoidable to be affected just like other industries. There is nothing but to hope for the calamity to end as soon as possible.

*The forecast values are as of March 2020, i.e., postponement of Tokyo Olympic/Paralympic Games has not been considered.


Research Outline
1.Research Period: January to March 2020
2.Research Object: Sporting goods manufacturers, importers, wholesalers, and retailers
3.Research Methogology: Face-to-face interviews by expert researchers, and mailed questionnaire
The Sporting Goods Market
The sporting goods market in this survey refers to the market of equipment and goods used in the following 17 sports categories: Golf, Ski/Snowboard, Fishing, Athletic clothing, Outdoor, Sports shoes, Tennis, Swimming, Baseball/Softball, Bicycle sports, Badminton, Martial arts, Table tennis, Fitness, Soccer/Futsal, Basketball, Volleyball, and Rugby. The market size is calculated based on the shipment value (domestic shipment) at manufacturers.

Among the categories shown above, "Athletic clothing" includes clothing for training, fitness, running and other field athletics, and lifestyle (casual wear). "Sports shoes" include running shoes, walking shoes, multi-purpose shoes (including casual sneakers), kids' shoes, training shoes (including fitness shoes), and sports sandals.


<Products and Services in the Market>
Golf goods, Ski/Snowboard items, Fishing items, Athletic clothing, Outdoor items, Sports shoes, Tennis goods, Swimming items, Baseball/Softball goods, Bicycle sports items, Badminton goods, Martial arts items, Table tennis goods, Fitness items, Soccer/Futsal goods, Basketball goods, Volleyball goods, and Rugby items
Contact Us
©2019 Yano Research Institute Ltd. All Rights Reserved.
The copyright and all other rights pertaining to this report belong to Yano Research Institute.
Please contact our PR team when quoting the report contents for the purpose other than media coverage.
Depending on the purpose of using our report, we may ask you to present your sentences for confirmation beforehand.