Biomass Energy Market in Japan: Key Research Findings 2020
Yano Research Institute (the President, Takashi Mizukoshi) conducted the domestic biomass energy market and found out the market trends, the trends of leading market players, and future outlook.
Transition and Forecast of Biomass Energy Market Size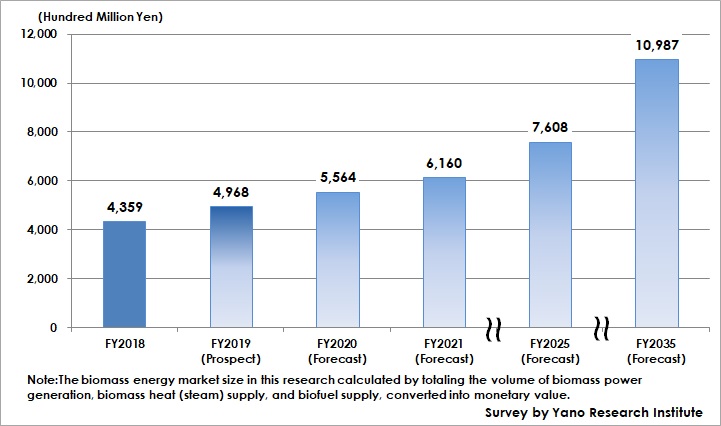 Market Overview
The biomass energy market size, calculated by totaling the volume of biomass power generation, biomass heat (steam) supply, and biofuel supply converted into monetary value, is estimated to have attained 435,900 million yen in FY2018. Ever since the feed-in tariff system for renewable energy was enacted in Japan, the rapidly expanded biomass power generation market has boosted the entire biomass energy market size.

When observing the details of each market, for the biomass power generation business, some power plants using "general wood and agricultural residue" generating several tens of megawatts have started operation one after another. Also in this category, there are some project developments that effectively utilize unused resources and that focus on provincial industrial promotions.

Biomass heat (steam) supply is the category attracting some companies trying to build a business model independent from the feed-in tariff system. Some biomass power plants not only generate power but, at the same time, supply heat as well as by products of heat (e.g., CO2, etc.) to neighborhood facilities (horticultural facilities, algae culture facilities, etc.)

Biofuel is used as the fuel for transportation equipment and power plants. The businesses of the global airplane industry are increasingly showing interest in bio jet fuel (biomass-derived jet fuel) in order to reduce CO2 emissions.

Noteworthy Topics
Procurement of Raw Fuels in Biomass Power Generation Business
Associated with increase of woody biomass power plants, some regions are facing critical shortage in raw fuels supply. At such regions, shortage and higher prices of raw fuels have become an issue that can prevent biomass power plants from securing stable operation and profitability. To take measures against the situation, biomass power plant operators have started working on expansion of a raw-fuel procurement network, exploration and utilization of unused resources, support for forestry, and enhancement of forest growth.

In addition, there have been growing tendency to refrain from using imported fuels (coconut husks, etc.) because of concerns about energy consumption for marine transportation, development projects at exporting countries, and from the view point of local production for local consumption. Therefore, development of new biomass power plants presupposing the use of imported fuels is likely to slow down from a mid-to-long term view, despite that use of imported fuels brings about some advantages such as generation of port service employment and contribution to energy security, diversifying the suppliers of raw fuels.


Future Outlook
The domestic biomass energy market size, based on the energy supply volume converted into monetary value, is likely to attain 496,800 million yen in FY2019, 114.0% of the size of the preceding fiscal year. The size is expected to reach 616,000 million yen by FY2021, as the current ongoing plans and constructions of biomass power plants are to start operations from hereon.

On the other hand, new development of biomass power plants may slow down, as the feed in tariff system is to be overhauled to introduce a competitive bidding system. Nevertheless, it is likely for biomass energy to keep being strongly demanded, as it contributes to lower carbonization of energy, effective utilization of unused resources, and also to promotion of regional industries.


Research Outline
1.Research Period: August 2019 to January 2020
2.Research Object: Biomass resources suppliers, biofuel suppliers, biomass power generation businesses, biomass facility system makers, etc.
3.Research Methogology: Face-to-face research by the expert researchers, surveys via telephone, and literature search
The Biomass Energy Market
Biomass energy is renewable energy derived from organic resources from living things being supplied to the market. It is comprised of resources (i.e., unused wood, general wood, building waste, palm coconut shells, imported wood, sewage sludge, food waste, livestock excrement, etc.,) power generation electricity, heat (steam), and biofuels (i.e., bioethanol, biodiesel, bio jet fuel, etc.)

The biomass energy market size in this research is calculated by totaling the volume of biomass power generation, biomass heat (steam) supply, and biofuel supply, converted into monetary value.


<Products and Services in the Market>
biomass power generation, biomass heat (steam) supply, and biofuel supply
Contact Us
©2019 Yano Research Institute Ltd. All Rights Reserved.
The copyright and all other rights pertaining to this report belong to Yano Research Institute.
Please contact our PR team when quoting the report contents for the purpose other than media coverage.
Depending on the purpose of using our report, we may ask you to present your sentences for confirmation beforehand.