Subscription Service Market in Japan: Key Research Findings 2020
Yano Research Institute (the President, Takashi Mizukoshi) has conducted a survey on the subscription service market in Japan, and found out the market trend in major/noteworthy categories, the trend at market players, and the future perspectives.
Transition of Domestic Subscription Services Market (Total of 7 Markets)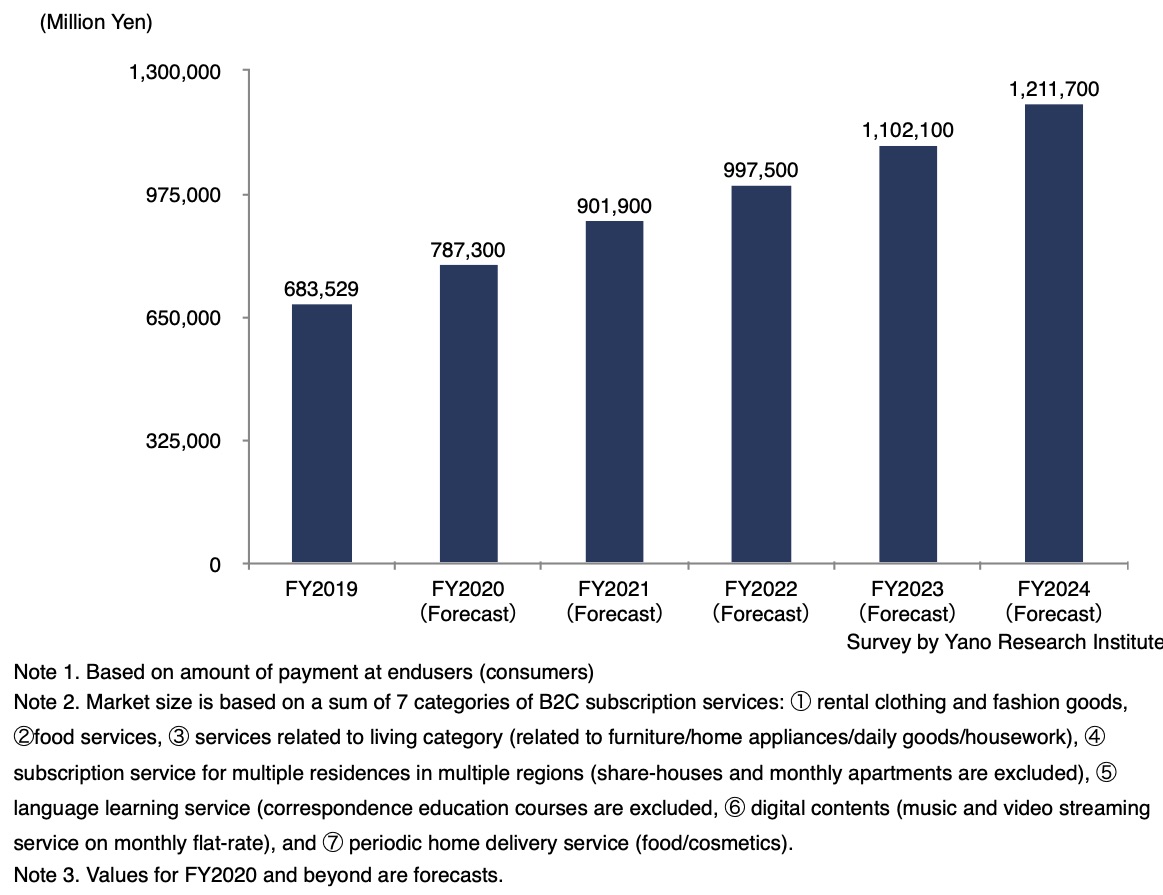 Market Overview
The domestic subscription service market in FY2019 (as a total of 7 markets, including periodic home delivery service for food and cosmetics) attained 683,529 million yen, based on the amount spent at end-users (consumers). For FY2020, it is estimated to increase by 15.2% from the preceding year to generate 787,300 million yen.
In the subscription service market, size of each field is small except for the field of digital contents and periodic home delivery service on food/cosmetics. Nevertheless, for it is getting attention as a new way of providing products and services, the entire market (total of 7 markets) is expanding gradually. Although some of the 7 fields in this survey are at the dawn and small in scale, their growth is expected now on.

While most subscription service in the spotlight had been B2C services, services (systems) supporting B2B subscription business in various industries is emerging, such as a service supporting recurring business deals between companies mainly in order management. However, this field is not included in the market size referred to in this research.

Noteworthy Topics
Increase of Secondary Distributors Entering Rental Clothing and Fashion Goods Field
In the field of subscription service for rental clothing and fashion goods, secondary distributors handling secondhand luxury items like watches and bags newly entered the market in FY2019. Until then, new entries were mostly IT startups that struggled in expanding selection of products, because higher the price of items, tougher the buying up process. Under such circumstance, some IT startups partnered with leasing companies and secondary distributors to broaden the range of products to improve their business achievements.
Considering that most secondary distributors already possess a stock of hundreds to thousands of items, all they need to do to start subscription service is to adopt a subscription system to their conventional secondhand sales business. Due to the low hurdle for market entry, more secondary distributors are anticipated to join the market hereafter.


Future Outlook
Since 2018, subscription service became widely known at the level where most people can associate it with its Japanese abbreviation "sabu-suku". Nonetheless, the service has issues for being non-conventional.
Except for digital contents service, subscription service may be foreign to traditional lifestyle, because subscription services for products and services presuppose recurring flat-rate price payment. For this reason, although the services are acknowledged by users, it is not enough to lead them to use the services; current situation is that many fields are not activated because users do not use the services frequently.


Research Outline
1.Research Period: December 2019 to March 2020
2.Research Object: Subscription service providers, service providers assisting subscription services for B2C, service providers assisting subscription services for B2B, etc.
3.Research Methogology: Face-to-face interviews by the expert researchers, questionnaires, and literature research.
Subscription Service Market
Subscription service in this research refers to a business in which a customer pay a recurring flat-rate price for access to a product or service; upon committing continuous use, user is provided with advantageous conditions in term of intervals, frequency, and variety. Target markets are the following 7 categories of B2C services: (1) subscription service for rental clothing and fashion goods, (2) subscription service for food and food services (flat-rate service at food/beverage services like restaurants etc.), (3) subscription service for living category (related to furniture/home appliances/daily goods/housework), (4) subscription service for multiple residences in multiple regions (short-term residence at monthly fixed rate, or a service for users to stay at any of service-owned properties around the country; shared houses and monthly apartments are not included), (5) subscription service for language learning (interactive learning contents; correspondence education courses are excluded), (6) subscription service for digital contents (music and video streaming service on monthly flat-rate), and (7) periodic home delivery service (purchase of products such as food, beverages, and cosmetics using a platform of regular purchasing system, distribution at regular intervals through 'buying club'). The market size is calculated based on the amount spent at end-users (consumers).


<Products and Services in the Market>
Rental clothing and fashion goods, food services, living category services (related to furniture/home appliances/daily goods/housework), services for multiple residences in multiple regions, language learning services (interactive contents); digital contents (music and video streaming service on monthly flat-rate); and periodic home delivery (food/cosmetics, etc), subscription service providers for B2C services, subscription support businesses (mainly for B2C services; for B2B, mentioned only as a reference).
Contact Us
©2019 Yano Research Institute Ltd. All Rights Reserved.
The copyright and all other rights pertaining to this report belong to Yano Research Institute.
Please contact our PR team when quoting the report contents for the purpose other than media coverage.
Depending on the purpose of using our report, we may ask you to present your sentences for confirmation beforehand.