Health Food Market in Japan: Key Research Findings 2020
Yano Research Institute (the President, Takashi Mizukoshi) has conducted a survey on the domestic health food market and has found out the market trends by segment, the trends of market players, and the future perspectives.
Transition of Health Food Market Size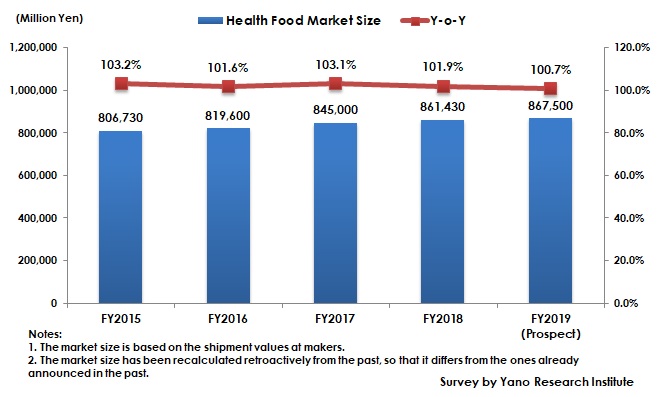 Transition of Foods with Function Claims Market Size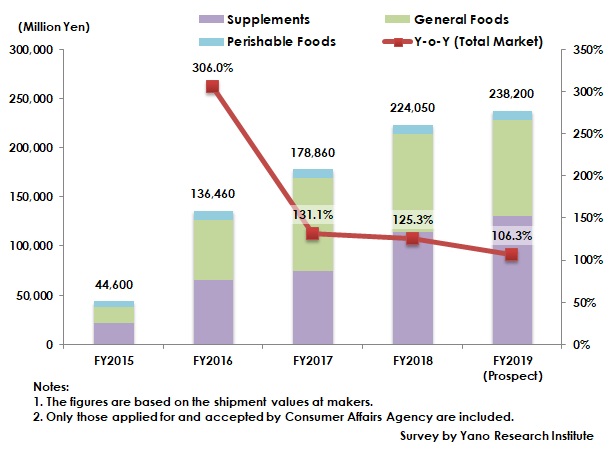 Market Overview
The health food market for FY2018 is estimated to have risen by 1.9% to 861,430 million yen, and that for FY2019 is likely to rise by 0.7% to reach 867,500 million yen.

The market expansion in FY2018 was contributed partly by inbound tourists. As for domestic demand, while mail-order channel that had long supported the market growth showed sluggish sales at middle-size mail order companies, ecommerce ventures succeeded in digital marketing strategies to increase the sales, which boosted the market as a whole.

Some companies have increased the sales by eagerly appealing the functions of their Foods with Function Claims products by means of vigorous communications. In addition to mail-order channels, the sales via drugstore channel (drugstores and pharmacies) have expanded, as some drugstores succeeded in making highly visible sales floor mainly for Foods with Function Claims. The sports activity channels have also expanded, as health-conscious population from young to the aged having introduced training in their lifestyles, which led the sales of sports nutrition supplements at fitness gyms, health exercise classes, etc. to expand.

The market of Foods with Function Claims for FY2018 based on the shipment values at makers rose by 25.3% to attain 224,050 million yen, exceeding the 200,000 million-yen mark. The market for FY2019 is likely to achieve 238,200 million yen, up by 6.3%. The growth of supplements is especially conspicuous to expand the market, as the products for preventing lifestyle diseases making a hit, and as the products with the function of providing good sleep which is not available by FOSHU have been proactively released. Some supplement makers are eager to renew their products as Foods with Function Claims which makes larger sales than normal foods, which is also contributing to market expansion.

Noteworthy Topics
Newsworthy Materials in Health Food Market
Protein: FY2018 Market size: 64,300 million yen (based on the shipment values at makers), up by 5.2% on Y-o-Y
In addition to the primary users of athletes and school club students, the user base has increased to those eager to train themselves, from young to the middle-aged, and to some senior female users earnest about taking exercise classes in order to keep their health and muscles. The awareness of importance to take protein which is difficult in usual meals has increased, and there have been more protein products suggested to be taken in accordance with the users' opportunities and lifestyles.

Collagen: FY2018 Market size: 50,470 million yen (based on the shipment values at makers), up by 1.0% on Y-o-Y
Collagen has already been taken mainly by female users because of its benefit of maintaining beauty and anti-aging effects. In recent years, as the development of scientific theory regarding the outcome of oral ingestion of collagen to body effects in progress, increasing number of middle-aged and elderly women started taking collagen from both viewpoints of keeping health/beauty and of anti-aging, which is expanding the market.

Multivitamin: FY2018 Market size: 49,270 million yen (based on the shipment values at makers), up by 1.1% on Y-o-Y
Multivitamin supplements have sold well as a way to supply nutrition that tends to lack in usual meals, and as the consciousness toward health and beauty becoming higher especially among the young population.

DHA and EPA: FY2018 Market size: 29,100 million yen (based on the shipment values at makers), up by 2.1% on Y-o-Y
With higher recognition of necessity of taking essential fatty acid, DHA and EPA have been extensively supported especially by middle to aged population in order to prevent lifestyle diseases and Dementia, as well as to keep health, contributing to market growth.

Lactic acid bacteria: FY2018 Market size: 26,100 million yen (based on the shipment values at makers), up by 12.0% on Y-o-Y
Due to progress in the studies regarding the relationship between intestinal conditions and health, together with the announcement and information of the study results, the demand for health foods has been rising as a method to intake lactic acid bacteria. The sales in the form of supplement are growing and encouraging the market, because lactic acid bacteria not only work for intestinal regulation, but also are known to keep health by bringing about immunostimulation.


Future Outlook
The health food market is likely to keep being on the rise in a moderate manner, as the senior population, i.e., the main users of health food, gets more interested in healthy longevity, increases the awareness of anti-aging, and takes measures to cope with the extension of retirement by keeping health and by being able to move around. The market growth can also be supported by the middle-aged group by taking measures against lifestyle diseases as well as the changes to their body when getting older, while the young population help grow the market by being more conscious of training themselves and by considering more about health and beauty.

Expansion of functions in the Foods with Function Claims enables the users to choose from wider selections, which is expected to increase the awareness of the foods as one of the methods to maintain health. While the supplement category is likely to increase among the Foods with Function Claims, the general foods category is projected to temporarily scale down for FY2019, because of too many products go through revisions and abolitions and because some major brands of dairy products have planned to shift from Foods with Function Claims to general foods or to FOSHU. Nevertheless, as various food types have been developed as the Foods with Function Claims, and as major food makers are eager to develop such functional foods, there will be some more of products released as such, hereafter. While severe revisions and abolitions continue, the entire market of the Foods with Function Claims is projected to expand gradually.


Research Outline
1.Research Period: August to December 2019
2.Research Object: Health food manufacturers and distributors (health food manufacturers, general food manufacturers, and pharmaceutical manufacturers), health food organizations, and the authorities concerned
3.Research Methogology: Face-to-face interviews by the specialized researchers, surveys via telephone/mailed or emailed questionnaire, and literature research
What is Health Food?
Health food in this research indicates the food in the forms of tablets, capsules, powder, or bottled liquid, aiming for health maintenance and promotions, and beauty. The size of health food in this research only includes the Foods with Function Claims (only those applied for and accepted by Consumer Affairs Agency), FOSHU (Foods for Specified Health Uses), with the forms (shapes) described above. Those that do not apply to the above description are not included. The market size has been recalculated retroactively from the past, so that it differs from the ones already announced in the past.


<Products and Services in the Market>
Green Juice (Aojiru), collagen, multivitamin, glucosamine, protein, Enzyme, vitamin C, DHA/EPA, black vinegar
Contact Us
©2019 Yano Research Institute Ltd. All Rights Reserved.
The copyright and all other rights pertaining to this report belong to Yano Research Institute.
Please contact our PR team when quoting the report contents for the purpose other than media coverage.
Depending on the purpose of using our report, we may ask you to present your sentences for confirmation beforehand.