Pet Related Business in Japan: Key Research Findings 2020
Yano Research Institute (the President, Takashi Mizukoshi) has conducted a survey on the domestic pet business market and has found out the market trends by segment, trends of market players, and future perspectives.
Transition and Forecast of Overall Pet Business Market Size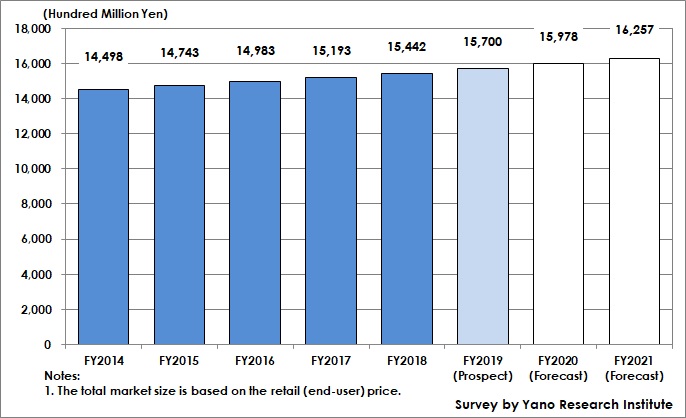 Market Overview
The overall pet related business market in FY2018 was estimated as 1,544,200 million yen, 101.6% on a year-over-year basis, based on the retail (end-user) price.

According to Japan Pet Food Association, the number of dogs kept as pets has been on the decline, while the number of cats has remained almost the same level, slowing down the growth in entire number of pets. On the other hand, pets have become closer existence for owners, just like a partner or one of family members, which is increasing the demand for the products and services for bringing about pets' healthy lives and better behavior. As a result, the market categories especially of premium pet foods and pet insurance continue contributing to the market expansion.

Noteworthy Topics
Pet Diaper Market- Increasingly Used for Good Manners
The market size of diapers for pets in FY2018 amounted to 6,500 million yen, 115.2% of the size of previous fiscal year, based on shipment values at makers.

In recent years, the demand for diapers for pets is growing, in order to prevent the pets from urine-marking behaviors indoors and for the owners not to be in trouble with pet manners when travelling, in addition to the necessity of taking care of incontinence in pets against the background of progressively aging pets.

The market players have repetitively improved the products in snug fit and functionality, and developed the products to cope with detailed and diversified demand, including enhancement in wide variety of sizes for various dog breeds. As upper ranking makers attained somewhat favorable sales in large-capacity types, regardless of whether they are for small dogs or large dogs, they seem to have succeeded in acquiring regular customers.

Just like other products for pets, the pet diaper market has concerns about major brand products being deprived of the customers by emerging private brands, especially by some low-price PB products made in China. Nevertheless, absorption power as well as technologies by the Japanese makers has been superior, which led some pet owners to shift from Chinese PB products to the major Japanese brand. As diapers have been positioned as a promising item to grow, further new market entry and product development are expected hereafter.


Future Outlook
The overall pet related business market, based on the retail (end-user) price, is projected to increase to 1,570,000 million yen for FY2019, 101.7% on a year-over-year basis, and is expected to reach 1,597,800 million yen by FY2020, 101.8% on the same basis.

While the number of pets has been diminishing, growing numbers of pet owners regard pets as one of the family members, increasing the spending per pet for creating comfortable living environment. The market categories especially of premium pet foods and pet insurance are projected to expand. After 2018, the pet foods with functions such as intestinal flora, gluten-free, or grain free have begun drawing attention, while the demand for the pet products to support health management and manners/etiquette seems to increase furthermore.


Research Outline
1.Research Period: October to December, 2019
2.Research Object: Manufacturers, wholesalers, retailers of pet foods and products, and providers of various pet related services
3.Research Methogology: Face-to-face interviews by the expert researchers, surveys via telephone, and literature research
Pet Related Business Market
Pets in this research indicate mainly cats and dogs, together with other live animals sold at pet shops. The total pet related business market consists mainly of pet foods, goods for pets, pets themselves, and the services for pets including insurance, long-term care, medical, and funeral, etc.


<Products and Services in the Market>
Pet foods, pet goods (Potty pads for dogs, Sand for cats' toilet, Pet diapers, Shampoo & conditioner, Deodorant, Insecticide and others), pet services (insurance, long-term care, medical, funeral, etc.)
Contact Us
©2019 Yano Research Institute Ltd. All Rights Reserved.
The copyright and all other rights pertaining to this report belong to Yano Research Institute.
Please contact our PR team when quoting the report contents for the purpose other than media coverage.
Depending on the purpose of using our report, we may ask you to present your sentences for confirmation beforehand.