Aesthetic Salon Market in Japan: Key Research Findings 2019
Yano Research Institute (the President, Takashi Mizukoshi) has conducted a survey on the domestic aesthetic salon market and has found out the trend by prefecture / by treatment, the trend of market players and the future perspectives.
Transition of Aesthetic Salon Market Size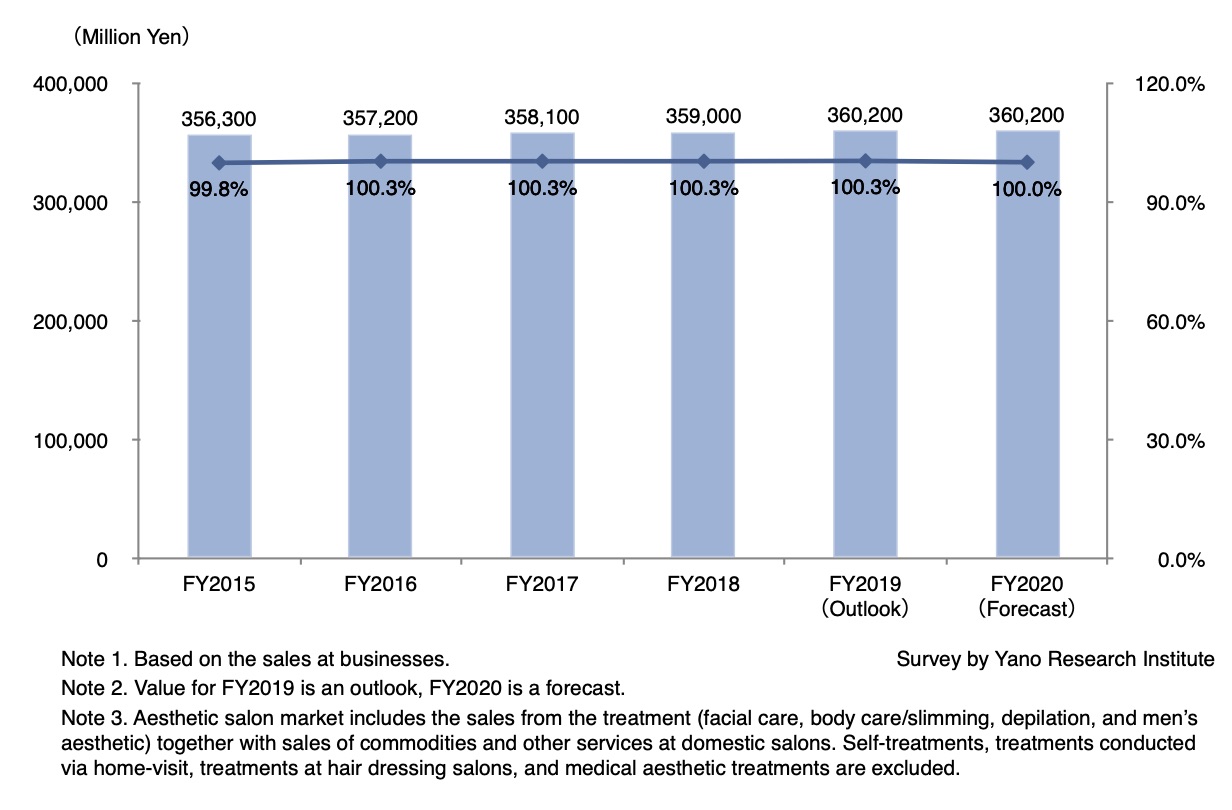 Market Overview
Size of the aesthetic salon market in FY2019, based on the sales of businesses, is projected to reach 360,200 million yen, indicating marginal increase of 0.3 % from the previous fiscal year. In FY2019, the market growth was boosted by depilation field and commodity sales. Growth factors for commodity sales field were product appeal and expansion of distribution channel. For example, some aesthetic salon business operators developed handy home depilator with highly professional functionalities, and made them available at reasonable price through major e-commerce sites. The strategy enabled them to expanded sales opportunities greatly, getting out of the state in which commodity sales were limited to over-the-counter only. In the past, commodity sales were thought to be in direct link with sales of treatments; nonetheless, it wasn't necessarily the case in FY2019.

Noteworthy Topics
Establishment Plan for New Professional College
Chronic staffing shortage in the aesthetic salon market has impacts not only on plans for new salon openings but also on daily operations of existing salons. With a sense of crisis that reputations of salons and brands will be at risk if the shortage leads to degradations of service standards and hospitality, drastic policies are in need. Under the situation, in 2019, a major salon operator business has made an announcement to establish a new professional college. The college is expected to improve social status of aestheticians, transforming it into an attractive occupation for young women in their 20s, the main prospective staff of salons.


Future Outlook
Size of the aesthetic salon market in FY2020, based on the sales of businesses, is projected to be 360,200 million yen, staying on the same level with the previous fiscal year. In the field of treatments, shortage of human resources is still noted as an issue. Ensuring a number of new hires from target demographic group remains difficult, which is a factor of staffing shortage, i.e. finding prospective personnel of female in 20s to 30s with a competence in hospitality. Therefore, although there are some exceptions, most aesthetic salon operators place more emphasis on enhancing existing stores rather than opening new stores hastily.


Research Outline
1.Research Period: October to December 2019
2.Research Object: Aesthetic salons, enterprises dealing in aesthetic-salon-related goods, etc.
3.Research Methogology: Face-to-face interviews by the expert researchers, surveys via telephone and email, and mail-in questionnaire
Aesthetic Salon Market in Japan
Aesthetic salons in this research indicate those salons that provide treatments for cleansing or beautifying human skins, transfiguring human bodies, and reducing weight, practiced by the aestheticians who use their hand techniques, skin-care products and tools. The size of the aesthetic salon market includes the sales from the treatment (facial care, body care/slimming, depilation, and men's aesthetic) together with sales of commodities and other services at domestic salons. Self-treatments, treatments conducted via home-visit, treatments at hair dressing salons, and medical aesthetic treatments are excluded.


<Products and Services in the Market>
Treatments (facial care, body care/slimming, depilation, and men's aesthetic) and sales of commodities
Contact Us
©2019 Yano Research Institute Ltd. All Rights Reserved.
The copyright and all other rights pertaining to this report belong to Yano Research Institute.
Please contact our PR team when quoting the report contents for the purpose other than media coverage.
Depending on the purpose of using our report, we may ask you to present your sentences for confirmation beforehand.