XR(VR/AR/MR)& 360-Degree Video Market in Japan: Key Research Findings 2019
Yano Research Institute (the President, Takashi Mizukoshi) has conducted a survey on the market of XR(VR/AR/MR)& 360-degree video in Japan and abroad, and has found out the future perspectives on XR & 360-degree video market, such as the global market by region and the shipment volume of HMD products. This press release announces the outlook on the domestic market of XR & 360-degree video up to 2025 by category.
Forecast on Size of Domestic XR (VR/AR/MR) & 360-Degree Video Market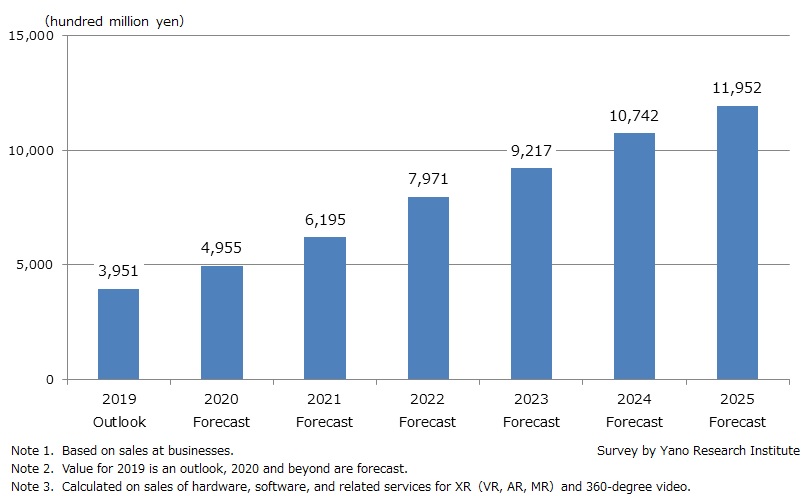 Forecast on Size of Domestic XR (VR/AR/MR) & 360-Degree Video Market by Category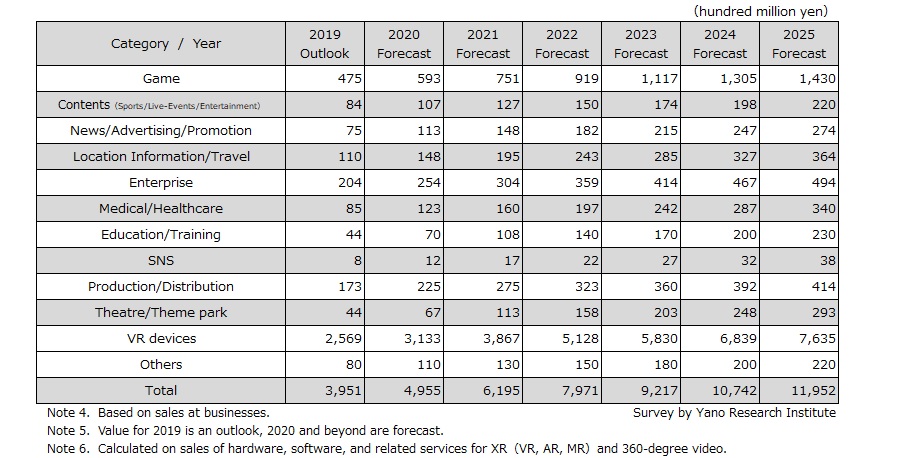 Market Overview
After 2016, the year described as the second "dawn of VR", the market of VR (Virtual Reality) using HMD (Head Mounted Display) boomed rapidly. The "smartphone VR" using the smartphones in particular was expected to spread quickly because of its handiness and already-established contents distribution, further driven by Google (US) announcing the development of a supporting platform. However, as Google's development plan was put on hold, the uncertainty heightened for the future of "smartphone VR".
On the other hand, around the same time, in AR (Augmented Reality) the mobile game "Pokémon GO" became the smash hit. While the first boom for AR declined, worldwide success of the game propelled AR into the spotlight once again. Moreover, as SNS (social media) prevailed, "Instagram", the photo-sharing social networking service, became popular. Moves to upload 360-degree panorama photos and videos on Instagram are spreading.
Nevertheless, contrary to the expectations of the market, the market expansion of XR (VR/AR/MR) is moderate, estimated to amount to 395,100 million yen (based on the sales at businesses) in 2019. In addition to the issues in hardware and software, the delay in construction of a business model is a major factor behind the slowdown. By category, the estimates for each items are: 47,500 million yen on games, 8,400 million yen on contents, 7,500 million yen on news/advertising/promotion, 11,000 million yen on location information/travel, 20,400 million yen on enterprise, 8,500 million yen on medical/healthcare, 4,400 million yen on education/training, 800 million yen on SNS, 17,300 million yen on production/distribution, 4,400 million yen on theatre/theme park, and 256,900 million yen on VR devices.

Noteworthy Topics
Full-Scale Prevalence of Standalone (All-in-One Headsets) Head Mount Display
In 2018, Oculus (US) launched "Oculus Go", the standalone (all-in-one) operating HMD. The product has features such as: competitive price of 200 dollars or so; stable performance compared to smartphone VR; compatibility with some of the smartphone-VR contents; and enhanced development environment. Together with the product of Xiaomi (China), the joint developer, the product became a worldwide hit since the release. In 2019, with the launch of an enhanced model introducing 6DoF (tracking in three-dimensional space), the shipment volume of HMD is projected to increase significantly compared to the previous year.


Future Outlook
5G (5th generation wireless technology for digital cellular networks) begin wide deployment from 2020. From 2022, enhanced environment for 5G is likely to develop further, including area coverage; and with the main feature of 5G, the high‐speed wide‐bandwidth data transmission, the market of XR (VR/AR/MR) and 360-degree video is also expected to expand. Introduction of 5G boosts the shift of contents and services to cloud services, which would improve efficiency in maintenance and contents management. Moreover, quality of the contents may improve greatly, leading XR to become an important service for telecommunication business companies. Furthermore, as it enables individuals to webcast the 360-degree video, 5G is a key environmental transition for XR (VR/AR/MR) and 360-degree video market. From these viewpoints, the XR (VR/AR/MR) and 360-degree video market in Japan is forecasted to reach 1,195,200 million yen by 2025 (based on sales at businesses).


Research Outline
1.Research Period: July to September 2019
2.Research Object: VR/AR/MR product developing companies and related service businesses
3.Research Methogology: Face-to-face interviews by the expert researchers in Japan and at overseas (China, Taiwan), literature research, and observations from data in our database.
XR(VR/AR/MR)& 360-Degree Video Market in Japan
In this research, the size of the XR & 360-degree video market is calculated on the sales of hardware, software, and related services for VR (Virtual Reality), AR (Augmented Reality), MR (Mixed Reality), and 360-degree video (the video in which the viewer has control of viewing from all directions,360-degrees).
VR (Virtual Reality) is a "generic term for technologies that interacts with human senses, artificially creating the environment that makes human feel as though it is the reality "; By projecting the viewer's body in the three-dimensional space using head mounted display (HDM), the Virtual Reality immerses the users in a virtual world. In the VR space, the viewer can move and act, communicate and interact with other viewers. A means of communication is already in practical use, in which the audiovisual information is transferred through display speakers and headphones, and the vibration/touch/pressure can be transmitted to hands and body.
While VR is operated (completely) in the "artificially created space", AR (Augmented Reality) and MR (Mixed Reality) combines virtual reality with the "real view and sound" by technologies of "telexistence" and "telepresence". While AR uses transmission device (smartglass) to virtually overlay objects on reality, MR integrates a physical view to the virtual objects projected by HMD.


<Products and Services in the Market>
HMD (Head Mounted Display), Smartglass, VR, AR, MR, 360-degree video
Contact Us
©2019 Yano Research Institute Ltd. All Rights Reserved.
The copyright and all other rights pertaining to this report belong to Yano Research Institute.
Please contact our PR team when quoting the report contents for the purpose other than media coverage.
Depending on the purpose of using our report, we may ask you to present your sentences for confirmation beforehand.