IoT/M2M Market in Japan: Key Research Findings 2019
Yano Research Institute (the President, Takashi Mizukoshi) surveyed on the domestic M2M market and has found out the market size, the trend by application category, the trend of market players and noteworthy technologies, and the future outlook.
Transition and Forecast of Domestic M2M Market Size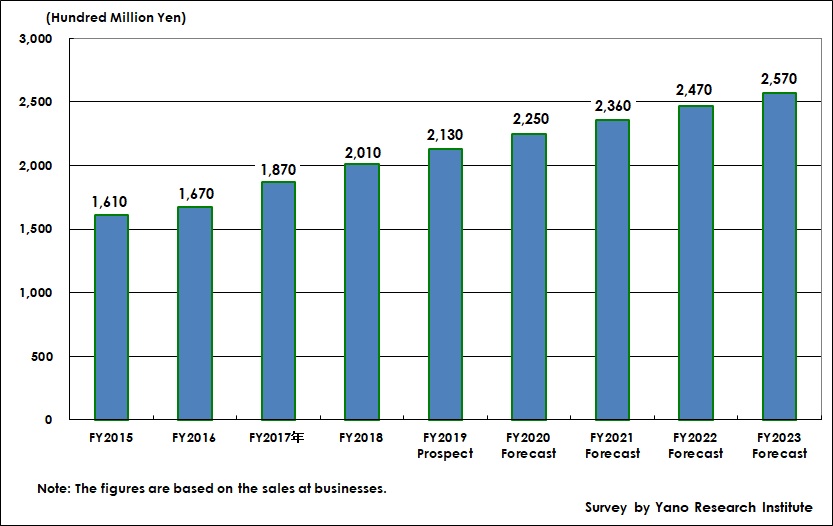 Market Overview
The domestic M2M (Machine to Machine) market in FY2018 rose by 7.5% from the previous fiscal year to achieve 201.0 billion yen, based on the sales at the businesses. During the fiscal year, stable growth in the sales primarily of communication modules (LTE) at three leading carriers (i.e., NTT DOCOMO, KDDI, and SoftBank) and MVNO service providers, contributed in the market expansion, despite some degree of slump from double digit growth attained in the previous fiscal year.

As the demand for LTE (Long Term Evolution) saturated and that for MVNO (mobile virtual network operators) slowing down, the M2M market for FY2019 is likely to reduce the growth rate to 6.0% (an increase by 12 billion yen) to achieve 123.0 billion yen.

Noteworthy Topics
Possibility of Industrial 5G×IoT/M2M
By the middle of 2020s, the existing communication modules (4G/LTE), wired network, wireless LAN are likely to be replaced by 5G (the fifth generation wireless technology) for industrial purposes, used with IoT to enable M2M. In order to put 5G into practice, various field trials are in progress at telecommunication carriers allied with IT vendors, SIers, R&D institutions. Not a few of such cases have proceeded to problem extraction, verification, or even to Proof of Concept.

Industrial 5G for the time being contributes mostly in traffic infrastructure (for automobiles) and energy. In traffic infrastructure, 5G is indispensable technology to accomplish autonomous driving, but as autonomous driving also requires various other technologies to be progressed at the same time, implementing of autonomous driving to general vehicles and at public roads is considered to be in around 2030. Prior to that, utilizing 5G as a platform of V2V (vehicle to vehicle), V2I (vehicle to infrastructure), and V2P (vehicle to pedestrian) is expected to increase connectivity in traffic area, enabling advancement in the solutions for supporting safety driving and remote driving, and for achievement of a Smart city.


Future Outlook
Although new demanders of M2M connection is expected to continue being explored especially in MVNO and its peripheral fields for FY2020 and beyond, there is a tendency of replacing the word "M2M" with IoT, as the boundary between M2M and IoT becoming vague as ever. It is possible for the word "M2M" to even disappear. In fact, at major IT vendors and telecommunication carriers, the offices and organizations with M2M used in their names have rapidly vanished during the past few years.

That said, however, there still are robust demands for M2M connection using the modules conforming to the mobile phone standards. Therefore, the M2M connection business is likely to maintain stable growth for the future, though the word "M2M" may not be used. The domestic M2M market size based on the sales at businesses is projected to attain 257.0 billion yen by FY2023.


Research Outline
1.Research Period: May to October 2019
2.Research Object: IT service providers, SIers, telecommunication businesses (carriers), MVNO (Mobile Virtual Network Operators), platform vendors, and overseas vendors
3.Research Methogology: Face-to-face interviews with the expert researchers, surveys via telephone, questionnaire, and literature research
What is the M2M Market?
M2M (Machine to Machine) in this research indicates a mechanism of direct communication between machines and/or devices embedded with communication modules compliant to telecommunications standards of mobile phones/PHS, without any intervention by humans.
The M2M market size in this research is calculated based on the sales at the businesses for network connection (i.e., network appliances, communication modules, and sensors/devices), platform (cloud), and systems (application, middleware, etc.) to enable M2M connection.


What is IoT?
IoT (internet of Things) is a concept taking all the things in the world and connecting them to the internet. In other words, it means to connect not only M2M but also home appliances, furniture, personal computers, smartphones, tablets, humans (through SNS, etc.,) animals and pets, transporting and distribution, security, watch services, and etc. to internet. From the aspect of market structure, M2M in this research is regarded to be included in IoT.


<Products and Services in the Market>
M2M Market in Japan, Worldwide M2M market, M2M
Published Report
Contact Us
©2019 Yano Research Institute Ltd. All Rights Reserved.
The copyright and all other rights pertaining to this report belong to Yano Research Institute.
Please contact our PR team when quoting the report contents for the purpose other than media coverage.
Depending on the purpose of using our report, we may ask you to present your sentences for confirmation beforehand.