Generic Medical Disposables Market in Japan: Key Research Findings 2019
Generic Medical Disposables Market Rose by 0.9% to Reach 250,400 Million Yen in FY2018, and Expected to Rise by 1.3% to Achieve 253,700 Million yen by FY2019
Yano Research Institute (the President, Takashi Mizukoshi) has conducted a survey on the domestic generic medical disposables market and has found out the transition of the market size, the market trends by segment, the trend of market players, and the future outlook.
Transition and Forecast of Generic Medical Disposable Market Size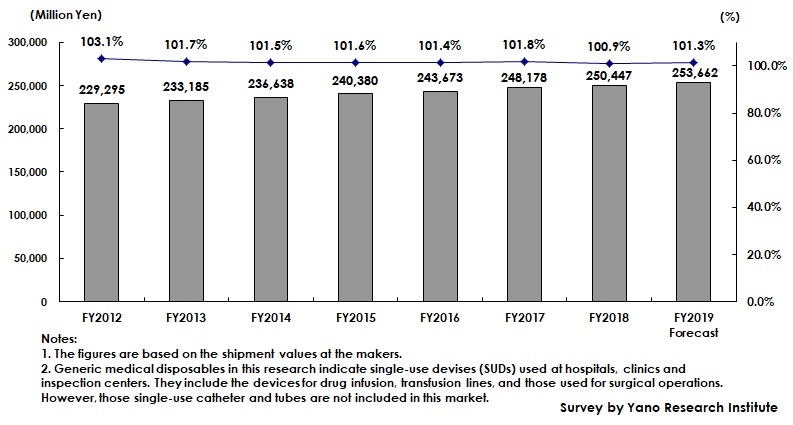 Market Overview
Some "generic" medical disposables have gone through negative growth or have barely kept the same level as the previous year due to production adjustment conducted, but introduction of DPC (Diagnosis Procedure Combination) and in-house SPD (Supply Processing & Distribution) systems at medical facilities aiming for appropriate inventory management led to stable market growth. The domestic generic disposables market (total 52 items) in FY2018 grew by 0.9% to have achieved 250,447 million yen, based on the shipment values at makers.

The following products, particularly, are likely to increasingly used at medical facilities: Some infection prevention products (the products with safety mechanism) such as those to prevent from needle stick injury, blood scattering, or misconnection; some suction products such as drainage systems; those that are promising to develop as disposable products including respiratory circuits, anesthesia circuits, oxygen masks and cannulas; and some kits to improve the work efficiency of medical and administrative staff. Driven by the products mentioned above, the market is likely to show stable growth, with the market size of generic medical disposable for FY2019 expected to rise by 1.3% to achieve 253,662 million yen.

Noteworthy Topics
Trend of Urinary Incontinence Treatment and of Surgical Operational Devices (TVT/TOT/TMV, Artificial Urethral Sphincters)
Urinary incontinence (UI), also known as involuntary urination, is any uncontrolled leakage of urine, or defined by ICS (International Continence Society) as the state of leakage that can lead to social and hygienic problem, ranging from the slight one found in healthy women to the incontinence caused by senile dementia.


There are treatment devices for VUR (vesico ureteric reflux) in the field of treatment, and TVT (tension-free vaginal tapes), TOT (transobturator tapes), and TVM as the devices for surgical operation for female patients, while there are artificial urethral sphincters for male patients. In recent years, due to aging society and to women's empowerment, urinary incontinence has started being recognized as one of the serious issues at social as well as medical sites. The number of patients has been steadily increasing in proportion to the proactive attitude to treat UI by medical institutions.


In addition to a possibility for new devices such as "Urolift System" to be pervasive, as well as to increase of patients caused by being aged, home-use self-catheterization catheters, intermittent balloon catheters (that allow temporary indwelling and removal), and disposable products with hydrophilic coating have expanded the market furthermore.


Future Outlook
Because of daily use, generic medical disposables are frequently used, which has increased the chances for other items to be disposable while keeping the safety of and securing infectious disease control of both medical workers and patients. Those that have become disposable from an early stage were injection needles and syringes. On the other hand, there were some devices that did not advanced to be disposable: Respiratory system-regarded products and the bags or containers for drainage suction and collection still tend to be reused, but have gradually become disposable, which led the whole market of medical disposables to expand further.


In the society where the elderly population increasing, the domestic generic disposables market is likely to grow further, because of the rising tendency to shift from reusing of the products to using of disposable products and to single-use products becoming pervasive. In the course of Community-based Integrated Care System being pressed ahead as a national policy, if the supporting systems become available, including those that facilitate long-term care at home, the infrastructure that connects between home and long-term care facilities, and some other supports other than the medical payment, the demand for home use products is expected to increase.


Research Outline
1.Research Period: April to September, 2019
2.Research Object: Domestic medical apparatuses makers (Manufacturers and distributors)
3.Research Methogology: Face-to-face interviews by the expert researchers, survey via telephone, and mail in questionnaire
What are Generic Medical Disposables?
Generic medical disposables in this research indicate single-use devises (SUDs) used at hospitals, clinics and inspection centers. They include the devices for drug infusion, transfusion lines, and those used for surgical operations. In addition, needles (injection and winged needles), transfusion sets, medical filters, nutrition infusion systems (including three-way stopcocks and connecting tubes), and those masks, circuits, and ECG electrodes used for respiratory or anesthesia apparatuses are included.


However, those single-use catheter and tubes are not included in this market.


Contact Us
©2019 Yano Research Institute Ltd. All Rights Reserved.
The copyright and all other rights pertaining to this report belong to Yano Research Institute.
Please contact our PR team when quoting the report contents for the purpose other than media coverage.
Depending on the purpose of using our report, we may ask you to present your sentences for confirmation beforehand.