Call Center Service &Contact Center Solution Markets in Japan: Key Research Findings 2019
Yano Research Institute (the President, Takashi Mizukoshi) has conducted a survey on the domestic markets of call center and contact center services and solutions and has found out the market trend by service, the trend of market players, and future perspectives.
Transition and Forecast of Domestic Call Center Service Market Size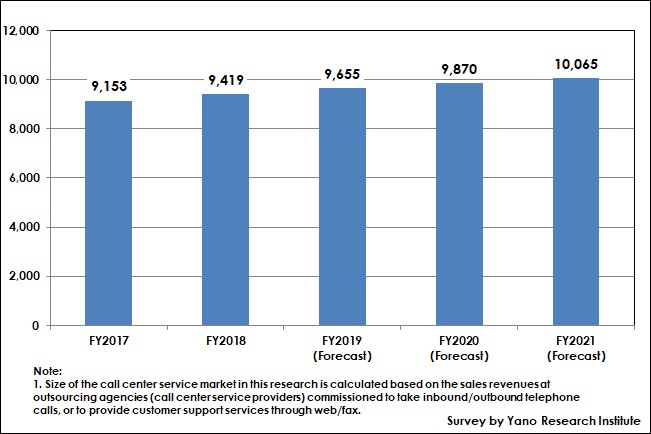 Transition and Forecast of Domestic Call Center Solution Market Size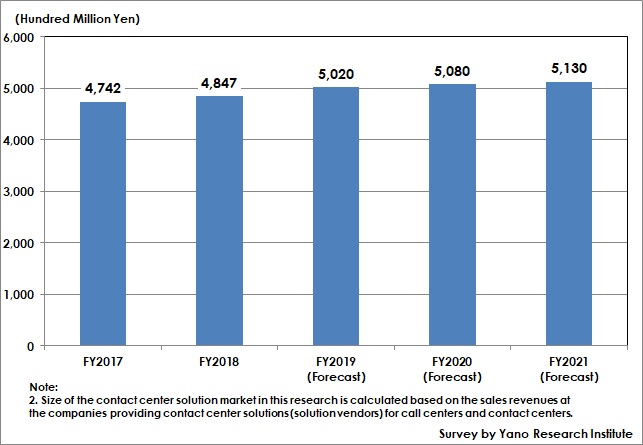 Market Overview
The domestic call center service market in FY2018 rose by 2.9% from the preceding fiscal year to attain 941,900 million yen, based on the sales revenues at call center service providers. There are several reasons for the market expansion: Manpower shortage at many companies caused them to outsource call-center tasks, outsourcing of increasing number of responses to the questions from end-users at user companies started as a result of strengthening direct connection with end users, and the stable demands relating with deregulation of electricity (since April 2016) and city gas (since April 2017) continued on until FY2018.

The domestic contact center solution market in FY2018 rose by 2.2% from the previous fiscal year to attain 484,700 million yen, based on the sales revenues at the businesses. In spite of few cases of large-scale solution adoptions during the fiscal year, the contact center solution market expanded because of several demands, including once around every 5 to 7 years of system replacement, enhanced functions to streamline the call-center operations, and multi-channel availability. The details of the market are as follows: the demand for hardware is on the decline, while that of software, SI, services, maintenance support, and the SaaS services are on the increase. In addition, manpower shortage in IT at user companies led them to outsource the jobs for the category, which drove solution vendors to do comprehensive work from consulting to operation, management and maintenance support on computing platforms at user companies.

Noteworthy Topics
Current Status of Using AI at Call Centers and Contact Centers
Call centers and contact centers have begun using AI in their services here and there in around 2016 and currently Ai has been progressively used for supporting operators and in Chatbot.


Whereas AI for supporting operators aims to raise the quality and efficiency of operating jobs in an operator-shortage environment, Chatbot contributes in improving the ratio of trouble-shooting by the users themselves. This enables the call and contact center operators to separate their jobs from what AI can do: As AI can respond to the stereotyped tasks, operators can work on more complicated tasks that need to communicate with the users. Since many operators became able to concentrate on more difficult tasks, many contact center solution providers have set forth to provide higher-valued services.


Future Outlook
Against the background of severer shortage of manpower at user companies, call center services have been stably demanded. In addition, as changes in the customer touchpoints from just fixed telephones to multichannel, e.g., websites, social media, and mobile channels are to progress more, and as companies are facing shorter working hours due to the workstyle reform being in effect since 2019, together with large companies being obliged to follow the principle of "equal work, equal pay" irrespective of the job statuses of their workers beginning in April 2020 and smaller ones a year later, the demand to outsource the call center jobs is likely to increase furthermore for the future.


In contact center solutions, more attention has been paid to AI, text chat, and voice recognizers as tools for securing human resources of and task efficiency for call center operators. More services using LINE, chat and other text tools, as well as voice channels are expected to develop in the future, which reflects increasing number of access from smartphones and digital shift by consumers.


Research Outline
1.Research Period: July to September 2019
2.Research Object: Call center service providers and contact center solution vendors
3.Research Methogology: Face-to-face interviews by the expert researchers, surveys via telephone/email and literature research
Call Center Service Market and Contact Center Solution Market
What is the call center service market? Size of the call center service market in this research is calculated based on the sales revenues at outsourcing agencies (call center service providers) commissioned to take inbound/outbound telephone calls, or to provide customer support services through web/fax.


What is the contact center solution market? Size of the contact center solution market in this research is calculated based on the sales revenues at the companies providing contact center solutions (solution vendors) for call centers and contact centers.


Contact Us
©2019 Yano Research Institute Ltd. All Rights Reserved.
The copyright and all other rights pertaining to this report belong to Yano Research Institute.
Please contact our PR team when quoting the report contents for the purpose other than media coverage.
Depending on the purpose of using our report, we may ask you to present your sentences for confirmation beforehand.