Sports Shoes Market in Japan: Key Research Findings 2019
Yano Research Institute (the President, Takashi Mizukoshi) has conducted a survey on the domestic sports shoes market and has found out the trend by product category, the trends of market players, and the future perspectives.
Transition and Forecast of Domestic Shipment Volume of Sports Shoes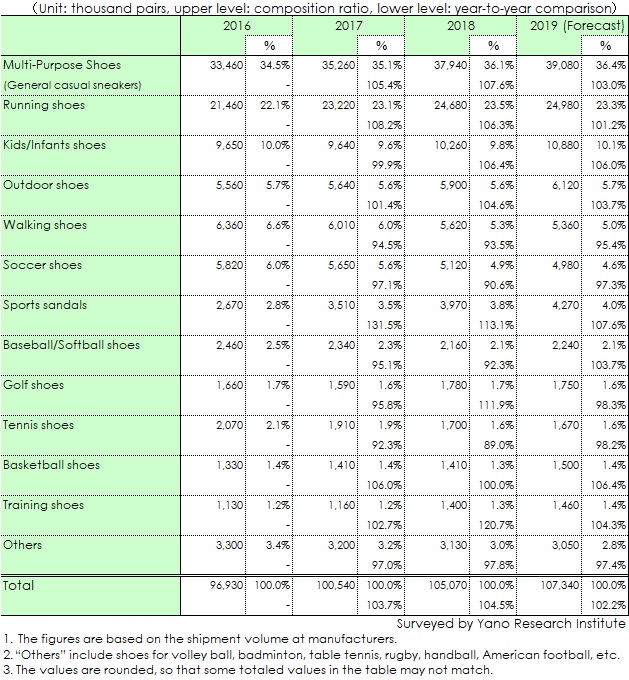 Transition and Forecast of Domestic Shipment Value of Sports Shoes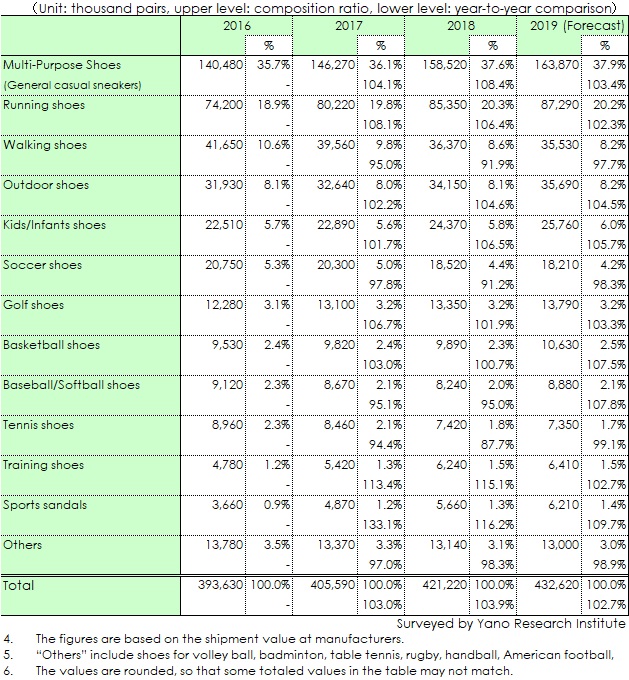 Market Overview
The domestic sports shoes market size in 2018 grew by 4.5% in shipment volume to achieve 105,070 thousand pairs and by 3.9% in shipment value to reach 421,220 million yen.

The market was driven by multi-purpose shoes (i.e., casual sneakers) which increased by 7.6% to attain 37,940 thousand pairs or by 8.4% to achieve 158,520 million yen in 2018, dominating 30% of the entire sports shoes market size by shipment value. The growth stemmed from eager consumption by inbound tourists as well as the increasing athleisure demand which encourages the consumers to mingle major sports-brand shoes and clothing into everyday clothing.



Noteworthy Topics
With Cooperation between Mizuno and Madras, Development of Sports Shoes Entered New Phase
Ever since the demand was deprived of by the casual sneaker boom, the market of walking shoes has long been sluggish without any new values generated. As elderly people, who used to be the major customers, started wearing casual sneakers instead of walking shoes, together with declining population, the market cannot avoid shrinking.


To breakthrough such a predicament, a large collaborative business was announced: Mizuno Corporation and madras inc., a leather shoes maker, decided to cooperate with each other. Just like walking shoes, the leather shoe market, too, has continued scaling down after the demand shifted to casual sneakers. In its attempt to survive, madras worked on collaborating with MIZUNO, looking to its affluent sports technologies. When madras analyzed which company to partner with, the most effective synergy was able to be expected from MIZUNO when combining the advantages of the two.


The sports shoes market has entered a new phase of being able to acquire business people as their new customers now that a leather shoe maker and a sports goods maker are collaborated. Whether or not the market can generate new business opportunity, it is worthwhile to pay attention.





Future Outlook
The domestic sports shoes market size for 2019 based on the shipment at makers is likely to grow by 2.2% to achieve 107,340 thousand pairs in volume, and rise by 2.7% to attain 432,620 million yen in value.


Because Japan faces many international sports events from 2019 to 2021, during which is called the Golden Sports Years by the people concerned, the entire sports shoes market is expected to expand, as people who enjoy sports in their daily lives are likely to increase.





Research Outline
1.Research Period: April to July, 2019
2.Research Object: Sports shoes manufacturers, import traders, wholesalers, and retailers
3.Research Methogology: Face-to-face interviews by the expert researchers, survey through questionnaire mailed
Sports Shoes Market
The sports shoes market in this research indicates the market of the products shipped by sporting goods manufacturers and shoes manufacturers as "sports shoes." The market size is calculated based on shipment volume and shipment value, respectively.


Contact Us
©2019 Yano Research Institute Ltd. All Rights Reserved.
The copyright and all other rights pertaining to this report belong to Yano Research Institute.
Please contact our PR team when quoting the report contents for the purpose other than media coverage.
Depending on the purpose of using our report, we may ask you to present your sentences for confirmation beforehand.