Food Delivery Service Market in Japan: Key Research Findings 2019
More Delivery Services with Reduced Tax Rate, Boom in the Food Services and Fast-Food Delivery Services
Yano Research Institute (the President, Takashi Mizukoshi) has conducted a survey on Food Delivery Service Market in Japan, and has found out the market trends by 8 business types, the trends of market players, and the future perspectives.
Market Size Transition of Food Delivery Service (Total of 8 Major Business Types)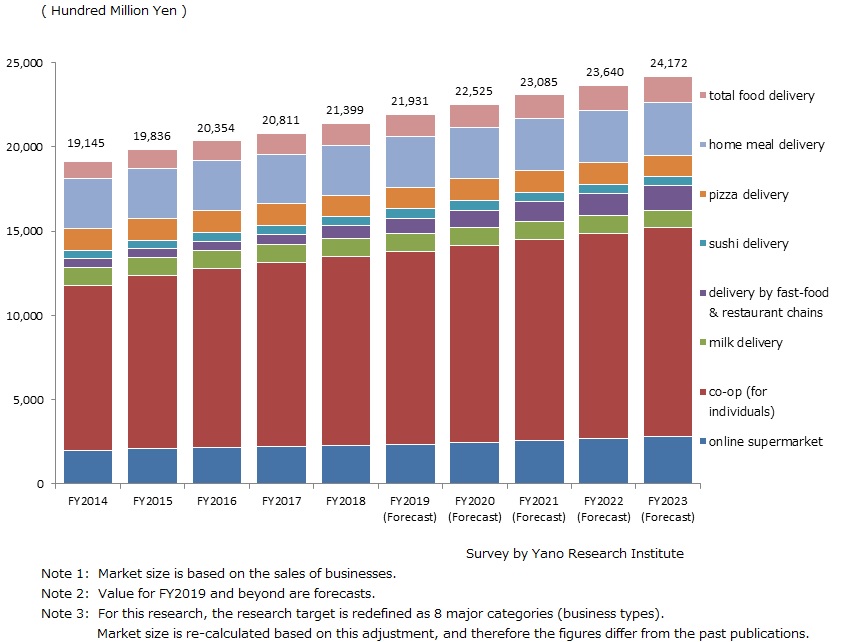 Market Overview
The food delivery services market size for FY2018 is projected to rise by 2.8% to attain 2,139.9 billion yen (sum of the major 8 business types). Since the market size exceeded 2,000 billion yen in FY2016, it shows stable expansion while other food related services shrunk, being affected by the aging society with declining birthrate.

Under the social trends such as decreasing birth rate, aging population and women's empowerment, the food delivery services are increasing its importance, and the competition is intensifying not only with different industries but also among different business types.

Noteworthy Topics
Meal Kit Market
Sales are in good shape for the "meal kit", a service that sends the customer a set that contains a recipe with pre-portioned ingredient items (including pre-cut meat, vegetables and seasonings). The product are designed to meet the needs of contemporary consumer who prefer "homemade meals" but also wish to save time to plan, shop, and cook on a day-to-day basis.


The meal kit in the past was a kind of product provided solely by delivery service for grocery (and ready-to-eat dishes); however, in recent years, meal kit's variety expanded and quality improved as the co-ops and online supermarkets entered the market. Main user segment is child-rearing households and working couples, but recently the demand is also expanding in elderly and single households, increasing the market players' expectation for significant market growth.


To find out the facts in the expanding meal kit market, in July 2019, Yano Research Institute conducted a user survey via internet questionnaire to 1,090 users who reside in the three major metropolitan areas (Tokyo area/ Chukyo area/ Kinki area), who are female customers in the age group between 20s and 60s. As the "reason for using the meal kit", the most common answer was "to eliminate decision fatigue for day-to-day recipe planning" (46.7%), followed by "to save time for cooking" (35.7%), and "to reduce food remains (to reduce food scraps)" (31.0%). The survey indicates the high demand for reducing excessive purchase of food (reducing food wastes) in addition to the needs for saving time and process in cooking.


Future Outlook
The market size for the food delivery service market is projected to grow by 13.0% to attain 2,417.2 billion yen in FY2023 (total of the major 8 business types).


Due to the social trends of decreasing birth rate, aging population, women's empowerment and lifestyle diversification, the demand for food delivery services are increasing for sure, driving the market to continue its growth.


With increased daily users in the major target segment in the senior households and working couples, it is presumed that the food delivery service will establish a status as an indispensable everyday service.


Research Outline
1.Research Period: May to July 2019
2.Research Object: Research Target: Total food delivery service, home meal delivery service, fast-food and restaurant chains, co-ops, wholesalers, dairy manufacturers, food delivery supporting services, and other related companies and associations.
3.Research Methogology: Face-to-face interview by the expert researchers, survey via telephone and email, and internet questionnaire survey
Food Delivery Service Market
Food Delivery Service Market in this research consists of the following 8 major categories (business types): (1) total food delivery, (2) home meal delivery (3)pizza delivery, (4) sushi delivery, (5) delivery by fast-food and restaurant chains, (6)milk delivery, (7)co-op (for individuals), and (8) online supermarket. It should be noted that in any of the services, product refers only to food, i.e. not including household necessities or commodity goods. From this research, "natural food service" is included in "online supermarket" and delivery service by convenience stores are excluded from the research target. Market size is re-calculated based on these adjustments, and therefore the figures differ from the past publications.


<Products and Services in the Market>
Total food delivery service, home meal delivery service, pizza delivery, sushi delivery, delivery by fast-food and restaurant chains, milk delivery, co-op(for individuals), and online supermarkets.
Contact Us
©2019 Yano Research Institute Ltd. All Rights Reserved.
The copyright and all other rights pertaining to this report belong to Yano Research Institute.
Please contact our PR team when quoting the report contents for the purpose other than media coverage.
Depending on the purpose of using our report, we may ask you to present your sentences for confirmation beforehand.