Language Business Market in Japan: Key Research Findings 2019
Language Business in FY2018 Grew by 2.3% on Y-o-Y to Attain 886.6 Billion Yen
Yano Research Institute (the President, Takashi Mizukoshi) has performed a survey on the domestic language learning business and has found out the trends of market players, the market trend by category and the future perspectives.
FY2018 Language Business Market Size by Category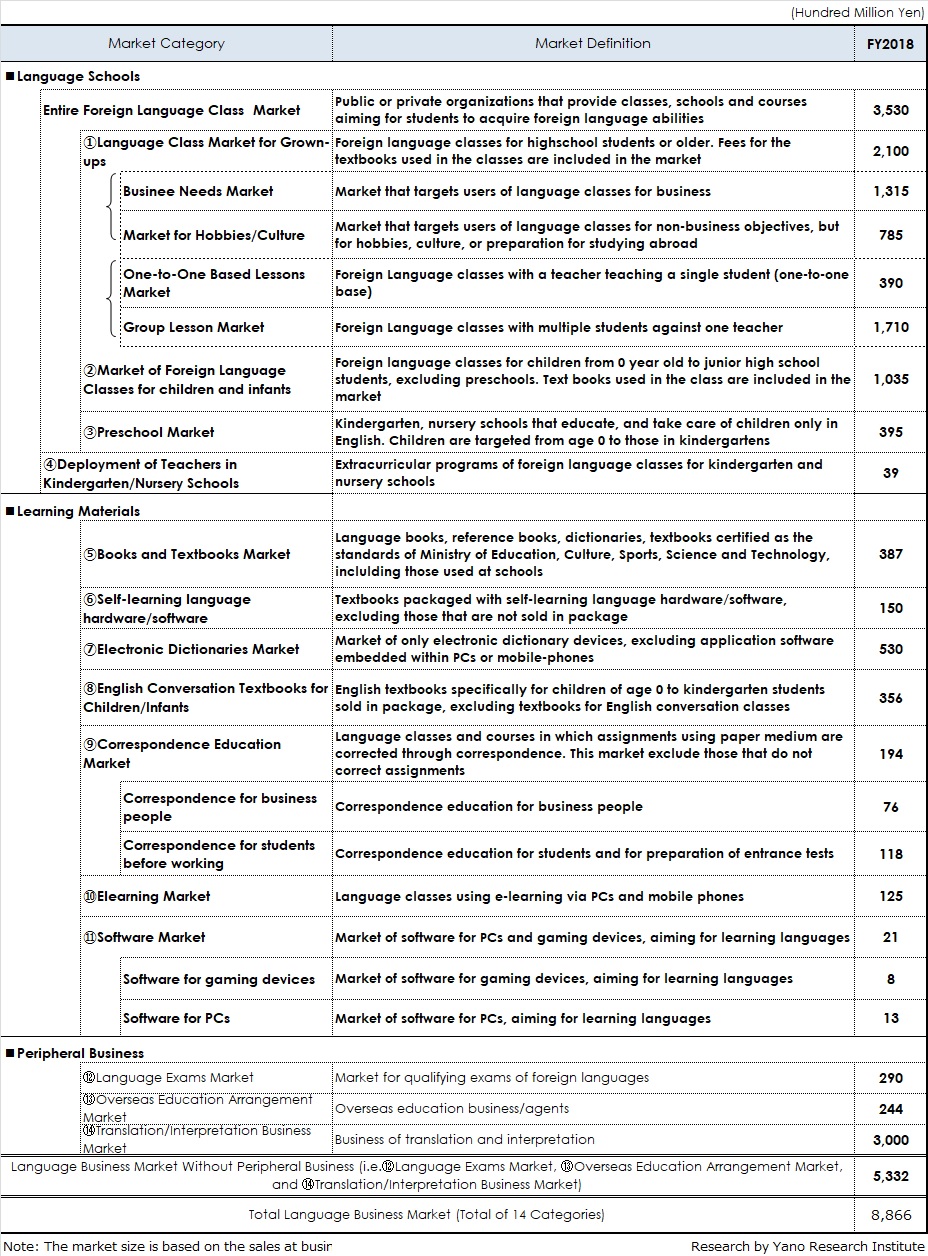 Market Overview
Size of the language business market (total of 14 categories) in FY2018 rose to 886.6 billion yen, 102.3% of that of the preceding fiscal year, based on the sales of the businesses. The demand for acquiring language skills has been expanding, due to progressive globalization at Japanese companies, increasing number of foreign tourists (inbound tourism demand), and the reforms of university admission as well as for English education. The business has shown favorable conditions especially in the peripheral categories, i.e., interpretation/translation, language exams, and overseas-education arrangement, expanding the whole market.

Noteworthy Topics
Language Learning Methods Diversifying, While Competition among Businesses Becoming Fiercer
Language learning methods have been diversifying: In addition to conventional language learning schools, language schools for grownups increased the number of learners as the awareness of elearning has increased (especially online English conversation classes). Meanwhile, the demand for short intensive English conversation classes has been expanding, since globalization at Japanese companies is in progress, which requires not only the employees who actually go abroad but also those staying in Japan to acquire language skills. Therefore, English conversation classes have successfully gained the business demand.


On the other hand, language classes for children are facing even severer competition among businesses as 2020 English Education Reform Plan is to be implemented soon after. Especially the competition with cram schools has been intensifying, which led some of major businesses to withdraw. In the status where language business has been drawing attention, online English conversation classes for children have been stably increasing and preschools enjoying favorable business conditions, making conventional language schools to face severer conditions.


Future Outlook
The total language business market size (total 14 categories) for FY2019 is likely to attain 102.6% of the previous fiscal year to reach 909.3 billion yen, based on the sales revenues at businesses.


Consumers continue being required to have language communication skills, the circumstances of which do not seem to change for the future. As the language business market attracts attention, the competition among the businesses has been fiercer, making the environment surrounding the conventional language schools severer. Favorable conditions at peripheral businesses (i.e., language exams, overseas-education arrangement, and interpretation/translation business) are projected to drive and continuously expand the entire language business market.


Research Outline
1.Research Period: April to June, 2019
2.Research Object: Foreign language schools, publishers, manufacturers of electronic dictionaries, software makers, elearning businesses, correspondence education service providers, makers of language study materials, qualification test operators, and such service providers as overseas-education arrangement, and interpretation/translation.
3.Research Methogology: Face-to-face interviews by the specialized researchers, surveys via telephone/FAX, and literature research
What is the Language Business Market?
The language business market in this research indicates the following 14 categories of foreign language class markets: 1) Foreign language classes for grown-ups, 2) Foreign language classes for children/infants, 3) Pre-schools, 4) Deployment of teachers to kindergarten/day-care centers for children, 5) Textbooks, 6) Self-learning language hardware/software, 7) Electronic dictionaries, 8)Textbooks of English conversation classes for children/infants, 9) Correspondence education, 10) Elearning, 11) Software, 12) Language exams, 13) Overseas-education arrangement, 14) Interpretation/translation business.


Note that markets of 12) language exams, 13) overseas-education arrangement, and 14) interpretation/translation business are defined here as the categories within the "Peripheral Business."


Contact Us
©2019 Yano Research Institute Ltd. All Rights Reserved.
The copyright and all other rights pertaining to this report belong to Yano Research Institute.
Please contact our PR team when quoting the report contents for the purpose other than media coverage.
Depending on the purpose of using our report, we may ask you to present your sentences for confirmation beforehand.