Global In-Vehicle Display Market: Key Research Findings 2019
Yano Research Institute (the President, Takashi Mizukoshi) has conducted a survey on the in-vehicle display market worldwide, and found out the shipment volume by original manufacturer product and by aftermarket product, the market trend by type and by inch (display size), pricing trends, and the future perspectives.
Size Transition and Forecast on Global In-Vehicle Display Market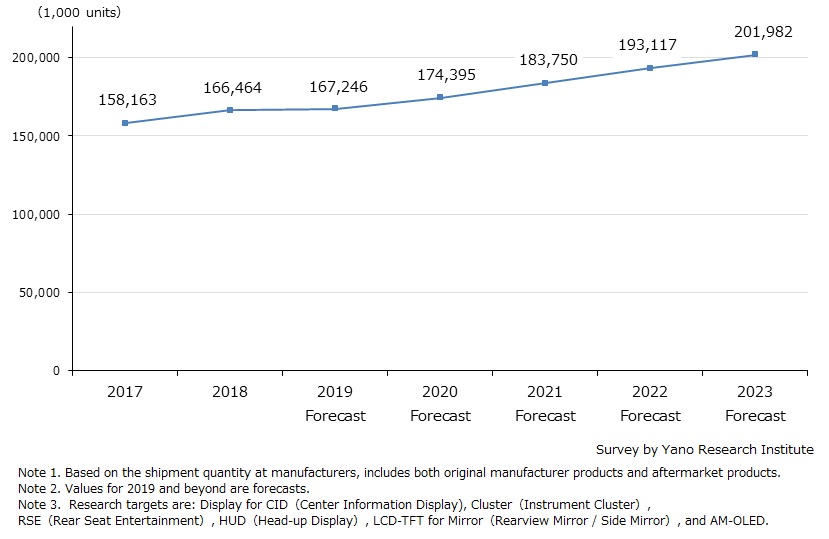 Market Overview
Despite the concern for slowdown in the car sales in China, the global in-vehicle display market in 2018 (based on a shipment quantity at manufacturers, including both original manufacturer products and aftermarket products) reached 166,464 thousand units, 105.2% of the size of the previous year. One of the factors that sustained market growth is the shipment volume of in-vehicle display for CID and for Cluster, which did not decrease as anticipated. Considering the market player's shipping volume in the first semester of 2019 and the outlook for the second semester, the in-vehicle display market worldwide in 2019 is estimated to reach 167,246 thousand units, 100.5% of the size of the previous year. Nonetheless, as the stagnation in Chinese car industry continues in 2019, manufacturers shouldn't be too optimistic about the market prospects; the shipment quantity may fall from the previous year.



Noteworthy Topics
Trend in Adoption of In-Vehicle AM-OLED Display Panels
In the third quarter of 2017, SDC (Samsung Display) in Korea partly initiated the shipment of AM-OLED display panels as the in-vehicle display, which led to some level of shipment record by 2018. Also, from the end of 2019, LGD (LG Display) is likely to start shipping its AM-OLED screens. This is due to the fact that some of the European OEM companies are set to launch their vehicle models with POLED displays (OLED built using plastic substrates) developed by LGD from the end of 2019. However, the full-scale shipment is expected to start only from 2020.


In addition, because there are more business deals for adopting aftermarket display panels as the in-vehicle display starting 2020, the market of in-vehicle AM-OLED display is expected to witness gradual growth, mainly for luxury vehicle models.


Nevertheless, as AM-OLED screens are costly and an advantage of adopting AM-OLED is yet to outweigh the LCD-TFT, a positive market growth scenario is difficult to envisage. In the future, however, the AM-OLED display market is likely to expand as it can be adopted in new applications such as curved surface (e.g. doors and A-pillars etc.,) utilizing its strength of being flexible.





Future Outlook
From 2020, the shipment quantity of the global in-vehicle display is expected to grow at an annual rate of 4% or more. Although downward trends in the car sales in China may persist, the market is projected to grow to 201,982 thousand units (based on the shipment volume at manufacturers) by 2023, propelled by the increase in demand of in-vehicle displays destined for emerging regions such as Middle East, and from 2021, by the trend of multiple displays on-board.


Moreover, the new market of in-vehicle display for HUD, rearview mirror, and side mirror is projected to grow rapidly. However, these displays are likely to be installed mainly as an option for luxury vehicle models; installation is limited to the new and luxurious vehicles only.





Research Outline
1.Research Period: June to August 2019
2.Research Object: Automobile manufacturers (Europe, US, Japan, China, Korea), In-vehicle LiBs makers (Japan, Korea, China)
3.Research Methogology: Face-to-face interviews by the expert researchers and literature research
In-Vehicle Display Market
In-vehicle display market in this research refers to CID (Center Information Display), Cluster(Instrument Cluster), RSE (Rear Seat Entertainment), HUD (Head-up Display), LCD-TFT for Mirror (Rearview Mirror / Side Mirror), and AM-OLED for automobiles based on the shipment quantity by manufacturers.





<Products and Services in the Market>
In-vehicle TFT-LCD, in-vehicle AM-OLED
Contact Us
©2019 Yano Research Institute Ltd. All Rights Reserved.
The copyright and all other rights pertaining to this report belong to Yano Research Institute.
Please contact our PR team when quoting the report contents for the purpose other than media coverage.
Depending on the purpose of using our report, we may ask you to present your sentences for confirmation beforehand.