Outdoor Business Market in Japan: Key Research Findings 2019
Continuously Growing Domestic Outdoor Business Market Achieving 500,770 Million Yen, 107.5% on Y-o-Y in 2018
Yano Research Institute (the President, Takashi Mizukoshi) has conducted a survey on the domestic outdoor business market and has found out the trend by outdoor style, by business form, and the trends of market players.
Transition of Outdoor Business Market Size by Style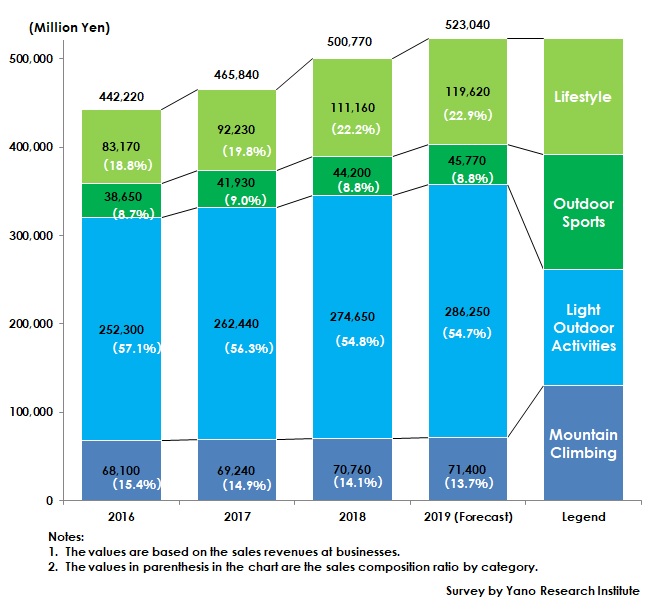 Market Overview
Size of the outdoor business market in 2018 was estimated as 500,770 million yen, 107.5% of the size of the previous year. With regard to the market by style, the category "light outdoor activities" occupied 54.8% of the entire market, followed by the category "lifestyle" occupying 22.2%.
As camping has continuously been popular among people over a wide range of ages from young to senior, the demand for camping and other light outdoor activities has keep on expanding. Now that increasing number of people started enjoying camping even on weekdays and during wintertime or during the period conventionally regarded as off-season, the camping goods have begun sold throughout the year, and the gap between brisk and slack seasons at campsites has become smaller. ​
In addition, the sales in the lifestyle category where people wear outdoor-brand clothing and shoes in their daily lives have continuously been good, as leading outdoor brands have widely been accepted among general consumers for walking around cities, travelling, and commuting for work or for schools.

Noteworthy Topics
Sales Floors for Outdoor Goods Expanding
With expanding demands by consumers for the categories of light outdoor activities (camping, hiking, outdoor festivals, and etc.) and lifestyle (walking around cities, travelling, and work- or school-commuting), the sales floor areas for outdoor goods at retailers have been widening.
Some sports-goods mass retailers have pressed ahead with developing the business of or remodeling their existing stores into outdoor specialized goods. Although Alpen Co. Ltd. was the sporting goods company that last-entered the outdoor business, it has increased the number of retail stores of both "Alpen Mountains" and "Alpen Outdoors" since 2018, the former specializing in mountain climbing and the latter in camping. Other existing outdoor- or mountain-climbing-specialty retailers have newly opened their stores as well. As there are more new entries expected by workwear and work-clothes specialty businesses and by overseas total sports SPAs, the outdoor business market is likely to continue increasing for 2019 and beyond.


Future Outlook
Size of the domestic outdoor business market in 2019 is estimated to attain 523,040 million yen, 104.4% on a year-to-year basis. When observing the market by style, the lifestyle category is expected to attain the highest rise by 7.6% from the previous year. This stems from leading outdoor brands still gaining popularity in 2019 and from the favorable sales of rainwear and other high-unit-price products due to lengthy inclemency during the rainy season until the early summer.
Also, as some campsites accepted maximum number of people for days during the golden-week holidays, the demand has been spread out to camping goods together with campsites within the category of light outdoor activities.
Since the camping goods as well as the apparel, shoes, and bags belonging to the lifestyles category show favorable sales, they are likely to continue driving the outdoor business market for 2019.


Research Outline
1.Research Period: April to August, 2019
2.Research Object: Domestic manufacturers, wholesalers, and retailers of outdoor goods, companies that operate or provide outdoor facilities and services, organizations regarding outdoor activities, and etc.
3.Research Methogology: Face-to-face research by the expert researchers, surveys via telephone and email, and literature research
The Outdoor Business Market
The outdoor business market in this research indicates the total size of the followings: outdoor goods market, outdoor facility market (mountain huts, campsites, climbing gyms, and fishing sites under management), and outdoor-related service market (mountain guides, guides to nature, and outdoor-goods rental). The report categorizes the outdoor business market into the following four styles, with the analysis of each style disclosed within: 1) Mountain climbing, 2) Light outdoor activities, 3) Outdoor sports, and 4) Lifestyle. Note that the products, facilities and services relating to any of marine leisure (diving, sea fishing and etc.) and winter sports (skiing, etc.) are not included.The definition of the four styles is as follows:
Mountain Climbing: Products, facilities and services regarding leisure activities aiming mainly to "climb a mountain."
Light Outdoor Activities: Products, facilities and services regarding leisure activities aiming mainly to "recreate oneself in the nature," such as camping, hiking, fishing (mountain stream fishing), Ayu (sweetfish) fishing, hera-crucian fishing, fishing using a lure (bass/trout), fly-fishing, outdoor festivals, and etc.
Outdoor Sports: Products, facilities and services regarding outdoor activities positioned as sports, which indicate trail running , sports climbing, and etc.
Lifestyle: Generally everything sold by outdoor brands that is not included in the above-mentioned items and used in daily lives, business, and travel.


Contact Us
©2019 Yano Research Institute Ltd. All Rights Reserved.
The copyright and all other rights pertaining to this report belong to Yano Research Institute.
Please contact our PR team when quoting the report contents for the purpose other than media coverage.
Depending on the purpose of using our report, we may ask you to present your sentences for confirmation beforehand.