Plant O&M Services for Manufacturing Market in Japan: Key Research Findings 2019
Market Size of Plant O&M Services for Manufacturing Projected to Attain 909,300 Million Yen for FY2019
Yano Research Institute (the President, Takashi Mizukoshi) has conducted a survey on the domestic plant O&M (Operation & Maintenance) services for manufacturing, and has found out the market trends, the trends of market players, and the future outlook.
Transition and Forecast of Market Size of Plant O&M Services for Manufacturing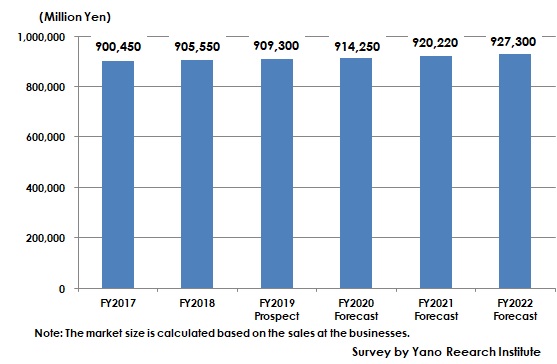 Market Overview
The domestic market size of plant O&M (operation & maintenance) services for manufacturing in FY2018 is estimated as 100.6% of the size of the previous year to attain 905,550 million yen. In the state where 50 years have passed since the operation started at the plants constructed during rapid economic growth in Japan, deterioration of these plants has become the potential risks of causing accidents and operational problems stemming from damaged equipment and degradation. As a method to reduce such risks, daily inspections and maintenance tasks have become significant, increasing the demand for plant maintenance.

In addition, the plant owners have widened the area of maintenance tasks entrusted to external engineering enterprises and plant maintenance service providers due to retirement of experienced employees and to labor shortage. This led some engineering and plant maintenance service providers to take on not only on-site jobs such as equipment inspections but also a comprehensive maintenance support project comprising from planning, managing and to actual implementing of the maintenance tasks.

Noteworthy Topics
Smart IoT for Maintenance Tasks
The enterprises started using new technologies including IoT in order to improve the efficiency as well as the quality of O&M tasks (that used to be dependent on human interventions) and to attempt effective transfer of technologies and skills.


As IoT technologies have begun introduced, increasing number of companies has begun seeking IoT as a method to streamline maintenance tasks, such as reducing the number of workers in inspections, monitoring the systems and facilities real time, and finding out the cause of the problems through the collected data. Some engineering companies even started developing IoT devices themselves.


Regarding other technologies, drones have started being used for some maintenance tasks carried out in not-too-difficult conditions for a start, such as inspection in an open space. Cloud has begun being used for condition monitoring or equipment diagnosis by collecting and analyzing data from remote places. Laser scanning has been widely used in an attempt to acquire 3D data of a plant. The cases of using AI for maintenance tasks are still limited, though many companies have shown interest as one of the efficient data analysis tools. The reasons of limited use are because of difficulty in developing data analysis models, and shortage in collected data for analysis.


Future Outlook
As deterioration of plants progressed further, the risks of problem occurrence increase. No matter how small the problem might be, it can badly affect the availability rate of production line. For plant owners, it is a significant challenge to prevent the facilities from causing abnormal conditions or to minimize the influence in case when any abnormality occurred.


From such a point of view, plant maintenance has become more important. Therefore, the market of the domestic plant O&M service market size for manufacturers is expected to attain 914,250 million yen by FY2020, and 927,300 million yen by FY2022.


Due to technological advancement, the tendency to develop and market those services using new technologies such as IoT is highly likely to accelerate. Therefore, whether or not having any knowhow to fully utilize such new technologies largely influence the competition among engineering companies, plant maintenance enterprises, and other market players.


Research Outline
1.Research Period: April to July, 2019
2.Research Object: Plant O&M service providers for manufacturing, Providers of plant maintenance services (equipment diagnosis, maintenance support project planning, and facility management support for manufacturers)
3.Research Methogology: Face-to-face interviews by the expert researchers, surveys via telephone, and literature research
Plant O&M Services for Manufacturing Market
Plant O&M (Operation & Maintenance) Services for Manufacturing in this research indicate the services asked by the plant owners to do and support the tasks of operations and maintenance of plants, the former including facility operation and the latter including maintenance and inspection of plants. Also some other tasks of maintenance support services (equipment diagnosis, maintenance planning support, and facility management support) are included, together with EPC (Engineering, Procurement and Construction) in the case when it includes plant maintenance and equipment diagnosis.


<Products and Services in the Market>
Plant O&M (Operation & Maintenance) Services for Manufacturing and other maintenance support services,
Contact Us
©2019 Yano Research Institute Ltd. All Rights Reserved.
The copyright and all other rights pertaining to this report belong to Yano Research Institute.
Please contact our PR team when quoting the report contents for the purpose other than media coverage.
Depending on the purpose of using our report, we may ask you to present your sentences for confirmation beforehand.