Global Trends of Reusing and Recycling of Lithium ion Batteries 2019
Yano Research Institute (the President, Takashi Mizukoshi) has conducted a survey on the global trends of reusing and recycling lithium ion batteries.
Trend of Reusing and Recycling Lithium Ion Batteries by Application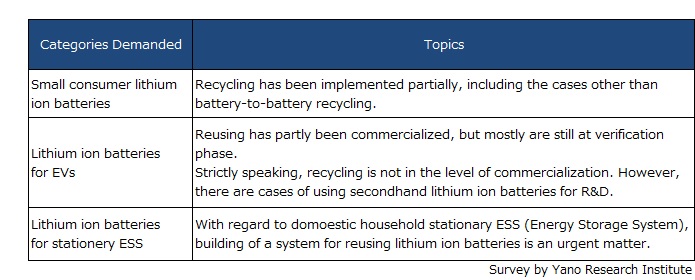 Summary of Research Findings
As lithium ion batteries are made with rare earth minerals, and as stationary ESS (Energy Storage Systems) as well as electric vehicles generating new demands have large capacities of batteries, attempts of reusing and recycling of used lithium ion batteries are likely to be more important for the future, because some measures must be taken against shortage of resources and of resource circulation.

Currently, recycling of consumer small lithium ion batteries are partly implemented, but reusing and recycling of other types of lithium ion batteries seem to be mostly at the verification phase. There are some cases of "reusing" lithium ion batteries in rebuilt batteries (for replacement), low-speed EVs, ESS, and in UPS, while "recycling" of the batteries are seen in cathode components of lithium ion batteries.

On the other hand, it is difficult to recycle lithium ion batteries for electric vehicles all of a sudden, from the viewpoint of business profitability. Rather, from now on there should be an attempt to take reusing of lithium ion batteries for granted whenever the batteries are newly installed. If reusing of lithium ion batteries becomes prerequisite, it would be about 2025 to 2030 when those used lithium ion batteries are assembled to be recycled into vehicles.

Noteworthy Topics
Trend of Lithium Ion Battery Market
While conventional use of lithium ion batteries was mainly for small consumer devices such as laptop PCs and smartphones, the demand for the batteries is continuously expanding in EVs including HEV and PHEV, and stationary ESS.

The global market size of lithium ion batteries for vehicles in 2017 based on the shipment capacity rose to 57.4 GWh, 123.1% of the size of the preceding year. Stricter environmental regulations to promote electric vehicles at each country and various types of incentives for xEVs have contributed to expand the xEV market, globally increasing the shipment volume of lithium ion batteries.

Research Outline
1.Research Period: August 2018 to June, 2019
2.Research Object: The businesses and technologies that reuse and recycle lithium ion batteries
3.Research Methogology: Face-to-face interviews and literature research by the expert researchers
Reusing and Recycling of Lithium ion Batteries
Our research on reusing and recycling of lithium ion batteries indicates secondary use of unnecessary lithium ion batteries after being disposed of or being replaced, and to recycle cobalt, nickel, and other metal ingredients extracted from used-up batteries into new materials for cathode and other applications.


Contact Us
©2019 Yano Research Institute Ltd. All Rights Reserved.
The copyright and all other rights pertaining to this report belong to Yano Research Institute.
Please contact our PR team when quoting the report contents for the purpose other than media coverage.
Depending on the purpose of using our report, we may ask you to present your sentences for confirmation beforehand.