Health Foods Contract Manufacturing Market in Japan: Key Research Findings 2019
Yano Research Institute (the President, Takashi Mizukoshi) has conducted a survey on the domestic health foods contract manufacturing market, and has found out the market overview, the trends of market players, and the future outlook.
Transition of Health Foods Contract Manufacturing Market Size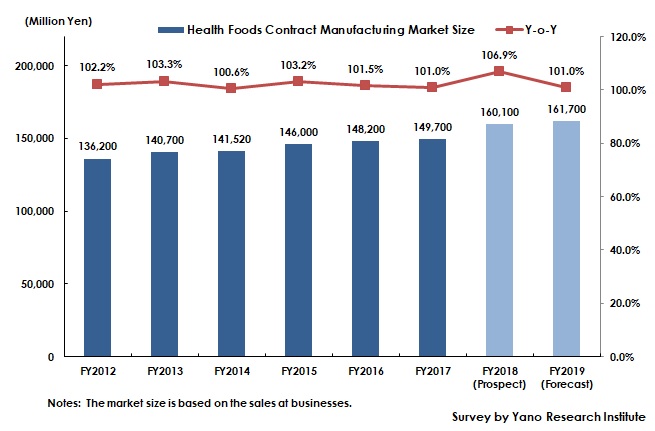 Market Overview
The domestic health foods contract manufacturing market has been on the rise, with the market size for FY2017 increased by 1.0% on a Y-o-Y basis to attain 149,700 million yen, and for FY2018 by 6.9% on the same basis to achieve 160,100 million yen.

The market growth was contributed by both overseas and domestic demands. The former was represented by inbound tourism demand as well as increased import to China and Southeast Asian countries, and the latter was shown by increasing demand for domestic contract manufacturing of foods with function claims.

Noteworthy Topics
Overseas Demands Drove Market Expansion
The market in FY2018 was driven by the overseas demand. In addition to inbound tourism demand, the domestic companies that had accepted orders from China and other countries to produce health foods remarkably increased the sales, which boosted the market size.​


As the demand for health food made in Japan has been high in general, there were many foreign tourists especially from China buying health foods in large quantities. In addition, some companies even enjoyed special demand from increased contract manufacturing deals from overseas directly or via health food trading companies. These factors favorably affected the entire health food contract manufacturing market.


Future Outlook
For FY2019, while the domestic demand for foods with function claims is likely to continue being on the rise, the influence from the consumption tax hike and other uncertain factors are likely to prevent large growth in the entire health food market. Despite somewhat stable overseas demand in FY2018 especially by the Asian countries likely to continue, there are some uncertainties loom ahead including the restriction by the Chinese government on cross-border e-commerce having reduced the resale demand via Chinese buyers, inbound demand being about to diminish, and declining Chinese consumption stemming from vagueness in the Chinese economy.


That said, however, higher health consciousness in China and Southeast Asian countries is likely to boost the demand for supplement, particularly the products made in Japan due to the popularity for high quality. Although there still are many concerns to contract new deals with overseas companies from the viewpoint of credit, and also to deal with them directly because of the difference in restriction of food and food materials and in rules for food labels by each country, increasing number of domestic companies decided to look for growth in the overseas market, which has invigorated the overseas sales systems at each company.


Research Outline
1.Research Period: April to June, 2019
2.Research Object: Health foods contract manufacturers, health foods companies (manufacturers of health foods, general foods, pharmaceutical, etc.), other health food-related companies, and the competent authorities
3.Research Methogology: Face-to-face interviews, surveys via telephone, questionnaire (through in-mail and email), and literature research
The Health Foods Contract Manufacturing Market
The health foods in this research indicate functional foods in the form of tablet, capsule, powder, or bottled liquid aiming for keeping and promoting health, and beauty. The health foods contract manufacturing is to plan and manufacture health food products ordered by the brand owners (health food distributors, etc.)


Contact Us
©2019 Yano Research Institute Ltd. All Rights Reserved.
The copyright and all other rights pertaining to this report belong to Yano Research Institute.
Please contact our PR team when quoting the report contents for the purpose other than media coverage.
Depending on the purpose of using our report, we may ask you to present your sentences for confirmation beforehand.